Receiver Deals: Yamaha RX-V371BL 5.1-Channel A/V Receiver: $169.99 (Save $80)
By Rachel Cericola
Not everyone needs or wants a receiver with all of the bells and whistles. Some of the more expensive receivers offer streaming audio or even a ton of connectivity options. That means you should technically be able to fit that large collection of components into your home theater -- even if you can't fit them into your AV cabinet.
Some people just want a solid receiver at a solid price. We found Amazon making the option for a new receiver more affordable than ever. Right now, the online retailer is selling the Yamaha RX-V371BL 5.1-Channel AV Receiver for just $169.99. This means that you can have this component for $80 off the receiver's $249.95 list price. It even includes free shipping. Find out more about this offer and this receiver on Amazon's product page: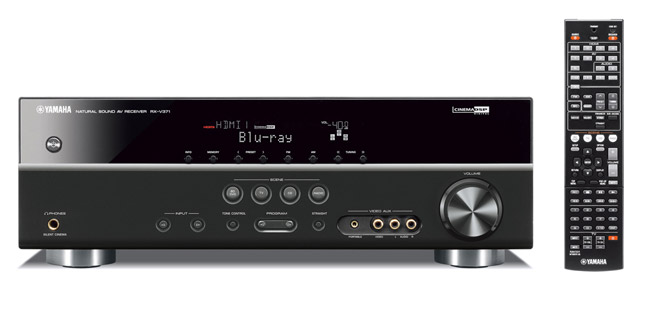 The affordable 5.1 channel RX-V371 would make a fine hub for any home theater system. It offers 100 watts per channel, as well as 3D support with Audio Return Channel (ARC), four 1080p HDMI compatible inputs, and decoding for Dolby TrueHD and DTS HD content.
Other features include CINEMA DSP 3D technology, Yamaha's Parametric Room Acoustic Optimizer (YPAO), and the Compressed Music Enhancer. The Compressed Music Enhancer is an interesting feature, promising to restore all of the detail in your compressed digital files.
This 5.1-channel receiver also has four SCENE buttons for instant access to default settings for DVD Viewing, Disc Listening, TV Viewing and Radio Listening. If you want to add an iPhone or iPod into the setup, the RX-V371 is compatible with Yamaha's optional YID-W10 dock. Find out more about this receiver on Amazon's product page:
Just remember to order this receiver directly through Amazon and not one of the retailer's third-party merchants. Amazon has this discount, as well as the free shipping. Better snag one of these if you want it in time to rock out during the holiday season -- or at least before Amazon runs out of stock!
Please note: all deals posted on Big Picture Big Sound are current as of the posting date and time. These deals are frequently time- or stock-limited and generally do not last. Final pricing and stock are determined by the individual deal provider, not by Big Picture Big Sound so you will need to click through on the offer link to see if it is still available. Through our affiliate relationships with many online vendors, Big Picture Big Sound may earn a small commission on any referred sale.