Quarkie Headphones: Sound as Good as They Look?
By Chris Chiarella
Among many other marvels, the CEA Line Shows in New York City brought the official introduction of Quarkie headphones and their bold new line of "Audio Art." This first wave of products represents the collaboration of a group of British and Asian-Pacific artists, music lovers and electronic engineers. This team brings decades of experience in the audio industry, and a shared goal of crafting headphones that bring together memorable designs and strong sonic performance. They even have a world view, "That function is vital and that self-expression and individuality are essential."
We can get behind that.
Legend has it that someone on the Quarkie team had a dream involving snakeheads and cats' eyes, and thus the premiere lineup of headphones were conceived, as the gang set about turning those dreams into reality. At launch in late July, seven different models will be available: Yellow Viper Snakehead, Green Viper Snakehead, Snake Eyes, Cat Eyes, Chameleon Eyes and--lest we think they are all about eyeballs and cold-blooded reptiles--Purple Gemstone and Rusty Bolt. Worth noting is that no snakes, cats, nuts or bolts were harmed in the building of these headphones.

As music lovers, the Quarkies were also determined to bring British studio-monitor quality sound to the in-ear headphone range, in line with their philosophy that high-performance technology products can be beautiful as well as functional. These headphones achieve that level by utilizing a specially developed 13.5mm driver with an aluminum voice coil and neodymium magnets. As a result, they promise low distortion, wide bandwidth and superior transient response. They are also quite sensitive, able to maximize the performance of portable devices.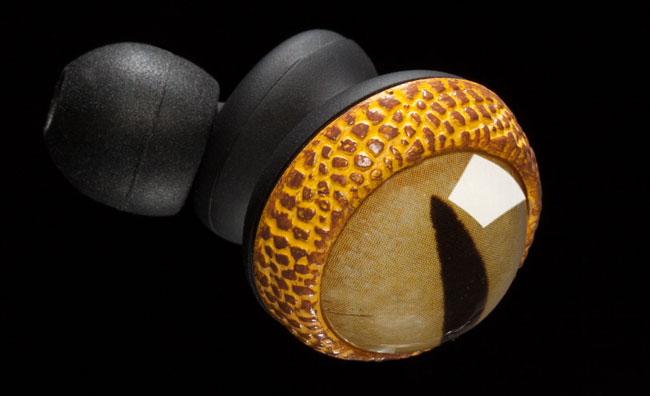 Each pair arrives with a splitter for sharing, and four sets of high-quality earbuds, in extra small, small, medium, and large sizes. The cloth-covered cord reduces tangling and unwanted noise from physical handling, terminated in a gold-plated mini-plug. The cord also contains a microphone/function controller compatible with iPhones and Android phones. Each model in the Quarkie line will carry a suggested retail price of $99.99.
More Information: