Planet Earth: Special Edition Blu-ray Review
By Rachel Cericola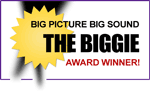 The Film
The BBC spent about five years putting together the Planet Earth series, and wow -- it shows. While most nature documentaries may have your eyes glassing over after 10 minutes, Planet Earth: Special Edition is riveting for its entire 550-minute runtime.
Of course, you probably won't want to watch the whole thing in one sitting, but we wouldn't blame you if you did just that. This series is that good. Probably a few of you already know that, if you bought the 2007 Blu-ray release. However, the studio is back with "Special Edition."
This six-disc set invites viewers on the ultimate journey across seven continents. The new and improved version features all 11 segments, which covers almost every lesser-seen corner of the globe. This is where both nature and Mother Nature come together. Also, expect to see plenty of critters get eaten. It's the circle of life, and it comes packing a boatload of extras (more on that in a bit).
We know what you're thinking; it seems like a classic case of the double-dip. We're willing to forgive them, being that this is the all-encompassing, definitive package. Forget every other nature show you've ever seen; Planet Earth has it all.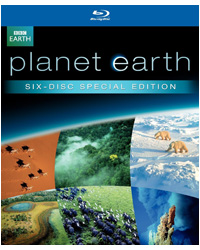 The Picture
This set offers a gorgeous up-close peek at parts of the Earth that most people have never and will never see. This series is a barrage of beautiful visuals, and the 1.78:1 transfer displays every piece of plumage, every fur coat, every ripple, and every nook and cranny absolutely perfectly. The colors are the real standout here, with lush scenery to boot. Everything is not only spot-on, but insanely lifelike -- or what we assume it would look like. We've never had the pleasure of meeting some of these creatures, and frankly, didn't even know some of them existed.
Detail is equally impressive, whether up close or suspended thousands of feet above ground. The twinkle of the snow glistening in the sun, fish popping out of the water, animals capturing prey (there's a lot of that, too); each shot is more stunning than the last. The imagery and colors in "Fresh Water," in particular, might just make your jaw drop. This is a demo-worthy set for sure. We can't gush enough about this one.
The Sound
It's easy to get lost in the narration provided by Sir David Attenborough. There is an option to ditch that narration (see The Extras for more info), but frankly, every word uttered flows well with this set. His narration stays front and center, and works well with the a steady soundtrack that plays over the entire soundfield. That's fine and dandy, but the many (oh, there are many) atmospheric sounds are what will suck you into this DTS-HD High Resolution track.
Winds whip across the soundfield, surf crashes, storms rush in, an avalanche comes barreling through -- and that's just Mother Nature's audio contributions. There are elephants stomping and frolicking, birds migrating, the crunch of the Nubian ibex, and other calls from the wild. So it's not just an eye-popping experience, but your ears won't exactly feel cheated, either. Drooling is not only expected, but encouraged.
The Extras
This Special Edition set is busting with extras. First up, there's an "Isolated Score" option on four of the six discs. This allows the viewer to ditch the narration and get the soundtrack in Dolby Digital. Sorry, but the DTS-HD High Resolution isn't available here. It's certainly a great option, but didn't really pack the same punch for us. However, it's nice to have the option to just enjoy the eye candy.
Five of the episodes also offer commentary, which include various producers spilling various pieces of production info. If you're looking for more info, check out the "Planet Earth Diaries." While viewing the series, you may often wonder how the heck filmmakers managed to capture all of the candid moments. It's beautiful, it's amazing, and it just seems downright dangerous. These extras fill in some of the blanks, on every single episode. Featured on four of the six discs, Sir David Attenborough returns to narrate all of these extras, which provide a plethora of additional material and in-depth behind-the-scenes footage of the filming process. While these don't pack the same polished visual punch as the actual series, it is really interesting to see how the series was filmed.
Disc four's "Great Planet Earth Moments" is a "greatest hits" retrospective. However, this is beyond the typical highlights reel. Attenborough returns to narrate this 46-minute featurette, which includes producer interviews, behind-the-scenes info, and additional footage. It's just as well done as the rest of this set, making it another must-see.
Both Disc Five and Six are all special features. However, you'd think each entry was just another notch in this definitive series. Disc Five has three new documentaries focused on "The Future." Each one clocks in at just under an hour, and continues the same themes covered in the set. The topics include "Saving Species," "Into the Wilderness," and "Living Together." The sixth disc has slightly smaller docs, such as "Snow Leopard: Beyond the Myth," "Secrets of the Maya Underworld," and "Elephant Nomads of the Namib Desert." There's also a 13-minute sneak peek the BBC's next seven-part series, Frozen Planet.
Final Thoughts
Earth isn't exactly a topic that you want to mess with. Of course, many of you already know this from the 2007 Planet Earth release. Without a doubt, this is absolutely the type of material that sets Blu-ray apart from DVD. If this is your first step into the wild, the Planet Earth: Special Edition set is a no-brainer. Those with the 2007 set, well... we hate to say it, but you're going to want to retire that or put it up on eBay. Thanks to a stellar picture, audio to match, and an insane amount of extras, this is the one to own. It is phenomenal from start to finish.
Product Details
Narrator: David Attenborough
Audio/Languages: DTS-HD High Resolution 5.1 (English)
Subtitles: English SDH, French, Spanish
Aspect Ratio: 1.78:1
Number of Discs: 6
Rating: NR
Studio: BBC
Blu-ray Disc Release Date: October 4, 2011
Run Time: 550 minutes
List Price: $78.98
Disc One Extras:

Music Only Viewing Option
Audio Commentary on "From Pole to Pole" with Producer Mark Linfield
Audio Commentary on "Mountains" with Producer Vanessa Berlowitz
Planet Earth Diaries 1-3

Disc Two Extras:

Music Only Viewing Option
Audio Commentary on "Caves" with Producer Huw Cordey
Planet Earth Diaries 4-6

Disc Three Extras:

Music Only Viewing Option
Audio Commentary on "Great Plains" with Producer Jonny Keeling
Audio Commentary on "Shallow Seas" with Producer Mark Brownlow
Planet Earth Diaries 7-9

Disc Four Extras:

Music Only Viewing Option
Planet Earth Diaries 10-11
Great Planet Earth Moments

Disc Five Extras:

The Future: Saving the Species
The Future: Into the Wilderness
The Future: Living Together

Disc Six Extras:

Snow Leopard: Beyond the Myth
Secrets of the Maya Underworld
Elephant Nomads of the Namib Desert
Frozen Planet Sneak Peek