The Site for Home Theater and Movie Reviews
Pirates of the Caribbean: On Stranger Tides Blu-ray 3D Review
By Chris Chiarella
The Movie
Re-igniting the Pirates of the Caribbean franchise and picking up where At World's End left off, Pirates of the Caribbean: On Stranger Tides finds Captain Jack Sparrow (Johnny Depp) in possession of a map that leads to the fabled fountain of youth. But before long, the law-breaking, seafaring rogue is caught up in a three-way race for the mystical waters, shadowed by well-funded British and Spanish royal expeditions. Jack, well, he's on an enchanted ship run by zombies and captained by the most feared pirate of them all... Blackbeard [clearly they haven't met your editor, Redbeard - Ed.].
But even if they find the fountain, they must also perform a deadly ritual involving mermaids, Ponce de Leon's lost chalices and a human sacrifice. The plot has some nifty twists and surprises along the way, but the "humor"--essential to the series--in this fourth installment is often uninspired, seeming to give audiences what they expect of Jack but nothing more.
Director Rob Marshall is aces with musicals, and he even throws in a quick dance number, but he lacks the deft touch of the great action filmmakers (Cameron, Verhoeven, McTiernan et. al.) and so the various chases and fight sequences are wanting danger and immediacy, instead feeling almost random. But what do I know? It made a billion dollars.
Also check out Joe Lozito's theatrical review of Pirates of the Caribbean: On Stranger Tides, ahoy!
The Picture
Unlike so many recent live-action blockbusters that were converted to 3D in post-production, On Stranger Tides was shot in digital 3D which brings us a beautiful clarity of focus. Every intimate nuance in a face or an elaborate article of clothing or even the dubious integrity of Jack's flowing locks is readily discernible, while grand vistas are rife with detail as well. Colors are routinely warm and pleasing.
I noted a modest amount of ringing, and the ambitious special effects can leave the 2.4:1 image a little harsh, and blacks can be murky, but the good so far outweighs the bad that I'm still bestowing our highest score.
The Sound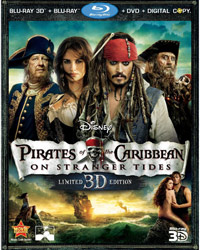 The DTS-HD Master Audio 7.1 track is as big as we would expect for a $250M-budgeted event picture, with more than a boatload of bass plus a musical score that has been mixed wide and loud across the multichannel soundstage, perhaps in an attempt to somehow make the movie more exciting. The trebles are impressive too, with the clean tinkling of swords and drinking vessels, and I was surprised by subtle bits like the sizzling of cooking meats in the background. Well-done.
The Extras
Disc One is the Blu-ray 3D, with no extras beyond a couple of trailers for other Disney 3D titles. Disc Two carries the HD supplements, starting with the 36-minute making-of "Legends of On Stranger Tides." "In Search of the Fountain" goes deeper into that one aspect of the movie (eleven minutes), while "Last Sail, First Voyage" (eight minutes) explores the character of Blackbeard, and "Under the Scene: Bringing Mermaids to Life" offers up nine minutes of bathing beauties.
These all boil down to some pretty standard behind-the-scenes fare, sometimes slightly more insightful, while the brief "Johnny Vs. Geoffrey"--about the two leads--is downright fluffy. At least these are all in DTS-HD Master Audio 5.1. There are also five deleted/extended scenes with introductions by director Rob Marshall, approximately nine minutes total. And the quintet of one-minute LEGO-style animated shorts ties amusingly into the film.
Disc Three is the 2D Blu-ray, which features an audio commentary by Marshall and executive producer John DeLuca. There are a few minutes of bloopers here, and this platter also supports Disney Second Screen, which provides a Bonus View-like experience during the movie on your synched device. Disc Four is a DVD of On Stranger Tides with the bloopers and LEGO cartoons, and lastly Disc Five carries a Digital Copy for iTunes or Windows Media.
Final Thoughts
Pirates of the Caribbean has a devoted and apparently deep-pocketed following that is bound to enjoy this generous five-disc edition of On Stranger Tides with exceptional high-def picture and sound. An easy recommendation for fans.
Product Details
Actors: Johnny Depp, Penélope Cruz, Geoffrey Rush, Ian McShane, Kevin McNally, Sam Claflin, Astrid Bergès-Frisbey, Stephen Graham
Director: Rob Marshall
Audio Format/Languages: DTS-HD Master Audio 7.1 (English), DTS-HD High Resolution (2D ONLY: French, Spanish), Dolby Digital 5.1 (3D ONLY: Spanish, French), Dolby Digital 2.0 (English, English Descriptive Video Service)
Subtitles: English SDH, Spanish, French
Aspect Ratio: 2.40:1
Number of discs: 5
Rating: PG-13
Studio: Walt Disney
Release Date: October 18, 2011
Run Time: 136 minutes
List Price: $49.99
Extras:

Audio Commentary by Rob Marshall and John DeLuca
Disney Second Screen
Bloopers of the Caribbean
"Legends of On Stranger Tides"
"In Search of the Fountain"
"Under the Scene: Bringing Mermaids to Life"
"Last Sail, First Voyage"
LEGO Pirates of the Caribbean: Captain Jack's Brick Tales:

"First Impressions"
"To Catch a Mermaid"
"Escape by His Wits"
"The Fountain of Youth"
"Jack Saves the Day"

Deleted and Extended Scenes with Introductions
DVD of the movie with Bloopers and "Brick Tales"
Digital Copy
What do you think?
| | |
| --- | --- |
| Overall | |
| Video | |
| Audio | |
| Movie | |
| Extras | |
Explore Big Picture Big Sound