Pioneer BDP-430 Blu-ray 3D Player Review
By Rachel Cericola
Edited by Chris Boylan
Now Entering the Third Dimension
Pioneer is a company that likes to keep things simple. They don't want to clutter up the purchase process with 50 different versions of the same product. At press time, the only Blu-ray 3D player that the company had to offer was the BDP-430, which just so happens to be the company's first Blu-ray 3D player.
However, the BDP-430 isn't just the only Pioneer Blu-ray 3D player, but also the only Pioneer 2D Blu-ray player -- not counting the two under Pioneer's Elite brand (that would be the BDP-41FD and the BDP-43FD). With the company putting all of its Blu-ray eggs into one basket, the BDP-430 had better be a good player. It certainly is, but not without a few sacrifices.
Here We Go
Out of the box, the BDP-430 is fairly standard fare. The player isn't as slim as some of the models we've seen recently, but it has a nice satin black finish that would be welcome in any AV cabinet. Also, the front LCD is big enough that you can actually read the status from across the room without the need for big Coke-bottle-type glasses.

The front also features a power button and controls to play, stop and pause discs, as well as open the disc tray. There's also a USB port, which you may  need if you want to upgrade the unit to WiFi with Pioneer's add-on AS-WL200 Wireless Adapter.  Of course, there's an Ethernet port around the back for a wired network connection.  And advanced techie hobbyists can always use a wireless bridge or wireless gaming adapter if you don't feel like ponying up for the proprietary WiFi adapter.
For A/V connections, you'll find component and composite video outputs, an HDMI ouput, and another USB port around back. One of these USB connectors will spend most of its time occupied with a USB memory device. This is something you'll need to add in if you want to access services like BD-Live. The player does not have built-in storage.
It does have plenty of audio goodies, however. Besides being able to handle the latest audio codecs, including Dolby TrueHD, Dolby Digital Plus, DTS-HD Master Audio and DTS-HD High Resolution, it also has something known as PQLS (Precision Quartz Locking System). This promises a jitterless transmission of uncompressed 2-channel or multi-channel LPCM, as well as bitstream audio over HDMI, to compatible Pioneer AV receivers.
Basic Beginnings
The BDP-430 takes about 30 seconds to start-up.  Slower than average but within the realm of acceptability. From there, the Home screen is extremely basic. You have three options: Home, Netflix and Pandora. Upon first use, we were asked to upgrade firmware, which took approximately one minute over our hardwired connection.

Most of the action is location under the home menu, and allows users to navigate through disc playback or browse photos and music stored on an external USB device.  Here is also where you access the set-up menus. There's also something called Web Contents, which is basically just another route to Netflix and Pandora.
Calling up our Netflix account took about 15 seconds on average. We're happy to say that the BDP-430 features the latest 3.0 interface, which provides suggestions, a peek at new arrivals, and a search feature. Sadly, we couldn't find any titles available in Dolby 5.1 sound, including Monsters and Let the Right One In which do have 5.1 sound options on other players such as the Panasonic DMP-BDT110 and DMP-BDT310. Apparently, the BDP-430 doesn't have those capabilities just yet.
Remote Rants & Raves
The included remote offers more buttons than you'd ever need. Unfortunately, no matter which ones we pushed, we didn't always have a great remote experience. When in Netflix mode, it was almost impossible to get back to the player's Home screen without having to reboot the system. It certainly wasn't the Home button. So which one should it be? The 6?  Nope.  Tried that too.
When listening to Pandora, the Home button did get us back to the main screen every time. This made the Netflix navigation a little more puzzling.
However, there are two cool features that make up for that one frustration. The first is the Function button, which allows a viewer to tweak various audio and angle settings, as well as flip through playback, all in one on-screen menu. However, flipping through may not be necessary, thanks to the Continued button. If you get called away during the playback of a Blu-ray or DVD, this allows you to continue in the same spot at a later time. We can confirm that this feature did work -- and saved us some flip time on more than one occasion. However, know that once you pop out the actual disc, you'll have to start from scratch.
It should also be noted that the remote does allow for control of the basic functions of a Pioneer receiver, as well as third-party TVs.
Pioneer currently offers an alternative to the included remote, via the company's iControlAV app. This free app allows users to control the BDP-430 using an iPhone or iPod touch. At press time, however, we were having difficulties getting the app to connect to the player, so we were unable to include details about the feature in this review.  Your mileage may vary.  Good luck with that.
Getting to the Good Stuff
Even with its few faults, the BDP-430 is an excellent Blu-ray 3D player when it comes to disc playback. We started our testing with the HQV benchmark DVD. Using our standard-def DVD, we did notice a bit of noise in both the Noise Reduction and Motion Adaptive Noise Reduction tests. However, it was minimal, and there was a good amount of detail on the images displayed during those tests. The BDP-430 was especially impressive on the various "Jaggies" tests. In the second of these tests, there were barely noticeable waves in the bottom line. Seriously, we had to get up close to our 50-inch Panasonic TC-P50GT25 plasma to make sure we weren't seeing things. Nearly rock solid in its presentation of these tricky diagonals.  Overall, it was an impressive performer, locking onto the 3:2 cadence in the "Super Speedway" segment in the blink of an eye, as well as delivering crystal-clear horizontal and vertical text crawls in the mixed film/video cadence tests.
Next, we wanted to check disc-load times, but we had to conduct our tests slightly differently to what we've done in the past. Typically, we start our stopwatch the second we press play. However, the BDP-430 doesn't allow you to press play while the disc tray is open. Instead, we had to close the tray and wait for the disc to load. It's an automatic process, but worth mentioning. Upon pressing to close the disc tray with our go-to standard-def DVD (Old School) loaded, it took 22 seconds to get to the DreamWorks logo. A Blu-ray (Hitch) took about 30 seconds to load, while a BD-Java title (Pirates of the Caribbean: The Curse of the Black Pearl) loaded to the Disney logo in about 41 seconds.  While better than first and second generation players, this performance still lags behind current players from LG, Panasonic, OPPO and Samsung, to name but a few.
We then tried the notoriously slow, BD-Live heavy title, Inglourious Basterds. With our player hooked up to the network, this title took 131 seconds to load (yes, that's two minutes and 11 seconds). In a pinch, you can unplug the Ethernet connection; this shaved the load time down to about 65 seconds. To test Blu-ray 3D loading, we used Cloudy with a Chance of Meatballs, which took 56 seconds to load. Overall, the load times were not too impressive but not as egregious as the early players.
How Do I Look?
For viewing, we first popped in a few standard-def DVD standbys. First up, we checked out the runaway train scene from Spider-Man 2. Building details, Doc Ock's stubble, and even Spidey's red suit were excellent standouts. There were a few pixelated moments in some of the more action-packed scenes, but they were few and fleeting. Since we really love our superhero demos, we threw in Iron Man and Kick-Ass, both on Blu-ray.  As expected, these delivered much better results. The images were detailed and the colors were bright; it was exactly what you'd expect from a Blu-ray viewing experience.
When it came to testing out the 3D, we had a few eye-popping experiences. First we checked out the aforementioned Cloudy with a Chance of Meatballs, as well as the critical flop Mars Needs Moms. Both had plenty of excellent colors and detail. Of course, if you want to see exactly what this player can do, pop in a few minutes of Avatar on Blu-ray 3D Disc (assuming you can get one, since it is a Panasonic exclusive). The player really excelled on this disc, hitting all of the 3D effects in all the right places.
Turn Ons
Excellent audio and video performance on 2D and 3D Blu-ray Discs
Netflix and Pandora streaming
Option to turn front-panel LED off and go stealth
Turn Offs
Slim streaming options
No 5.1 surround for Netflix
Boot up and loading times on the slow side
Could be a little cheaper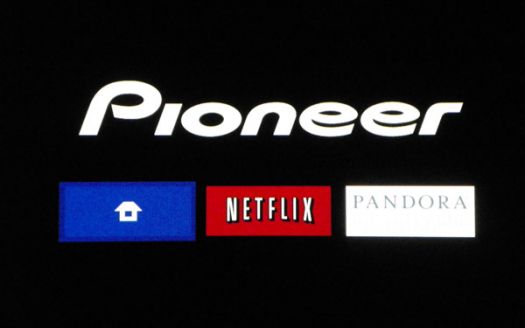 Final Thoughts
You have to start somewhere, right? Pioneer's BDP-430 is the company's first Blu-ray 3D player, and certainly a solid performer. It doesn't have some of the bells and whistles that other new players have. In fact, it seems sort of limited, considering what some of the less expensive players currently come packing. However, what it does, it does pretty darn well. The rumor is that Pioneer will upgrade the player to add YouTube at some point. However, there's no official word on exactly when. If they continue to add services beyond that, it might make the $299 MSRP (less online) a little easier to swallow.
Manufacturer's Specifications/Features for Pioneer BDP430:
Disc compatibility: BD-ROM, BD-RE, BD-R, BD9, AVCHD, DVD Video, DVD-RW, DVD-R, DVD+RW, DVD+R, CD-DA, CD-RW, CD-R, Blu-ray Disc, Blu-ray 3D Disc
Supports x.v.color and DeepColor
Network streaming: Netflix, Pandora
Wireless Ready: add optional AS-WL200 wireless adapter for WiFi
Internal Audio Decoding and bitstream of latest lossless codecs including Dolby TrueHD and DTS-HD Master Audio
Precision Quartz Lock System (PQLS) Bit-Stream and Multi-Channel PCM: jitter-free delivery of digital audio stream (requires compatible Pioneer receiver)
Simultaneous HDMI & Component Video Output (up to 1080p from HDMI, 1080i from component video)
BD-Live capable
iControl AV App: free app supports control of major functions from compatible iPhone, iPad or iPod Touch (did not work in our testing)
Connectivity:

HDMI Output:1
Component Video Output:1
Composite Video Output: 1
Optical Digital Output: 1
USB ports: 2 (1 front / 1 rear)
Ethernet port: 1
2-Ch Analog Audio Output: 1

Physical Specs:

Power Requirements: 120 V 60 Hz
Product Weight: 5 lbs. 8 oz.
Dimensions (W x H x D): 16.56" x 2.64" x 9"
Manufacturer's Contact Information:
Pioneer Electronics (USA)
2265 E. 220th Street
Long Beach, CA 90810
On the web: www.pioneerelectronics.com
Where to Buy: