Phorus Play-Fi PR1 Receiver and PS1 Speaker Available on October 1st
By Ian White
Pepcom's Holiday Spectacular 2012 at the Metropolitan Pavilion in New York last week was a loud and crowded affair. As an early preview for CES 2013, it was almost interesting; a lot of new products and one of the more positive events (despite that damn economy thing) we've attended over the past twelve months. The vibe coming out of CEDIA just a few weeks earlier was less than enthusiastic so it was great to see that manufacturers are pushing ahead with new products and designs. Stagnation is never a good thing; unless you are waiting in line to be shot.
One of the most intriguing new products at the show was from a California-based start-up (recently acquired by DTS) with high-end audio roots. Phorus had a solid launch at CES 2012 where it earned a "Best New Electronics" Award and while it was slightly difficult to hear the products at their best in the noisy environment of the show, the PS1 Speaker system and PR1 Receiver really piqued our interest.
Phorus CEO Dannie Lau earned his stripes working for the folks at Harman International (Mark Levinson, Lexicon, JBL, AKG, Harman/Kardon) and it was pretty clear after our discussion that he brings some solid high-end audio credentials to the mix.
The PR1 Receiver, in particular, should be on the radar of anyone who doesn't roll with the Apple cult and has invested in a Droid phone (Samsung Galaxy S III), Droid tablet (Samsung Note, Nook, Google Nexus) and desires wireless audio throughout the home or in the office. The PR1's guts include a 24/96 Wolfson DAC which should be the basis for a rather good sounding unit.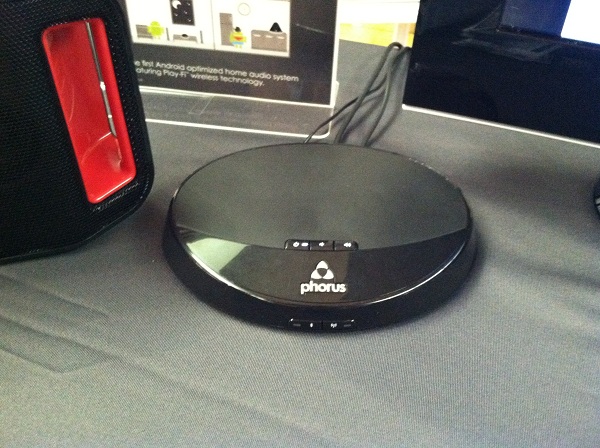 The PR1 works via Play-Fi (think Airplay for Droid users, though it is more than that) and sends whatever digital signal your device streams to a receiver, preamplifier, or integrated amplifier via analog outputs.
You control everything via the smartphone or tablet and it even works with streaming services like Pandora, MOG, and Spotify.
Phorus had the PR1 connected to the Beats by Dr. Dre (Don't forget about Dre...) BeatBox Portable audio system and it really did sound better than a number of the really expensive docks out there; no, I'm not picking on B&W or Bose.  I'm just saying this thing has got potential.
For $149, the PR1 looks like a no-brainer for Droid-users; compact, well-built, and potentially great sound. Our review sample is forthcoming.
But what about the music listener with a Droid device who doesn't own a fancy system or even a dock who wants to enjoy his or her tunes somewhere other than the living room or home theater?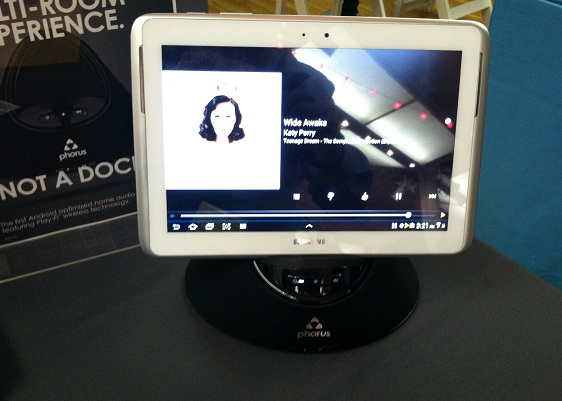 Phorus has you covered with the $199 PS1 powered speaker system. The PS1 isn't huge (in comparison to a NAD VISO 1 or B&W Zeppelin Air) but the sound quality is certainly up there; for a lot less money.  Like the receiver, the PS1 speaker is powered via Play-Fi so you can go wireless from your device to the speakers.
The PS1 (8.3"W x 6"D x 5.5"H) uses 2 neodymium transducers and while it is small enough to be placed on a nightable, it can easily fill a large room with sound. The speaker uses the same Wolfson 24/96 DAC and has dual Class 'D' digital amplifiers.
The PS1 is also a charging station for your phone or tablet and offers the same Wi-Fi capabilities of the RS1. What makes it unique, however, is that you can stream audio to a few dozen PS1s (really) at the same time with no sync issues.
A loud show floor is a lousy place to judge sonics, but one thing that we noticed is that the RS1 and PS1 suffer from zero lag time. Press play and the music starts before your finger leaves the screen. In a room where 90 other manufactuters were running Wi-Fi devices, that was a solid first impression.
The PS1 and RS1 will be available for sale on Amazon and on the Phorus website starting on October 1st.
For more information: