Philips Raises and Separates the (Sound) Bar at CES
By Peter Suciu
Not only is it safe to say that Philips has raised the bar with its new line of soundbars, but the company could be the first to refine and even redefine what we've come to expect in a single speaker package.
At the 2013 International CES, Philips introduced the Fidelio HTL9100 Soundbar, a sleek bar with an intelligent orientation sensor that can recognize if it's laying horizontally on a shelf or TV cabinet or if it's been mounted on a wall. It has something called "smart equalization," which can automatically adjust to deliver the best sound performance no matter how it's placed. The sound experience is also further enhanced by Virtual Surround Sound technology along with spatial algorithms, which promise immersing sound from a single speaker.
And for those who want true surround sound rather than mere simulated, this bar can do a presto-chango-type transformation via detachable wireless side speakers. That means that the HTL9100 can actually deliver discrete 5.1 surround sound -- from a soundbar. When separated, these "extra" speakers don't need extra cables and offer up to 10 hours of playback. Once you drain that power, they can recharge when plugged back into the main speaker bar body.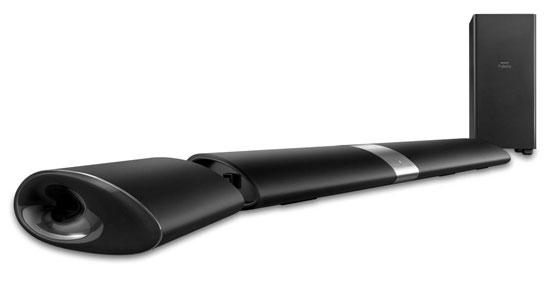 The speakers operate via Philips' proprietary wireless audio technology. There are absolutely no wires, leaving consumers free to place them wherever they like. It also promises an uncompressed transmission, with a different frequency than what's used to operate WiFi or Bluetooth, meaning less network interference.
Philips also introduced another sleek soundbar in the form of the HTL5120. This model has a built-in subwoofer, which means no additional cables. However, it does retain its elegant airplane wing design.
Both Philips soundbars have Bluetooth connectivity, so users can stream music directly from a smartphone, tablet or other Bluetooth-enabled device. It also includes two HDMI ports for easy connection to a media system.
Philips will start shipping both soundbar packages in May. The HTL9100 will be priced at $799.99, with the MSRP on the HTL5120 listed as $249.99.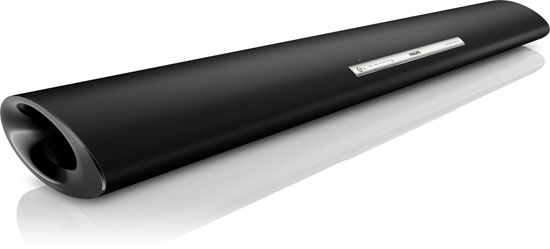 For more information:
More News from CES: