Phantom Thread Review
By David Kempler
Threadbare
In "Phantom Thread," which Daniel Day-Lewis is calling his final performance, he does not disappoint. Director Paul Thomas Anderson also does not disappoint. The film is absolutely gorgeous to look at. I can't find a single thing wrong with it except that I didn't like it. I was bored. I didn't care about any of it. I also realize that I am in the smallest of minorities. It will be a darling of fawning critics and attract lots of attention on the awards circuit. So what?

It's 1950 something in England and everyone we see is somehow involved in the fashion industry. Reynolds Woodcock (Day-Lewis) is an obsessed designer and that is the only thing that "Phantom Thread" is about. Obsession is a great character trait to build any story around, yet as obsessed as Woodcock is, the whole thing feels like watching a great craftsman demonstrating what obsession is, while leaving me not caring in the least about his obsession, his love interest, anyone around him, or even him.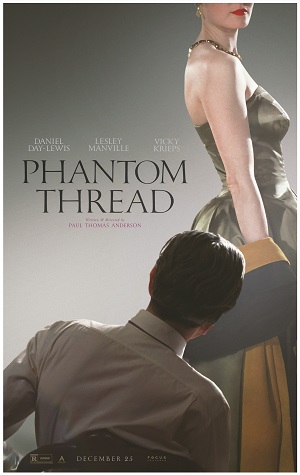 Woodcock's right-hand woman is Cyril (Lesley Manville), a stiff-as-a-board, nose stuck up in the air snoot that I suppose might exist or have existed at some point in history, but I doubt it. There is nothing human about her. She is robotically loyal to Woodcock and she runs interference between him and the rest of the world. I think we are supposed to dislike her, but I couldn't even muster up much negativity towards her. She is too much of a cartoon character to evoke any reaction from me.

Everything changes for Woodcock and Cyril when he is on a short holiday at a place he likes to relax. Alma (Vicky Krieps), a waitress at a local restaurant captures his attention and they begin to date, for lack of a better word. There is no chemistry between them and it is hard to understand what either sees in the other, other than that he is wealthy and famous. I understand that that could be enough, but she never displays that sort of personality. A wooden relationship is born, although she seems somewhat satisfied by it, at least temporarily. Cyril, of course, is displeased with all of it, but expresses little about it.

Nothing much happens, other than Alma becoming unhappy about being involved with a man who really doesn't care if she was ever born. Who could have seen that coming?

"Phantom Thread" is a cold, lifeless piece of art. At least I'm sure we are supposed to view it as art. It drives that point home repeatedly. In the end, it's a master class by a skilled director and a skilled actor that evokes nothing from the viewer. Even if that is somehow its intention, does that excuse it? You can see it and pretend you think it grand because you sense you are supposed to or just avoid this figment of a lack of imagination.