Peter Suciu, Gadget Guru and Cinema Connoisseur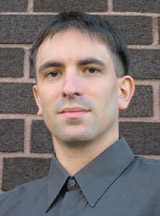 Based in New York City,
Peter Suciu
has written about consumer electronics, technology, gaming, gadgets and the toy industry for more than a decade. He has covered trends in home theater and electronic entertainment (geek speak for video games) for Newsweek, Playboy, Consumers Digest, Widescreen Review, Sound & Vision, Home Entertainment and Home Theater magazines.
For two and a half years Peter was a technology reporter and Web producer for FoxNews.com. He is also the author of several books including the upcoming Armchair Reader Hollywood. His passions are TV and tea, preferably HD and iced respectively. Peter is married to fellow writer and editor Enid Burns.
Current Reference System:
Toshiba Regza 52RV530U 52-inch 1080p LCD HDTV
Memorex MVBD2510 Blu-ray Player
Pioneer DV40V Region Free DVD Player (HDMI)
Sony PlayStation 3 (60GB, HDMI)
Microsoft Xbox 360 with HD-DVD drive
Nintendo Wii
Moxi HD-DVR (HDMI)
Denon AVR-1910 Receiver
Klipsch Reference 5 Speakers (5.1 system)
Sony MDS-JE330 Mini-Disc Player
Numark USB Turntable