Patriot Games on Blu-ray Disc Review
By Chris Chiarella
The Film
Whereas the big-screen The Hunt for Red October told its twisty story with just a few character strokes here and there, alienating some fans of Tom Clancy's more fleshed-out book in the process, the first sequel, Patriot Games, put hero Jack Ryan and his family front and center.

Under the watch of new lead actor Harrison Ford, in the first of two collaborations with director Phillip Noyce, the saga became increasingly character-oriented, unabashedly taking the time to explore Ryan's inner turmoil. And when Ryan's own brood becomes the target--he's in the hot seat after killing a terrorist's brother while traveling in London--instead of the entire free world, the bigness of it all is now conspicuously absent. It's an engrossing drama with a few action flourishes, but it doesn't really fit with its blockbuster predecessor.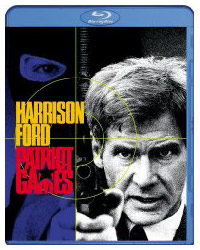 The Picture
More than once I noticed weird, pulsing compression artifacting on areas of the 2.2 frame where I wouldn't necessarily have expected it, just within typical shadowy areas and not on fog or smoke, which were actually rather stable. The picture is impressively sharp on the details of old buildings over in England, and colors are true, particularly in the overcast lighting of the U.K. Blacks however are a mixed bag, as sometimes we can detect the weave of a terrorist's ski mask, but other times we are left guessing what lurks within the dark depths.
The Sound
Philip Noyce sure loves his aerial shots, and we're given a three-dimensional helicopter flyover and landing in the desert, in Dolby TrueHD 5.1. The many gunshots carry a sense of urgency, while big thunder resonates throughout the final assault sequence of Act III. The large-scale, frantic freeway chase makes nice use of the discrete 5.1, and strong subwoofer use benefits the drama here. An explosion during the first assassination attempt scene is good, the boat in the final battle is better, but in general the audio is notably less ambitious in this, Noyce's first big Hollywood movie, than in his next Jack Ryan opus, Clear and Present Danger. James Horner's Irish-flavored score is well-utilized throughout.
The Extras
As with other Blu-rays in the Jack Ryan quadrilogy, the 25-minute assemblage of cast and crew interviews is borrowed from the 2002 DVD in standard definition. This one focuses more than the others on the specific challenges of starting over with a new creative team, the necessary changes, including some juicy tidbits about less-than-perfect test screenings. A trailer has also been remastered for HD and in 5.1, displaying remarkably good surround sound for such a bonus clip on home video.
Final Thoughts
Stylistically, tonally a departure from the thriller which spawned it, Patriot Games still succeeds on its own terms, with a solid performance by Harrison Ford as an unexpectedly imperfect protagonist.
Where to Buy:
Product Details:
Actors: Harrison Ford, Sean Bean, Patrick Bergin, Anne Archer, Samuel L. Jackson, Polly Walker, James Fox, Richard Harris, James Earl Jones, Thora Birch
Director: Phillip Noyce
Audio Formats/Languages: Dolby TrueHD 5.1 (English), Dolby Digital 5.1, (Spanish, French)
Subtitles: English, English SDH, French, Spanish, Portuguese
Aspect Ratio: 2.20:1
Number of discs: 1
Rating: R
Studio: Paramount
Release Date: July 29, 2008
Run Time: 116 minutes
List Price: $29.99
Extras:

"Patriot Games Up close" making of