Panasonic SC-BT200 Blu-ray Theater HTiB System Review
By Chris Chiarella
Edited by Chris Boylan
Panasonic SC-BT200 Review
Everything But the Curtains and the Sticky Floor (Sold Separately)
The much-maligned "home theater in a box" (HTiB) category has had a tough time shaking its "Home Theater for Dummies" reputation, perceived as putting value and convenience above all else, including performance. And while the Panasonic SC-BT200 Blu-ray Theater was quick and painless to install and the overall value is tremendous, at some point during my demos I realized that tucked away in the carton between the molded Styrofoam and bags of accessories, there were some major audio features and solid performance.
Look a little deeper and you'll find that the SC-BT200 packs some pretty high-end video guts for a "lifestyle" product, especially one so affordable. Panasonic has a great big building in Southern California (I've been there) where guys in labcoats are dedicated to keeping the company at least slightly ahead of their time, with some of the most consistently put-your-eyeballs-back-in-your-head picture quality.  Thanks to breakthroughs like the PHL (Panasonic Hollywood Labs) Reference Chroma Processor Plus and P4HD (Pixel Precision Progressive Processing for HD), Panasonic Blu-ray players can keep up with the best of them with high quality DVD upconversion and breathtaking Blu-ray image quality. Features such as high-precision 4:4:4 color output,  1080/24p Playback for Blu-ray Discs and DVDs (if supported by both software and display) and Deep Color support are things you rarely see in mid- to high-end standalone Blu-ray players, let alone packaged HTiB systems.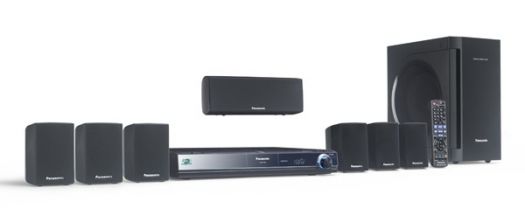 Unlike some other "home theater systems" you might come across in your online shopping or in-store auditioning, the SC-BT200 is a well-featured, just-add-TV complete 7.1-channel solution built around a BD-Live capable Blu-ray disc player for watching high-def discs and standard DVDs.  It's also packed with all the latest audio options including on-board decoding for Dolby Digital, Dolby Digital Plus, Dolby TrueHD, Multi-channel L-PCM, DTS, DTS-HD High Resolution Audio and DTS-HD Master Audio.
I'm reluctant to call the central component of this kit an "A/V Receiver," as it mostly receives audio signals, without any video input per se.  If you'd like to connect a cable or satellite set-top box or game system, your best bet is to connect the video directly to your TV (e.g., HDMI or component video) and then connect the audio to the BT200's digital or analog audio inputs.  One video source that you can hook to the system is an iPod, via the adorable slide-out iPod dock drawer tucked inside the front panel.  This integrated dock is compatible with just about all iPods (except the Shuffle), from mini, to classic, to nano to Touch, but is not officially certified for iPhone. If you put your iPhone in "airplane mode" however, it will work perfectly fine.

When the iPod is first connected, an onscreen menu for the audio content only appears, you'll need to press the "Status" key to switch to the video menu.  If you want to watch your iTunes videos on the big screen, then you'll need to run a composite video cable from the BT200 to your TV as these signals can't be passed over the HDMI output.
The BT200's remote control allows you to control the functions of the iPod as well. Even lower bitrate music sounds lovely, full-bodied and nuanced, with the option to hear stereo tracks through all seven speakers and sub via Panasonic's proprietary surround processing.
To access all Profile 2.0 features (i.e. BD-Live downloads) you'll need to connect a network cable between the BT200 and your home network router, and you'll need to add a one-gigabyte-or-higher SD or SDHC card. USB flash drives tend to be more readily available, at least between the sofa cushions at Rancho Chiarella, but Panasonic was the co-creator of the SD format, after all. With a loaded SD card, you can also quickly deliver digital music, AVCHD videos and photos to the home theater.  Network set-up through my HDCP-enabled router went off without a hitch.
Blu-ray, DVD, CD… and Beyond!
Panasonic's signature VIERA Cast suite of online features now integrates the Amazon Video-on-Demand online movie rental service, joining other already-available content options, including videos from YouTube, online photo sharing via Picasa Web Albums, financial information from Bloomberg News, and local weather updates. Up to a point, this is all very easy and enjoyable to use, unless you are a hardcore YouTube fan: "Featured" and "Most Viewed" videos are just a click away, but searches for specific clips are extremely tedious owing to the lack of a keyboard, instead requiring us to sit there and enter our search term on a 0-9/A-Z keypad, phone-style. My two cents, predictive text would be an incredible blessing in the next firmware update. Or perhaps the remotes on VIERA Cast-enabled products could incorporate even a tiny, slide-out QWERTY keypad, like so many texting cellphones.
Right out of the box, this is a complete 7.1-channel surround suite, ready to handle all your 5.1 DVDs to 7.1 Blu-rays and everything in between (that would be 6.1, if you're keeping count, and there are some wonderful 6.1 discs out there). This sonic state-of-the-artistry is delivered by a half-dozen "identical" (they spec out the same, but carry different model numbers, likely to clarify hookup) tiny, featherweight satellites, plus a more elaborate center--all utilizing two-and-a-half-inch bamboo cones and a compact, left-side-firing, front-slot-ported Kelton subwoofer. Ounce for ounce these are some of the best-performing speakers I've ever heard, although a lot of the credit must go to the BT200's nifty automated calibration speaker, as well as the quality of the amp itself.
The slave subwoofer in particular was the biggest surprise, looking as it does like a desktop computer, tipping the scales at less than ten-and-a-half pounds, and connecting via standard speaker cable. This is a mighty megawatt system (1000 watts, 1kHz, 3 ohms, 10% THD), with maximum output at 125 watts per channel all around. Pair that with DTS-HD Master Audio 7.1 and Dolby TrueHD 7.1 on down, and Panasonic's Smart Setup with Auto Speaker Setup (one free calibration microphone inside every box!), every bit as easy and actually quicker than other system calibrations I've done here. Worth noting, the subwoofer is not active during the Auto Speaker Setup process. Two of the rears can be upgraded to wireless rear surrounds with the Panasonic's optional SH-FX70 Wireless Speaker Kit ($129.95) with its wireless transceiver and receiver modules.
Upon initial system startup, I was prompted to update from firmware v.1.2 to v1.3, easy enough via broadband internet, although it took several minutes to complete.  In general, I found boot-up and responsiveness to the remote to be a bit sluggish. The unit even bothers to display "PLEASE WAIT" during warmup, it's so slow. Also, sadly the Eject button found on most Panasonic Blu-ray Disc player remotes was missing from the BT200's.
Once We Reached Cruising Altitude
To test the system's handling of the finer video tasks, my evaluation began with the Silicon Optix HD HQV Benchmark Blu-ray disc, as usualo. On HD Noise Test A the foreground flowers are detailed but the out-of-focus background is very noisy indeed, the sky behind the sailboat, too. After HD Noise Test B, I was unimpressed with both the high noise level and poor detail on the flowers.  But, as my editor likes to point out, noise reudction features are perhaps more important on an HDTV than on a high def source component that is likely to be handling high quality Blu-ray and DVD movies.
During the Video Resolution Loss Test I could see--barely--the horizontal black-and-white lines in the corner boxes with no strobing, indicative of full-resolution processing. But for a hint of jitter, all three lines in the Diagonal Filtering "Jaggies" Test - Pattern A had smooth edges at all times. The single long bar starring in Diagonal Filtering "Jaggies" Test - Pattern B - showed off its nigh-perfect edges at every angle. Squinting at the Film Resolution Loss Test, the moving B&W test pattern, again I could just make out the fine horizontal lines in the corner boxes, with no strobing, no vertical bands; further proof of the player's excellent high definition de-intelace processing. This is particularly handy if you like nature documentaries and concert videos which are frequently released in 1080i/60 resolution on Blu-ray Disc.  The upper deck was very noisy from the start of the long, slow panning shot of the stadium, and within seconds, a full-on moiré pattern appeared in the upper decks. So far the video performance of the SC-BT200 was revealed to be strong on challenging diagonal filtering and I/P processing, but definitely noisy on certain material.

Looking next at its ability to upconvert from DVD, namely the standard-def HQV Benchmark disc, the tiny lines at Marker 2 in the Color Bar/Vertical Detail screen were clearly visible, while the transition in the blue color swatch from dark to light was smooth, although I've seen smoother. "Jaggies" Test Pattern 1 was technically a "Pass," although the edges of the big rotating bar were definitely a little hinky by the ten-degree mark on the dial. The results of "Jaggies" Test Pattern 2 were "Good," as the top two lines were smooth and quite stable, while the bottom line suffered from weird jaggies.
"Jaggies" Flag Test did not bring much detail in the bricks but certainly noise, and more jaggies in the flag than I'd like (what can I say, I'm patriotic), but I've surely seen worse. The finer points of the Picture Detail Test were crisp and natural in the three telltale areas of the bridge scene, with sharp blades of grass, well-defined bricks and a lifelike statue.
As with the high definition tests, the standard def Noise Reduction tests were a bit disappointing, with skies and backgrounds ranging from noisy to very noisy, including visible mosquito noise on the lonely tree. While no real streaking per se in the Motion Adaptive Noise Reduction sequences, the skies were slightly noisy, the roller coaster and boat more so. The 3:2 Detection took a fraction of a second longer than some other players to lock on and eliminate the moiré from the Super Speedway clip, and more than once there was a bonus flicker of moiré, as if the troublesome scene did not want to go down without a fight; and then the stands were still rather noisy. Jaggies on the newspaper and coffee cups in the oft-repeated Cadence tests were not so much the problem here as flickering on the rims of the cups during the camera move and a mildly distracting twitchiness to the printed text. Both the horizontal and vertical crawls of Mixed 3:2 Film with added Video Titles start with ugly horizontal Venetian-blind scan lines, which quickly give way to a smooth combination of film plus video text until the very end. Again, solid on banishing jaggies and other flaw from the image, but I saw it break a sweat on moiré, and still more noise than I'd like.
Wanna Hear About Some "Big Sound?"
Power-wise, the SC-BT200 kills with the volume at "40," but hurts the ears at its maximum "60" from the sheer unbridled loudness.  Yet even this uncomfortable level introduced no unpleasant distortion. Bass can be tooth-rattlingly, paint-peelingly BIG at times, and in practical listening there was a marked subtlety, clarity and punch in every speaker for the multichannel goings-on in the Dolby TrueHD 5.1 treat Iron Man, with ample bass kick when called for, too.
But to really take advantage of the entire system, I turned to Star Trek VI: The Undiscovered Country, a recent Dolby TrueHD 7.1 favorite, currently available exclusively as part of the Star Trek Original Motion Picture Collection. As the newest of the classic-crew films, and with some ambitious scenarios (violent space battles, murderous rampages by hand phaser, and exploding Klingon moons), this movie is terrific 7.1 demo material, and the SC-BT200 was more than up to the task. Shifting to DTS-HD Master Audio 7.1, I popped in Hellboy II: The Golden Army, specifically the amazing sequence where the ten-story fern attacks downtown Manhattan (and of course, Hellboy assumes the role of weed killer). The bass in particular helps to sell a most fantastical series of events, and the busy, energetic surrounds are well-served by the capable, well-powered satellites. All of this reminds me: Hey, Boylan, are you ever going to return my Dolby TrueHD/DTS-HD Master Audio 7.1 BD of The Final Countdown? [editor's note: I have no idea what you're talking about right now (winking at the audience)].
The DTS-HD Master Audio 5.1 standby Master and Commander: The Far Side of the World Blu-ray flaunted the requisite power and detail but the SC-BT200 also did a remarkable job of establishing a sense of three-dimensional space, which, if you think about it, all home theater systems should do but don't always. Compared to other small-speaker systems I've tried, the sound is masterfully distributed to render a powerful, unified room-filling 7.1 soundfield capable of transporting us anywhere.
Still hungry for more? For an additional $100 there's also the SC-BT300, which replaces the li'l mains with Panasonic's "tall-boy" loudspeakers as well as a slightly larger center channel speaker and 25% more system power.
Turn-Ons:
Don't be fooled by the small speakers: They pump out BIG sound.
Convenient audio inputs for additional sources, but...
Turn-Offs:
…No video inputs beyond the iPod dock
While impressive, video quality lacks the "wow" factor of other recent Panasonic standalone Blu-ray offerings
Final Thoughts
The video was definitely respectable, but with Panasonic's Hollywood pedigree, I was certainly not expecting the audio to exceed it, especially with those microspeakers and that bargain pricetag. But the SC-BT200 rocks, and can turn an LCD or plasma into a full-blown home theater, in minutes.
Where to Buy:
Features/Specifications of the SC-BT200:
MSRP: $499.99
Subwoofer Level Control
Video D/A Converter 148.5 MHz/12-bit
Audio D/A Converter 192kHz/24-bit
HDMI Out (1)
Component Video Out(1)
Digital Optical Audio Input (2)
Analog Stereo Audio Input (1)
Composite Video Out (1)
Headphone Out (1, mini-jack)
Wireless Terminal (1)
Ethernet Port (1)
Supported Disc/File Formats: BD-ROM, BD-RE, BD-RE DL, BD-MV (BD-RE version3), JPEG (HD), BD-R/ BD-R DL BD-MV (BD-R version2), DVD Video, DVD-ROM DVD Video, DVD-RAM DVD-VR, JPEG (HD), AVCHD, DVD-R/DVD-RW/DVD-R DL, DVD+R, DVD+R DL, DVD+RW, CD, CD-DA, CD-R/-RW MP3
SD Memory Card Slot (1, SD/SDHC)
Digital Amplifier
Digital Synthesizer Tuner
PHL Reference Chroma Processor Plus
High-Precision 4:4:4 Video Output
P4HD (Pixel Precision Progressive Processing for High-Definition)
1080/24p Playback(DVD/Blu-ray Disc)

Deep Color
Digital Noise Reduction
Dynamic Range Compression
VIERA Link
VIERA CAST
Universal iPod Dock
iPod Full Title List on Screen Display for Music & Video Contents
Wireless Rear Ready
Front Speaker Configuration 1-way 1-speaker, Bass-reflex

Front Speaker Unit: 2-1/2" Cone-Type (Bamboo Cone)
Front Weight (lb.) 1.1
Front Dimensions (W x H x D): 3-5/8" x 5-1/32" x 3-3/16"

Center Configuration 1-way 1-speaker, Bass-reflex

Center Speaker Unit: 2-1/2" Cone-Type x2 (Bamboo Cone)
Center Speaker Weight (lb.): 1.7
Center Speaker Dimensions (W x H x D): 9-27/32" x 3-3/4" x 3-3/16"

Surround Configuration 1-way 1-speaker, Bass-reflex

Surround Speaker Unit: 2-1/2" Cone-Type (Bamboo Cone)
Surround Weight (lb.): 1.1

Surround Back Configuration 1-way 1-speaker, Bass-reflex

Surround Back Speaker Unit: 2-1/2" Cone-Type
Surround Back Speaker Weight (lb.): 1.1

Subwoofer Configuration: Kelton-type

Subwoofer Speaker: 10'' Passive Radiator, 6-1/2'' Woofer
Subwoofer Weight: 10.4 pounds

Power Rating: 100 Watts/Channel into 7 channels + 150-watt powered subwoofer
iPod/iPhone dock
Auto Sound Calibration with Microphone
Onboard decoding for Dolby TrueHD, Dolby Digital Plus, Dolby Digital, DTS-HD Master Audio, DTS-HD High-Resolution Audio, DTS
AM/FM tuner
Energy Star compliant
Dimensions (W x H x D):

Receiver: 17.32" x 6.5" x 15.16"
Satellites: 3.68" x 10.67" x 3.03"
Center: 14.17" x 3.05" x 3.68"
Subwoofer: 12.2" x 15.24" x 16.85"
Gross (Carton): 21.18" x 18.31" x 28.43"

Weight:

Receiver: 14.5 pounds
Total Weight 33.95 lbs
Gross (Shipping): 62 pounds

Warranty: 1 Year, Limited
Manufacturer's Contact Information:
Panasonic Corporation of North America
One Panasonic Way
Secaucus, NJ 07094
1-800-211-PANA (7262)
Web Site: www.panasonic.com