The Site for Home Theater and Movie Reviews
Panasonic Viera TC-L42E30 LED HDTV Review
By Greg Robinson
Edited by Chris Boylan
Nicely Equipped
Although it's generally true that you get what you pay for, one mustn't forget the law of diminishing returns. Case in point: friends of ours just bought a new car. They knew the make and model they wanted and they were pretty sure they wanted the Limited (read "top of the line") trim level. However, as is often the case, their attitude changed slightly when they got to the dealer and found one on the lot in the color they wanted only it had a lesser trim level. The color was the same, the wheels were the same, the engine was the same. They still got the leather, but they lost the GPS. They still got the sunroof, but they lost the satellite radio. A few compromises, yes - but not many. And you know what? For the minor inconvenience of using their smartphone for directions and their iPod for music, the money they saved will probably pay for all the fuel the car uses between now and Christmas. Did they get a product with fewer features? Yes. Are those few features likely to be missed? I doubt it.

In many ways, Panasonic's VIERA TC-L42E30 is like the car my friends just brought home. It may lack a few of the top shelf features offered on some other Panasonic displays (e.g. the full-blown VIERA Connect suite of apps), but this LED-backlit 1080p HDTV has an awful lot going for it at a price that's hard to argue with. And yes, it even "does Netflix."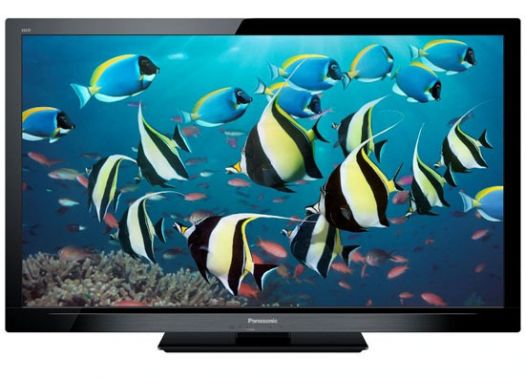 The Walk Around

When you go TV shopping these days, you're apt to encounter more than few models sporting space age designs: inch-thin profiles, mirrored stands, barely-there bezels, and touch-sensitive buttons. The TC-L42E30 is not one of those displays. Mind you, that's not a knock. When you're replacing a 300 lb CRT whose depth was measured in feet, not inches, does seven tenths of an inch really matter? (The TC-L42E30 measures a mere 1.7 inches deep.) Stands and bezels should be black and they should never create distracting reflections. Would a narrower bezel be nice? Sure. Is it really going to bother me? Hardly. (Though I can't say I'm a fan of high-gloss plastic.) And you can keep your touch sensitive buttons, thank you very much.

Taking a look at the connection options on the TC-L42E30 yields most of what you'd hope to find on a networked HDTV. In addition to its four HDMI inputs (1 on the side), you also get two USB ports (1 on the side), one component video input, one composite input, and one Ethernet jack for connection to your home network. The TC-L42E30 is Wi-Fi -ready, but you'll need to spring for Panasonic's optional USB adapter, the DY-WL10, or a third party wireless gaming adapter or wireless bridge, if you plan to cut the cord during network operation.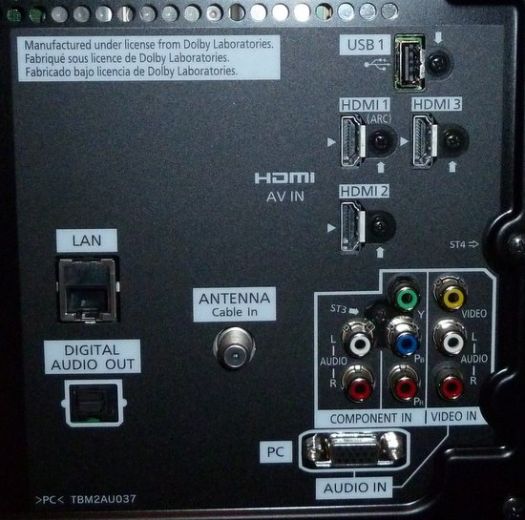 Remote, Control



Panasonic's included remote control is a fairly basic affair, and it should look familiar to anyone who's operated a Panasonic display or Blu-ray Disc player in the last few years. You get neither backlighting nor glow buttons, but what this spartan remote lacks in dark-room legibility it makes up for with an excellent layout of large, comfortable buttons - the most important of which, Volume, is located in precisely the right spot. The cursor pad buttons could be a tad larger and more pronounced but overall this is a simple yet effective controller.
When you first turn on the TC-L42E30 you're greeted with a thorough, intuitive, and superbly-executed guided setup wizard. For example, rather than automatically scanning for cable or antenna channels, the system wisely first asks, "Do you use a Cable, Satellite or Fiber Optic box with this TV?" If you answer Yes (as most folks will), it skips the channel scan and brings you right to the Input Labeling menu. Here you can choose from a host of pre-defined labels (e.g. "Blu-ray") or create your own custom label, the latter being a welcome feature display makers often forego.
Easy IPTV
One of the most common questions we hear from TV shoppers today is, "Does it do Netflix?" Well, if by that you're asking if the TC-L42E30 has internet streaming capabilities for web services such as Netflix, Pandora, and CinemaNow - yes, it does. In what can only be described as a confusing distinction, the TC-L42E30 lacks Panasonic's advanced "VIERA Connect" platform, but it does include Panasonic's more limited (but still impressive) "Easy IPTV" suite of media streaming services.
You may be asking, "What about VIERA Cast?" Good question! Forget VIERA Cast. That's gone, at least on Panasonic's TVs. While Panasonic still calls their media streaming platform VIERA Cast on their Blu-ray players and HTiB systems, they have replaced VIERA Cast with the new and improved VIERA Connect on their televisions. (Which, remember,  the TC-L42E30 doesn't have. Despite its plethora of "connected" services such as Netflix.)  Their entry-level Web-enabled TVs such as the TC-L42E30 include a subset of the full VIERA Connect suite called Easy IPTV.  Oh and the button on the remote to access these features? "VIERA Tools." Confused yet? Join the club.

So what exactly DO you get with Panasonic's Easy IPTV? Quite a bit, actually. One push of that VIERA Tools button on the remote brings up a bar along along the bottom of your screen. Left to right, you'll see large, easy-to-navigate icons for Netflix, CinemaNow, Amazon Video On-Demand, Pandora, Napster, and Facebook. Here you'll also find access to Panasonic's integrated Media Player as well as a DLNA network browser.
Media Player is used to access any photos, videos, or music you've inserted in the TC-L42E30's side-facing SD card or USB slot whereas the DLNA icon brings you to a "server" listing of any DLNA media servers on your home network. I used the TC-L42E30 to stream some home movies and music files stored on a Seagate BlackArmor NAS 220 and had no trouble with either. I also tried to watch some Quicktime movie trailers (.mov files), which I can do from my Oppo Blu-ray Disc player, but alas the Panasonic does not support this format.

Picture This

To get a feel for this Panasonic's video processing capabilities, I connected my Oppo DV-983H DVD player via component video and fed the TV with a series of 480i test patterns from my HQV Benchmark disc. The TC-L42E30 handled the various "Jaggies" patterns exceptionally well, with the tell tale flag loop showing a crisp, smooth edge on the fabric as Old Glory waved in the breeze. Film cadence was quickly identified during the Super Speedway race car sequence and the granstands quieted down in less than one second. Video noise and detail tests also fared quite well leading me the conclusion that this Panasonic is rather capable in the processing department.

During video calibration, I did find myself wishing Panasonic had included the "Apply to All Inputs" feature you see on many LG displays. Still, video adjustments on the TC-L42E30 were fairly easy to make. As usual, I turned off the advanced noise reduction modes and ambient light sensor to get the truest sense of this display's capabilities. The Panasonic's "Cinema" mode yielded the best "out of the box" experience, with only minor tweaking necessary to achieve a satisfying image. The only major gripe I had was Panasonic's decision to omit their "Pro Settings" menu from the TC-L42E30. Not having this, I was unable to adjust the display's white balance or grayscale, a critical feature for more accurate calibration and one that videophiles invariably tinker with.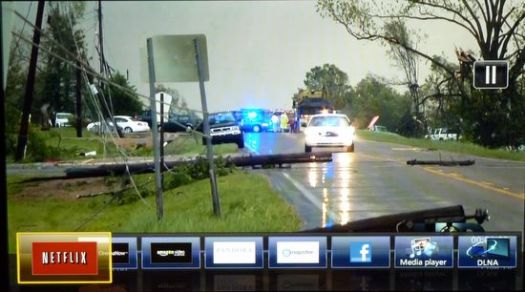 After calibration, I ran through several of my go-to Blu-ray Discs including Master and Commander, The Dark Knight, and the recent Star Trek reboot. Overall, I was quite impressed with the TC-L42E30's handling of this high definition content. Captain Jack Aubrey and his fellow crewmen boasted honest skin tones on the quarter deck and the IMAX-filmed opening sequence of Dark Knight revealed exceptional fine detail in the rooftops of Gotham City. Star Trek was an interesting test, as edge-lit LED TVs typically reveal their notorious perimeter flare during dark environments such as that of deep space. The TC-L42E30 does suffer a bit from this, but it's not nearly as bad as I've seen on other displays. Black levels in general were fairly good, provided you sat straight-on. Like many LED TVs, the optimum viewing angle on the TC-L42E30 is quite narrow.

Turning last to some DISH Network TV content, I was impressed with the Panasonic's handling of the News Corp hearings being broadcast on, oh, every news channel. Colors were punchy, text looked crisp, and video noise was minimal. The scrolling ticker tape on CNBC did show some typical LCD blur, but it was never so bad as to make text illegible. Engaging Panasonic's "Motion Picture Pro 4" blur reduction/frame interpolation technology did help with this, but you'll definitely want to turn that off when watching film. Switching from the news to Groundhog Day on one of the movie channels, the movements of Bill Murray and company looked unnatural and wrong with Motion Picture Pro enabled - a common side effect of frame interpolation "features." My advice? Leave it off.

Turn Ons:
No 3D (there, I said it)
Respectable offering of "Easy IPTV" apps
Solid color accuracy
Highly capable video processing
Excellent value
Turn Offs:
No 3D (for those who disagree)
No "Pro Settings" (white balance) for grayscale control
Middling LCD black levels
Less-than-stellar viewing angle
Blur reduction feature destroys the look of film (not unique to this TV)

Final Thoughts

Earlier I spoke of my friends and their recent purchase of a new car. Like their new wheels, the TC-L42E30 is something of a compromise purchase. You want a good TV, but when you stop and ask yourself the tough questions, you may discover that you don't really NEED 3D.  You don't NEED a stand that swivels. You don't NEED to control your TV volume from your iPhone. It's true, these are shortcomings of the TC-L42E30 in comparison to step-up models in the Panasonic HDTV line. However, in this economy, many people (including yours truly) aren't looking for the top of the line. They're searching for a modestly priced alternative that gets them many of the same features but for less money. If your primary concerns are respectable picture quality, intuitive controls, and a healthy array of web apps such as Netflix and Pandora, you'd be wise to give this Panasonic a look. And just wait until you see the price.

Manufacturer's Specifications:
Manufacturer's Contact Information:

Panasonic Corporation of North America
One Panasonic Way
Secaucus, NJ 07094

1-800-211-PANA (7262)

Website: www.panasonic.com
What did you think?
The Scores for Panasonic Viera TC-L42E30 LED HDTV
| | |
| --- | --- |
| Overall | |
| Value | |
| Performance | |
| Features/Ergonomics | |
Explore Big Picture Big Sound