Panasonic Unveils Details of 2011 Blu-ray 3D Home Theater Systems: SC-BTT770, SC-BTT370 and SC-BTT270
By Rachel Cericola
Earlier this year, editor Chris Boylan gave us a hands-on look at Panasonic's 2011 Blu-ray 3D player lineup. Now comes word that the company will be releasing three different Blu-ray 3D players this April -- and of which are attached to home theater setups.
The new models are the SC-BTT770, SC-BTT370 and SC-BTT270. All three can play back Blu-ray 3D discs, as well as standard Blu-rays, DVDs, and even CDs. Other common features include Audio Return Channel, Cinema Surround Plus technology, built-in Wi-Fi, the Universal Dock for iPod/iPhone dock, and 3D Effect Controller. That 3D Effect Controller sounds like a nifty new feature, allowing viewers to adjust the depth for more (or less) in-your-face 3D images.
The new models also feature the new and improved VIERA Cast, which includes instant, on-screen access to services such as Netflix, Amazon Video on Demand, YouTube, VUDU, and Pandora. The SC-BTT770 and SC-BTT370 also include Skype functionality.
The SC-BTT770 and the SC-BTT370 share a few other common features, including a down-firing subwoofer, one HDMI output and two HDMI inputs with Standby Pass through for HD and 3D gaming and set-top box connections. Priced at $599.99, the SC-BTT770 comes with rear wireless speakers and the wireless kit to make that connection happen. The SC-BTT370 is wireless-ready, but at $499.95, does not come with the kit. If you decide to add that in later, the optional SH-FX71 wireless kit will retail for $129.95.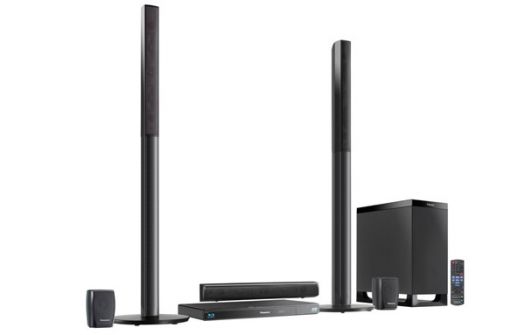 Of the new Blu-ray 3D home theater systems, Panasonic's least expensive model is the SC-BTT270, which will retail for $399.99. This features a tabletop design, and easy setup.
Amazon is currently taking orders on all three of the new Blu-ray 3D home theater systems, with Panasonic saying they will start selling this April.
Where to Buy: