Panasonic Shows Off 103-inch Glasses-Free 3D Plasma HDTV
By Rachel Cericola
Earlier this year, Toshiba was at January's International CES showing off glasses-free 3D technology using a 4K display. It was nothing new, considering the company was doing the same thing last year in 55- and 65-inch sizes. Now, Panasonic is stealing a little (ok, a lot) of their thunder by showing off a 103-inch glasses-free 3D plasma.
The company currently has the set in Berlin, Germany, at the IFA 2012 tradeshow. Panasonic says that this is the world's largest glasses-free 3D plasma -- and who are we to argue? This is the biggest one that we've seen. A few of the highlights include 4K2K plasma panels and the promise of very little moiré interference or crosstalk interference -- about half of its glasses-free competitors, anyway.
At IFA, the set was being shown as a business tool, so we have to wonder if Panasonic has any plans to mass-produce this model for home use. Of course, we're drooling, but it could be a tough sell in an already tough market. As our friends at HDTVtest point out, this type of TV uses a third 3D technology. In other words, no active or passive is used here. To make glasses-free 3D (or autostereoscopic) happen, the set uses a lenticular filter. The end result typically means narrower viewing angles.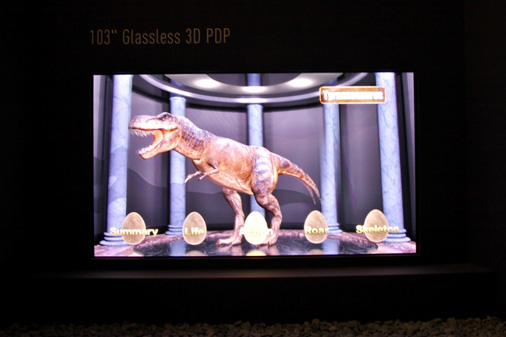 Then, of course, the other issue is that you have to have a space big enough to fit a 103-inch TV. Hey, Panasonic: We're willing to make the room!
The company does seem dedicate to the technology, though. "In order to achieve ever greater levels of audiovisual quality, broadcasting and other imaging technologies have undergone a long-term process of evolution from black-and-white to color and from standard definition to high definition," the company said in its announcement. "Today, Panasonic is working to carry this evolution into a new plane of true-to-life, immersive communication with the development of 3D imaging and high-definition imaging technologies."
Panasonic will be showing off the 103-inch glasses-free 3D plasma at IFA 2012 through August 31, 2012. Currently, there's no word on the set's release date, pricing information or other specs.
For More Information: