Panasonic SC-BTT770 3D Blu-ray Home Entertainment System Review
By Rachel Cericola
Edited by Chris Boylan
Despite what you may want to admit, this is the year of 3D. Manufacturers are putting out more 3D TVs than ever before, to the point that it may end up being a standard HDTV feature sometime in the near future. Of course, most 3D TVs also make good 2D TVs (no glasses required for that). However, if you want to check out the 3D (and you will want to), you're going to need a few add-ons.
Besides the 3D glasses, one major must-have accessory is a Blu-ray 3D player. This is currently the best way to watch 3D at home, and the only way to view a full HD 1080p 3D movie. Panasonic's SC-BTT770 5.1-Channel 3D Blu-ray Home Entertainment System packages up the player with a full surround sound audio system with wireless rear speakers and WiFi networking -- and actually makes it affordable, at $599.99 (MSRP).
This complete system includes two tallboy front speakers, a center channel, two surrounds (wireless!), a subwoofer, and a Blu-ray 3D player. In case you get your fill of Blu-rays (2D and 3D), DVDs and CDs, the player also has a built-in iPod dock that pops right out of the front. This can charge up your iPod or iPhone, all while it plays your favorite playlist through your surround sound system.  It also includes Panasonic's VIERA Cast feature so you can stream music and movies from providers such as Netflix, Amazon, VUDU, Pandora and YouTube (some services require a subscription).  Besides all of those goodies and the 3D capabilities, this setup goes one step further towards true tech convenience, by making those rear speakers wireless. That's right, there's no unsightly speaker wires from the front to the back of your room, but you'll get all the benefits of discrete rear or side speakers for a fully immersive surround sound environment.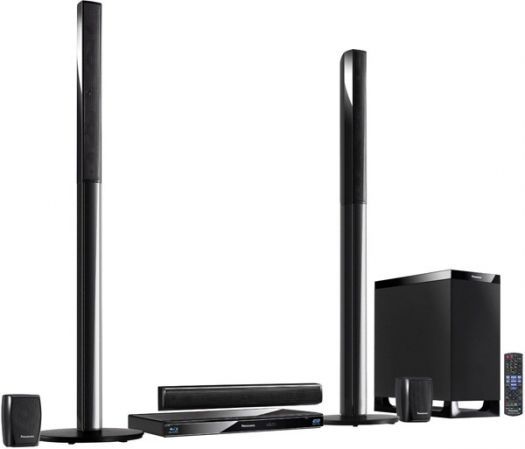 Did we say "wireless?" Don't get crazy. Of course, no speakers are truly wireless. The rears need to be hooked to the included Wireless Rear Speaker Kit, which in turn needs a power source.  This kit is what makes the wireless magic possible. Even so, we think you'll find this a lot more convenient (and attractive) then having to run speaker wires from the front to the back of your room.  More on that in a bit.
Other features that make SC-BTT770 sparkle include the Clear Sound Digital Amplifier, Dolby TrueHD and DTS-HD Master Audio decoders for discrete lossless surround sound, built-in Wi-Fi networking, a built-in FM tuner, and the aforementioned VIERA Cast network streaming platform.  New for 2011 in the VIERA Cast suite is built-in Skype support. With this you can turn your existing TV into a big screen video phone, calling other Skype users anywhere in the world.  However, for that capability, you will need the optional compatible camera, such as the Skype Freetalk HD webcam for Panasonic TVs and Blu-ray players.
Out of the Box, Into the Room
Despite the sheer volume of goodies inside the SC-BTT770 box, this is a surprisingly light package. There are two real standouts when it comes to weight. The subwoofer, which is usually the back-breaker of the set, is under 10 pounds. In fact, it's hard to believe that it's even that heavy; it just feels so insanely light. Also, at under 1 pound each, those two rear speakers look and feel like a pair of thimbles. Out of the package, we couldn't believe that this thing could deliver the sound needed for the full 3D experience. (Stop being so skeptical, and read on!)

Unwrapping the front speakers, we were reminded of Wii accessories. They are light and thin, and there are enough pieces for a four-person lightsaber fight. (Don't do that!) The front speakers come in three pieces. The base needs to be screwed to a throwaway piece of plastic, which basically gives the speakers height and a funky look. The bottom section has two speaker wires that connect to the top piece, which is the actual speaker. One more screw, and you're done with the construction portion of this program.
For the rest of the speakers, it's one big matching game. Basically, if you know your primary colors, you can hook all of the speakers to the Blu-ray 3D player/receiver module via the color-coded proprietary locking connectors. These speakers are not made to connect to a a different receiver (nor is it recommended that you use different speakers with this system's control unit), unless you like splicing wire.
The rear speakers can be connected to the back of the player/receiver module, just like all of the other speakers in this set if that is your preference. But why bother when the wireless option is there? Wireless audio is definitely a standout perk on this set. To make those two speakers wireless, you will need to hook them to the small (included) wireless amp/receiver module. That kit has its own set of speaker wire and a power cord. Doesn't sound so wire-free, does it? Well, it's really not completely wireless. It just eliminates the need for visible wires being run to the back of your room (or the need to pay a contractor to hide those wires for you). Not everyone loves drilling holes and fishing wire, you know.
Once the speakers are hooked to the wireless kit, slide the included digital transmitter into the back of the main player/receiver module until you hear a click. That's it; you've got yourself a set of wireless speakers. We placed the wireless box under our couch, with absolutely no problems. Even better, there was no visible clutter and we still got all that wonderful sidcrete rear channel surround information from behind us, not from some cheesy virtual surround mode.
The other ports on the back of the player/receiver aren't as colorful, but are still simple to decipher. There are two HDMI inputs for connecting additional gear and one output, the slot for the digital surround transmitter, one USB port, a LAN port, a terminal for the included FM radio antenna, a fiberoptic digital audio input jack, and a stereo RCA analog audio input.  There's also a standard composite video output jack, which you'll only really need if you're using an older analog TV or you want to watch video or photo content from your iPod (these videos are not carried over the unit's HDMI output).
On the front of the unit, there's an SD card slot, which you'll need to take advantage of BD-Live content. This player doesn't have internal storage, so don't forget to pick up (and plug in) an SD, SD-HC or SD-XC card of at least 1 GB if you want to take advantage of BD-Live or the Skype Video Voicemail feature. We'd recommend 4 GB or above so you have extra space for messages and BD-Live content.  There is also the disc tray, a button to open and close that tray, and buttons for power, play and stop functions. There's also the aforementioned iPod dock.
Easy-Peasy & (Mostly) Breezy
Panasonic offers an easy on-screen setup process. Because we already had the Panasonic TC-P50GT25 50-inch plasma in place, the unit automatically applied settings from VIERA Link. Other than that, it's just a series of easy questions. How many wireless systems do you have in place? Click the speaker that looks like your speaker setup. From there, you are invited to do a little speaker check, which is a nice touch, especially if you want to test out the wireless system.
One thing that wasn't that awesome was the firmware upgrade. Out of the box, we were told that this system was in need of one. It took a full 15 minutes on a hardwired connection, not counting the system reboot. Since this was one of our longest firmware upgrades to date -- and there wasn't much in the way of helpful on-screen information for most of it -- we were a little worried. Overall, it isn't too painful -- unless you've got a room full of people waiting to watch a movie, of course.
For this review, we used both wired and wireless connections. For the most part, we used the system's built-in Wi-Fi, just because we could. After entering our password, we were on the wireless network within seconds. For the rest of our review period, we had completely forgotten that it was hooked to the wireless, since there were no associated issues.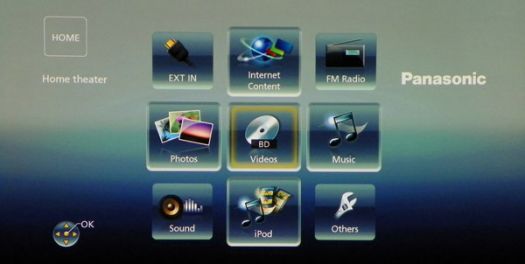 Having the player hooked into your network is beneficial if you want that BD-Live, as well as the player's many web-based features. The SC-BTT770 can tap into Netflix, Amazon Instant Video, VUDU, YouTube, Cinema Now, Picasa, Pandora, Twitter, Fox Sports, Bloomberg Television, Weather, Roxio's Alphaline Entertainment, and Germany's Tagesschau.
One thing that appears to be missing -- which is available in Panasonic's current generation standalone Blu-ray players such as the DMP-BDT110 -- is the ability to stream content from network-connected computers, such as DLNA. The good news is that the player has plenty of other services to play with, and it plays with them very well, for the most part.
Panasonic still doesn't support 3D streaming from VUDU (which is a missed opportunity). However, there are plenty of VUDU selections available in SD, HD and 1080p HDX resolution.  Also, this system, like the stand-alone Blu-ray players in Panasonic's 2011 line-up, does support Dolby Digital 5.1 surround from streaming sources, including VUDU and Netflix. Of course, this does not mean that all of the Netflix and VUDU content will be available in 5.1 surround, but those that are offered by the service provider in that format come through properly in 5.1 on the BTT770.  We verified this with multiple movies. On Netflix in particular, we tested the Swedish vampire flick, Let the Right One In, selected that film's Dolby Digital 5.1 soundtrack option, and enjoyed the discrete multi-channel surround sound. It's noteworthy that this player does offer the Netflix 3.0 interface, which means you can access your Instant Queue, as well as browsing new releases, recommendations, and searching for specific titles.
The Total Package
Panasonic has priced this set at $599.99 (MSRP), making it their most expensive home theater in a box package. Our own Chris Boylan recently reviewed the SC-BTT350, which offers many of the same features for $250 less, but is a bit harder to find now as it was a late 2010 model. For the extra cash, you do get a few bells and whistles; the main difference is the slick look (and larger size) of the front speakers, integrated WiFi networking and the wireless back speakers, plus the streaming enhancements and speedier load times. All told, these improvements do merit the increased price, but keep in mind that there are some slightly less expensive options available from Panasonic if you're willing to sacrifice some performance and wireless capabilities.
Testing, Testing...
We put the player through multiple paces, checking out DVDs and both 2D and 3D Blu-rays. During the HQV Benchmark DVD, the player did pass the jaggies test, but had a few jaggies visible during the second test of three bouncing line segments. This means that its diagonal filter is good, but not great.  The standard-def picture detail seemed a little on the soft side. However, we were extremely impressed with the player's performance during the rest of the disc, most notably how quick the unit could lock onto the 3:2 cadence in the "Super Speedway" segment.  This means the player should handle film-based DVDs very well.
Next, we wanted to see how the SC-BTT770 did on disc-loading times, so we popped in a few standbys. It took about 22 seconds to see a studio logo on our standard-def DVD (Old School). A plain Blu-ray Disc (Hitch) loaded to the studio logo in a mere 11 seconds, with a BD-Java Heavy Blu-ray title (Pirates of the Caribbean: The Curse of the Black Pearl) taking a very respectable 19 seconds. Inglourious Basterds, which is infamous for its long load times took just 55 seconds. To test 3D loading, we used Cloudy with a Chance of Meatballs, which took just 43 seconds to load. Overall, it was very impressive -- one of the quickest we have tested -- and noticeably improved over earlier models.
The audio side was pretty solid for a starter setup. The rear speakers are small, and even the tall front speakers are mostly stand. Not that there's anything wrong with that, but this setup would probably be better suited for smaller rooms. While not as rocking as a big, expensive component audio rig, the BTT770 was extremely enjoyable to listen to for movies, sports, music, and even day-to-day TV viewing. The one downside was the subwoofer. Overall, this system puts out some thick bass with a bit less definition and precision than we would have liked. Even on something innocuous like The Price is Right, we were getting too much boom in the room. We love our game shows, but it was just too much. The system does allow you to tweak the levels pretty easily (with a few button pushes from the remote control), but it still seemed a little heavy, making the bass the weakest portion of this entire setup.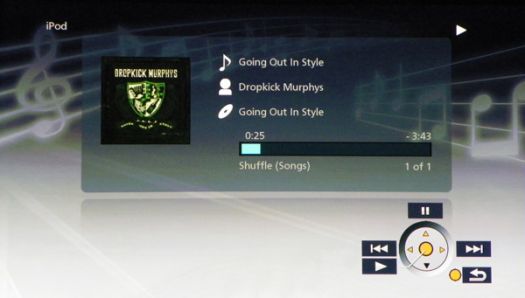 iPod, uPod, We All Scream for iPod
If you don't already have a spot to dock your iPod, the SC-BTT770's integrated dock is a welcome addition. In fact, it really is the cherry on top of the entire audio setup -- assuming you have an iPod, of course.
The dock is hidden on the front of the Blu-ray 3D player/receiver module, and ejects with a slight push of the tray. To access iPod content, there is an iPod button on the remote, which offers instant gratification over on-screen navigation. Once connected, the iPod menu offers Music, Videos and an All option. If you want to check out videos and photos, however, you'll need to hook the player up via a composite cable. That said, album cover art was visible during music playback, without the need for that extra cable.
We did attempt to watch a few digital movies (from our iPod) on the big screen. However, it seemed a little pixelated and didn't match the awesome that the player showed during disc playback. There's only so large you can make content intended for display on a 4-inch screen before it starts to look bad.  It would be good in a pinch, we suppose. That said, you probably won't be taking this setup on the road, where having content in one hard drive would be a bonus.

Complicated Control
Like every system under the sun, the SC-BTT770 comes with its own remote control. Also, like other current Panasonic Blu-ray 3D products, this remote does not include backlighting. However, it does offer VIERA Link, which allows you to use your TV's remote to control the player and most of its goodies. The included remote, with its direct buttons for VIERA Cast and Netflix (among other things), is definitely easier to use than the TV remote, particularly if you enable VIERA Link (HDMI-CEC) and you take advantage of the unit's Audio Return Channel (ARC) feature.
With ARC, you can connect your additional digital sources, such as a cable or satellite set-top box or a Roku over-the-top streaming box, directly to the TV via HDMI cables and still get 5.1 channel surround sound from them without any additional cables connected to the Blu-ray/receiver.  The single HDMI cable that you connect from the SC-BTT770 to your TV will not only carry that 1080p video goodness from the player to the TV, but it will also receive the audio from any connected digital source back from the TV to the Blu-ray player/receiver for fully discrete surround sound.
We tested this with a DISH Network ViP722 HD DVR and, although it needed some tweaking in the TV's set-up menu, it worked like a champ: 5.1 channel surround from our recorded shows from HBO and all the switching was handled via the TV's input selector.  Also, with VIERA Link turned on, the Blu-ray/receiver switched itself automatically to the "ARC" input when necessary.  You can also select this manually using the "Radio/EXT IN - iPod" button on the remote control.
This may sound like magic, but it's not.  It's just one of the enhancements to the HDMI specification for HDMI 1.4/1.4a.  There are a few caveats though.  First of all, for this to work, your TV also has to support the HDMI Audio Return Channel (check your user manual or the manufacturer's website if you're not sure) and you must connect the SC-BTT770 to the TV's ARC/HDMI input (usually HDMI 1).  Also, only digital components apply. In other words, you can't expect to get sound from your Wii game console (which has purely analog outputs) through your TV and into your receiver via the ARC/HDMI cable. To get sound from your Wii or VCR or other analog source, you will either need to connect its audio output directly to the SC-BT770's analog audio input, or connect it through your TV and connect your TV's analog (left/right white/red) RCA audio outputs to the Blu-ray/receiver unit.
Turn Ons
Plays virtually everything: CDs, DVDs, Blu-ray and Blu-ray 3D
Speaker wire is included and color-coded
Offers HDMI standby pass-through and ARC for simple flexible connection of external devices
Excellent audio and video performance on disc playback
Nice selection of streaming content
Wireless speakers and WiFi networking are included
Turn Offs
Speakers are sort of flimsy; don't have a solid build
Bass is a bit heavy and muddy
Remote could be a bit better
Final Thoughts
Panasonic's SC-BTT770 offers an easy "set it and forget it" type of install, and an absolutely state of the art Blu-ray 3D player as well as a nice selection of internet streaming options. The wireless speakers are also a nice touch, spreading some of the discrete surround sound to areas where it would be otherwise impossible without visible speaker wires or complicated in-wall wiring. Speaker quality (particularly subwoofer performance) is probably the weakest portion of this set, but considering the price, the video performance and the remarkably comprehensive feature set, they actually don't sound too bad.  They certainly blow away any TV's built-in speakers, and offer a fully immersive surround soundfield that is simply not possible with a one-piece sound bar solution.
If you want to save a bit of money, and aren't interested in the wireless speakers or WiFi networking options, Panasonic also offers the SC-BTT270 and SC-BTT370. They have the same VIERA Cast options (Netflix, VUDU, Skype, etc.) and similar performance to the SC-BTT770, but without the wireless options and with smaller speakers at a much lower price.  As for the SC-BTT770, don't expect to raise the roof, but do expect to raise your overall entertainment experience, with a minimum of expense and effort. Highly recommended.
Features/Specifications of the Panasonic SC-BTT770:
Total power: 1000 watts RMS (185 x 2 for front speakers; 180W for center speaker; 125W x 2 for surround speakers; 200W for subwoofer)
Dolby Digital decoder: Dolby TrueHD, Dolby Digital Plus, Dolby Digital, Dolby Pro Logic II
DTS decoder: DTS-HD Master Audio Essential, DTS HD High Resolution Audio, DTS
DVD+R/RW/R(DL) playback formats: Video, AVCHD
DVD-R/RW/R(DL) playback formats: Video, DVD-VR, AVCHD, JPEG, MP3, MPO
CD-R/RW playback formats: CD-DA, MP3, JPEG/MPO
BD-RE/RE DL playback formats: Version3, JPEG/MPO
Blu-ray Disc, Blu-ray 3D Disc Playback
SD memory card slot: Compatible with SD/SDHC/SDXC cards; plays AVCHD, MPEG2, JPEG and MPO media
Universal Dock for iPod/iPhone: Integrated
Wireless Rear Speakers: Yes
VIERA Cast: Yes
Built-in Wi-Fi
FM radio: Yes
Main unit dimensions: 1-9/16 x 16-15/16 x 10-31/32 inches (HxWxD)
Inputs/Outputs:

HDMI inputs: 2
HDMI outputs: 1
Digital audio input: 1 (optical)
USB port: 1 (for optional Skype camera)
Ethernet: 1
Analog Audio input: 1 (stereo RCA cable)

Speakers:

Front speakers (x2): 4-inch cone type; 40-11/32 x 10-1/16 x 10-1/16 inches (HxWxD)
Surround speakers (x2): 2-1/2-inch full range, cone type; 4-19/32 x 3-5/32 x 2-15/16 inches (HxWxD)
Center speaker: 4-inch cone type; 2-11/32 x 16-23/32 x 3 inches (HxWxD)
Subwoofer: 6-1/2-inch woofer, cone type; 16-1/16 x 7-3/32 x 11-13/16 inches (HxWxD)

MSRP: $599.99
Manufacturer's Contact Information:
Panasonic Corporation of North America
One Panasonic Way
Secaucus, NJ 07094
1-800-211-PANA (7262)
Web Site: www.panasonic.com