The Site for Home Theater and Movie Reviews
Panasonic SC-BT330 Blu-ray Disc Home Theater Sound System Review
By Chris Chiarella
Edited by Chris Boylan
Panasonic SC-BT330 Review
Middle Management
As previewed earlier this year, the Panasonic SC-BT330 Blu-ray Disc Home Theater Sound System is the middle-child in the manufacturer's current HTiB lineup. A step up from the entry-level SC-BT230, this kit offers more elaborate left/right main loudspeakers and subwoofer, plus "Smart Setup" room calibration via the supplied microphone. Pretty much everything except the TV and the electricity are included. Complete, affordable bundles like the SC-BT330 are a welcome boon to the Blu-ray revolution, removing the guesswork for newbies seeking the full 1080p high-definition disc experience, with the comfort of DVD/CD backward compatibility thrown in, along with a host of convenience features and even some of the very latest technology, like the Audio Return Channel.
At the heart of the system is the multitasking SA-BT330 Blu-ray receiver, which has been matched with a pair of the SB-HF330 tower-styled main speakers, two SB-HS230 surrounds and the SB-HC230 center channel. These last three speakers have tiny rubber feet for standing and keyhole mounts for wall-hanging. The Kelton-type SB-HW330 subwoofer is side-ported with a ten-inch passive radiator, although I'm not entirely sure what the four substantial rubber nodes on the rear are for. The mains attach to coordinated stands, constructed of hollow plastic boxes with grille cloth stretched over them. Perhaps these stands are intended to impart the illusion of true floor-standing towers, although this extension of the speaker's look offers no sonic benefit. The two pieces come together atop a plastic/metal disc base, a tad top-heavy but sufficiently stable.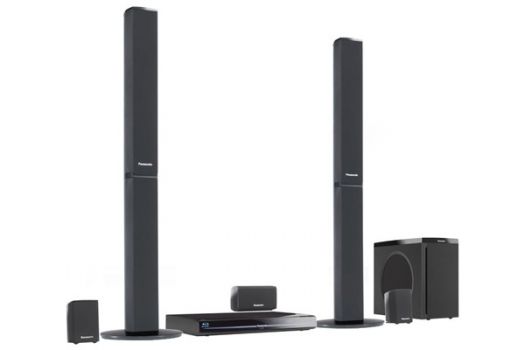 Proprietary color-coded two-prong plugs help to simplify initial system connection, and a sheet of stickers is provided to help us keep track of which thin white speaker cable represents which channel. Those prongs plug into the can't-miss-it bank of colored ports on the rear panel. Because this is a true audio/video receiver, it provides multiple inputs for other sources, such as cable/satellite boxes and videogame consoles as well. If you have a respectably equipped home theater, the SC-BT330 can ably handle all of your decoding/amplification and switching duties (at least as far as the audio is concerned).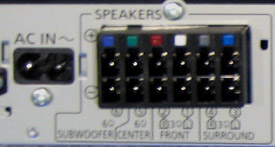 The hardware is billed as "Double Wireless Ready," each of these upgrades enabled with an additional accessory purchase: The freedom of wireless rears (well, no wired connection back to the receiver unit anyway) is supported by Panasonic's SH-FX71 kit, and wireless networking via the DY-WL10 adapter. The unwired rears take the place of the wired pair, they are not an add-on, which is to say that this is a 5.1 system and not 7.1 like last year's comparably priced
SC-BT200
. Since we didn't test either of these wireless options, that's all we have to say about that.
Blu-ray-wise, the player is Profile 2.0, meaning that it supports both Bonus View picture-in-picture features and BD-Live internet connectivity. Boot-up (to the splash screen becoming visible on the TV and "no disc" message on the front panel LED readout) took 28 seconds right out of the box. In the Setup menus we have the option to enable Quick Start, although we are warned that this will consume more than the advertised EnergyStar 3.0-friendly 0.05 watts of standby power, so we must actively opt into this mode. Doing so pares this wakeup time to a mere six seconds. The home screen itself is a little unusual, with the Blu-ray logo on one side overlaid with a window full of various go-to choices, more utilitarian than esthetically pleasing.
While I had the stopwatch out, I logged the load times for our usual-suspect discs. The Gladiator DVD took 24 seconds from Play to the start of the DreamWorks logo, the Underworld Evolution Blu-ray (a first-round Sony title) needed 33 seconds to load the simple pre-BD-Java menus, and in 93 seconds the coin stopped spinning and the Walt Disney logo arrived on the BD-Java Pirates of the Caribbean: The Curse of the Black Pearl. You might want to step out for a brew while waiting the 112 seconds for the "LG LIVE"-enabled Saw VI Blu-ray to load. Big Picture Big Sound Editor Chris Boylan and I thought that some of the delay might lie in the old, standard one-gigabyte SD card I was initially using--a necessary add-on for BD-Live--so we switched to a brand-new Class 4 four-gigabyte SDHC wafer... which made no difference, at least for these discs. Wanting to give the player every opportunity, I navigated the menus to reformat the card onboard, thinking this might improve relations, but it actually added eight seconds to the Saw VI load time. So while system booting might have been expedited in this generation, disc loading is decidedly sluggish.
A challenging disc like The Incredible Hulk plays two different ways, whether or not a SD card is inserted. Without one, it loads and plays without incident, taking us to the disc's main menu. With, the loading time is much slower to allow for the delivery of fresh movie trailers, and the player's onscreen indicators are different during the automatically initiated BD-Live process. Whenever we insert a BD-Live-enabled disc, the player gives handy feedback like "Network connection started."
The Alien Quadrilogy, Disc One has given us some difficulty in recent hardware reviews, and the BT330 is unfortunately no exception. This DVD defaults to the 2003 Director's Cut, Dolby Digital -- no problems yet -- but if you select the DTS track, you get total silence.  The 1979 Theatrical Cut interestingly defaults to DTS and begins playing normally, until silence at 14:40, then a brief freeze at 14:53 minutes in, whereupon it resumes but without any audio. The onscreen readout indicates "0.1" channels active, even though I did not hear the LFE channel at all.   More like "0.0."
Plug It In, Log It On, Crank It Up
The player/receiver immediately detected the active wired internet connection and the wonders of Panasonic's VIERA Cast online feature set were all mine, no software download required. Netflix, Picasa, YouTube, Bloomberg and weather were all there waiting for me in a distinctive, friendly layout. Pandora, already available in the VIERA Cast platform on Panasonic TVs, is expected to be avaiable soon on standalone Blu-ray players and Blu-ray HTiB systems such as this.  Amazon Video is in beta, taking five seconds to load and less than a minute for a standard-definition preview to begin playing. (Interestingly, Amazon provides the first couple of minutes from the movie itself, not a trailer). Sometimes buffering glitches necessitated a reload of certain videos, but this may have been a network issue. From the factory, our unit was packing Firmware version 1.00, and we upgraded to 1.10 in about fifteen minutes: four-and-a-half to download, eleven more for the system to update, after which I needed to select a reboot (it's important NOT to interrupt this process if you want to avoid sending the unit into a Panasonic service center).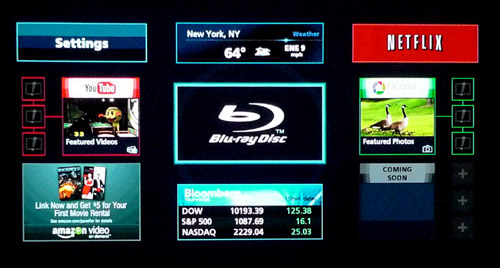 With Smart Setup engaged via the remote control and the microphone plugged into the front panel and properly situated near the listening position, the system calibrated itself to my home theater with but one automated test-tone pass on all the speakers--nothing for the subwoofer--less than two minutes from start to finish. At full volume (the readout goes to "100"! although an on-screen indication of levels would be nice), both the highs and lows of Master and Commander: The Far Side of the World can sound noticeably crowded, despite the undeniable power (FTC-rated 446 watts total, 1,000 watts RMS) to inflict aural pain. At somewhat lower, more typical listening levels, smaller surround touches are fine, but the rears can also sound a little overworked during more aggressive action scenes. Bass is ample but not extraordinary.
On The Patriot, the surrounds do a fine job of helping to create a full, realistic 360-degree environment, believably rendering voices or resonance or a simple gunshot. At high volume this disc sounded excellent overall, but the limited bass was more of a glaring omission here. I experimented with the different settings such as High Clarity Sound, which requires HDMI connection to the display because analog video is not output in this mode, and Cinema Surround, which is intended to simulate multidirectional sound, and did not notice any drastic differences in the resulting soundfield. These are settings that users might want to fiddle with at length, to suit their own room and speaker layout, and their personal listening tastes.
Compact discs and compressed two-channel music sound quite good coming out of 5.1 via the multichannel enhancement option, seamless and subtle, not hokey. Musical highs could be a little more transparent, and I am a little disappointed that the onscreen interface has a space for Track Names but they are never filled in with real data; just Track1, Track 2, etc.; even though the BT330 could conceivably ping an online server such as the CDDB.
A space-efficient iPod/iPhone dock is tucked away beneath a small panel on the front/center of the unit, one of the least obtrusive designs I've ever seen on a HTiB. The interface is more elegant than some, with a list of music and video contents displayed on the TV screen, although we will need to run a composite video cable (supplied) between the receiver and the TV for iPod use, in addition to the HDMI for everything else. The remote control even offers a dedicated iPod button, although surprisingly no disc eject button. And while I'm ranting about that, the Power button on the deck itself is adjacent to the disc tray, Open/Close is on the opposite end, so I was forever switching off when all I really wanted to do was eject. The receiver also eschews a volume knob in favor of tiny, top-mounted +/- keys, another vexing choice by Panasonic's engineers.
Next Stop: 1080p
Set to 1080p output to assure that the player was doing all the work, the SC-BT330 spun the HQV Benchmark DVD to prove its standard definition upconversion mettle. We were off to a good start, as the fine horizontal lines were clearly visible at Marker 1 amid the Color Bars. Jaggies Test Pattern 1 (one long bar) was extremely smooth, with only a flicker of stair-stepping as the bar reached the final green-banded portion of the dial, ten degrees above and below the equator. On Test 2, the top two short bars were always smooth, save for some negligible wiggling at the ends, but the bottom bar was noticeably jagged throughout, for a "good" rating overall. Performance on the Flag Test was about average, with some noticeable issues on the undulating red and white stripes and a fair amount of detail in the background, but also a fair share of noise.
The image in the Detail Test (the roadside scene) was crisp and natural in the bricks of the bridge, and the monument, just the hard curved lines of the stairs became a little mushy toward the top, and the grass was slightly noisy. In Noise Reduction, the skies were twitchier than I've been seeing lately, with problematic mosquito noise as well. The roller coaster was blurry in the first two Motion Adaptive Noise Reduction clips, and both the sky and the shady area under the bridge in the next portion were noisy, while the railing of the bridge lacked detail. At least the name "PORTOFINO" on the back of the boat was clear.
The SC-BT330 was slower than some to lock onto 2:3 cadence of the Film Detail clip, and on the first lap in particular, just when we think the moiré has been removed from the stands, it reappears for another fraction of a second. There are stair-step edges on the angled lines of the newspaper in many of the oddball cadence tests, while the fine rings of the coffee cups and saucers show a frequent flicker. The Mixed 3:2 Film with Added Video Titles demanded about a second to make the slatted text readable in both horizontal and vertical crawls, with an unwelcome coiling effect on the guitar strings and some jaggies on the edges of the piano keys. And while this particular test is more relevant for displays than for players, I remain mostly unimpressed by the 480i-to-1080p upconversion performance of the unit.
Switching to native HD content on the HQV Benchmark Blu-ray to test HD de-interlacing (among other things), the HD Noise Test showed neither the sharpest (finest image detail) nor the cleanest (least video noise) I've ever seen, on either the flowers or the sailboat segments. In the Video Resolution Loss Test however, the four corner boxes--like all the fine lines on this motion-enhanced test pattern--are crisp and stable, wshowing that the unit is able to properly de-interlace both film-based and video-based content. The Diagonal Filtering "Jaggies" Test suffered from some stair-stepping on all three bars, and when they reached the lowest point of their up/down shuffle there was a brief but severe flicker on all as well.

More consistent--if not perfectly smooth--was the second Jaggies test, with the single long rotating bar which showed less-chronic stair-step in its 360-degree travels. There was no strobing in the four corner boxes of the Film Resolution Loss Test, despite flickering elsewhere on the test pattern. And in the Stadium portion, some moiré tainted the upper deck for about ten seconds during the long, slow pan. So high-definition performance was a mixed bag, though it's important to note that most of these video processing tests (particularly the HD de-interlacing tests) have no bearing on 1080p Blu-ray Disc handling, which makes up the lion's share of actual software available on Blu-ray Disc.
Moving onto movies, the Blade Runner Blu-ray -- a challenging title redolent with various shades of black and fine gradations of shadow detail -- is disappointingly noisy on the SC-BT330 which renders a busy image with unpleasant, unrealistic looking shadows. When looking at the skies in particular, there's a fine line between "Hey, L.A. 2019 sure is smoggy!" and "This Blu-ray sure looks noisy!" Here I'm leaning toward the latter. I noted ringing in the glow of the big lights of the Tyrell pyramid, too. This presentation of Sleeping Beauty seemed to make more of the dirt and smudges in the multiple layers of animation cels, too, not exhibiting quite the same lustrous sparkle I've seen on this title on more expensive standalone players. More modern material such as The Dark Knight, looked much better, a hair off the best this disc has looked in my experience: I know I've seen just a bit more Gotham detail and less video noise elsewhere.
Turn-Ons:
VIERA Cast provides a world of online info-tainment options, including Netflix streaming
Feature-packed, including SD card slot, iPod/iPhone dock and FM radio tuner
Broad disc format support
Upgrade path for wireless surround speakers and Wi-Fi via optional adapters
Turn-Offs:
Solid if un-thrilling video performance
Ditto the audio
Frustrating hardware layout and disappointing remote
Slow disc loading
Final Thoughts
The SC-BT330 represents a noticeable and welcome enhancement to the sound built into TVs, while including a full HD 1080p source component to help feed your TV pretty high def pictures and lossless 5.1 surround.  But this is by no means comparable to a component-based receiver/speaker/Blu-ray player system.  On the other hand, such a system would sell for at least two to three times the price of the SC-BT330 and may be lacking features such as Netflix streaming and iPod dockability.  It's the rich feature set and the all-in-one value pricing of the HTiB that are the real strengths here.
However, overall, with a questionable sonic improvement over its little brother, the SC-BT230, you might consider picking up that more compact, less expensive system instead, as it represents a better overall value with all of the salient features of its bigger brother.  Or, better yet, take a look at the SC-BT730 flagship model which, for just a bit more money, features wireless rear speakers as well as enhanced sound quality via its newly designed "Pure Direct Sound" front tower speakers.  This particular "middle child" is a solid performer but is outshined by its siblings.
Where to Buy:
Features/Specifications of the Panasonic SC-BT330:
Physical Media Formats supported: CD, CD-R, CD-RW, DVD, DVD-R, DVD+R, DVD+RW, DVD-RW, DVD-RAM, Blu-ray Disc, BD-ROM, BD-RE / BD-RE DL, BD-MV, SD, SDHC
Video/Image Codecs: JPEG, AVCHD, MPEG2, H.264/MPEG-4 AVC, VC-1
Deep Color and x.v.color support
Video D/A Converter 148.5 MHz/12-bit PHL Reference Chroma Processor Plus with High Precision 4:4:4 color output
1080/24p Playback
Audio Codecs: MP3, PCM, Dolby Digital, Dolby Pro Logic II,  Dolby Digital Plus, Dolby TrueHD, DTS, DTS-HD Master Audio Essential (DTS-HD High Resolution Audio, DTS-HD Master Audio Television Signal System: NTSC)
Audio D/A Converter: 192kHz/24-bit
Output Power - Home Theater Mode (RMS) Total Power: 1000W

Front: 125W x 2 (1kHz, 3ohms, 10% THD)
Center: 250W (1kHz, 6ohms, 10% THD)
Surround: 125W x 2 (1kHz, 3ohms, 10% THD)
Subwoofer: 250W (100Hz, 6ohms, 10% THD) Output Power - Home Theater

Output power (FTC rating) Total Power: 446W

Front: 60W x 2 (120Hz-20kHz, 3ohms, 1% THD)
Center: 106W (120Hz-20kHz, 6ohms, 1% THD)
Surround: 60W x 2 (120Hz-20kHz, 3ohms, 1% THD)
Subwoofer: 100W (45Hz-120Hz, 6ohms, 1% THD)

FM Station Presets: 30
Universal Dock for iPod
VIERA Link (HDMI-CEC with HDAVI control)
A/V Outputs: HDMI Out (1) Video Out (1), Speaker Outputs (6)
A/V Inputs: Analog Audio Input - stereo mini-jack (1), Digital Audio Inputs - fiber optic (2), USB Port (for optional Wi-Fi)
Speaker specifications:

SA-HF330 Front Speakers (x2)

Front speaker configuration: 1-way 1-speaker, Bass-reflex, 2-1/2 " full range driver, cone-type
Front speaker weight: 5.1 pounds
Front speaker dimensions, fully assembled with stand (H x W x D) [Approx.] 40-5/32 x 10-1/32 x 10-1/32

SB-HC230 Center Speaker

Center speaker configuration: 1-way 1-speaker, Bass-reflex, 2-1/2" full range driver, bamboo cone
Center speaker weight: 1.32 pounds
Center speaker dimensions (H x W x D) [Approx.] 3-11/32" x 5-23/32" x 2-13/16"

SB-HS230 Surround Speakers (x2)

Surround speaker configuration: 1-way 1-speaker, Bass-reflex,  2-1/2 " full range driver, cone-type
Surround speaker weight: 0.88 pounds
Surround speaker dimensions (H x W x D) [Approx.] 4-11/16" x 3-5/32" x 2-11/16"

SB-HW330 Subwoofer

Subwoofer speaker configuration: one-way, one-speaker, Bass-reflex, 6-1/2" woofer with ten-inch passive radiator; Kelton-type
Subwoofer weight: 10.1 pounds
Subwoofer dimensions (H x W x D): 12-11/16 x 7-1/8 x 13-13/16

Wireless Rear-ready (via optional Panasonic wireless speaker kit)
Wi-Fi-ready (via optional Panasonic Wireless Network Adaptor)
SA-BT330 Blu-ray Receiver Control unit specifications: 

Weight: 7.1 pounds
Dimensions (H x W x D): 2-1/8" x 16-15/16" x 11-5/16"

Warranty: 1 Year (Limited)
MSRP: $499.99
Manufacturer's Contact Information:
Panasonic Corporation of North America
One Panasonic Way
Secaucus, NJ 07094
1-800-211-PANA (7262)
Web Site: www.panasonic.com
What did you think?
The Scores for Panasonic SC-BT330 Blu-ray Disc Home Theater Sound System
| | |
| --- | --- |
| Overall | |
| Value | |
| Performance | |
| Features/Ergonomics | |
Explore Big Picture Big Sound