Panasonic Home Theater (HTiB) Systems, Soundbars Get New Look (SC-HTB550, SC-HTB350, SC-HTB20)
By Rachel Cericola
Earlier today, we told you about the three new Blu-ray 3D home theater systems that Panasonic was planning for 2012. Now, we have three more -- but they are slightly different. Instead of packing in a disc player, the SC-HTB550, SC-HTB350 and SC-HTB20 Home Theater Systems all rely on the power of Wireless Music Streaming with Bluetooth to bring goodies to your big screen.
That Wireless Music Streaming with Bluetooth feature allows users to play music from any Bluetooth-compatible gadget, such as an iPod or iPhone, without having to actually dock the device. As another wireless bonus, these systems also come with a wireless down-firing subwoofer, for easy placement
Use any of the SC-HTB series products in conjunction with TV viewing or enjoy audio when the TV is turned off.
Each SC-HTB model has a slim design and multi-positional, detachable speakers to accommodate almost any install. Other features include an Anti-Jitter Digital Amplifier and Clear-mode Dialog for better audio. There's also Dialog Level Control so users can adjust the audio range frequency, and Auto Gain Control to maintain consistent volume levels.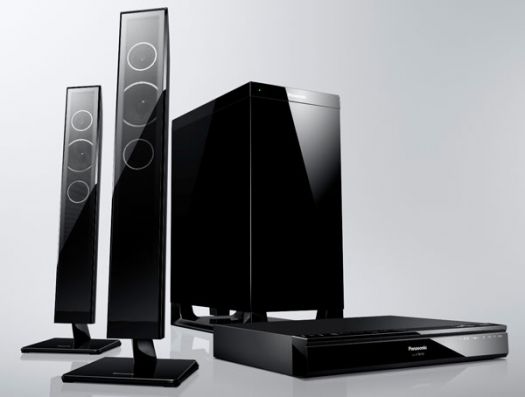 Both the SC-HTB550 and SC-HTB20 include VIERA Link functionality, 3D Signal compatibility, and Audio Return Channel (ARC). Each one also has a stainless mesh design, with the SC-HTB550 coming in a stainless mesh with a refined luster finish.
"Panasonic's SC-HTB series of Home Theater Systems have been developed to offer users superior sound-quality for a truly exceptional home theater experience," said Troy Livingston, product manager of Panasonic Consumer Marketing Company of North America, Entertainment Group. "The new multi-positional speaker design concept was created to offer our customers various placement options that are both adjustable to their current circumstances and future proof, while still maintaining a sleek design style."
Panasonic says that all of its 2012 Panasonic Home Theater Systems will start shipping in April 2012.
Related Articles:
Where to Buy: