Optoma HD33 3D DLP Projector Review
By Chris Boylan
3D: the next big thing or much ado about nothing? Actually depending on who you ask, it may be both. The movie-going public seems to have mostly lost interest, with the 2D versions of films frequently out-grossing their 3D counterparts, even with the higher price of admission to 3D films.  And 3D TV? Well, that has been even more of a flop.  3D will continue to be built into most medium to high end TVs as a value-added feature, but 3D has not been a driving force that rallied consumers into buying a new big screen TV in the past two years.
Why the lackluster reception? There are many reasons: people don't like wearing (or buying) special glasses, there isn't enough native 3D content and poor quality "upconverted" 3D content in theaters has failed to impress movie-goers.
Native 3D content will come, over time.  And glasses-free 3D TVs will eventually become available, but it will be several years before they are any good or affordable. But one of my own objections against 3D at home has nothing to do with glasses or the relative lack of content: it's just too damn small.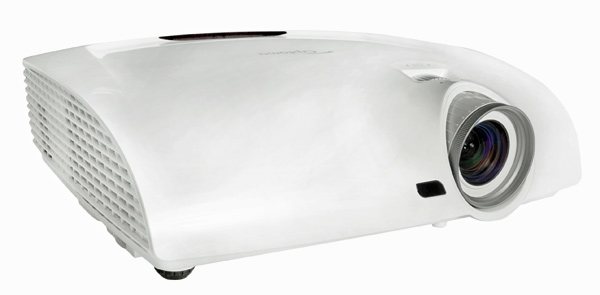 Watching 3D on a 42-inch or even 55-inch 3D TV is like looking at reality through a small window. Shots that were carefully composed by the cinematographer to impart an immersive and believable sense of depth in the movie theater end up looking truncated and unimpressive on most flat panel TVs. When I watch Avatar in 3D, I want it to be an entirely enveloping experience. And that's where a home theater projector like Optoma's HD33 comes in.
The HD33 is an affordable 1080p DLP projector which happens to include full support for 3D content. With it, you can experience those big bold epic 3D films in a movie theater-like environment. 55 inches? Meh. This thing can fill a 120-inch diagonal screen with colorful moving images in 2D or 3D, and its low price tag (under $1500 street) puts it within reach of many home theater fans.
The Set-Up
Like all front projectors, the HD33 requires a flat surface in order to create an image. For best results, use a professional screen or at least treat and paint your wall with specialized projection paint such as ScreenGoo. For the purposes of this review, we used a basic inexpensive white 92-inch diagonal 16:9 Mustang pull-down projection screen. We have higher quality options available, but we felt that a screen like this would be a likely pairing with an affordable projector.
Although there is a rudimentary speaker built-into the HD33, you'll want to add in a good audio system, preferably a separate receiver and speakers, or at least a high quality home theater in a box system.  Our review system included a Pioneer Elite receiver, NHT speakers and powered subwoofer and a Panasonic Blu-ray 3D player as the source.
Set-up of the projector itself entailed placing the projector on some storage crates just behind the couch, high enough to not be blocked by the heads of viewers but low enough not to require any digital keystone adjustment in order to create a properly shaped image. Then I adjusted the zoom to fill the16:9 screen and put up a crosshatch test pattern to adjust the focus ring.  Any screen with lots of good sharp text on it, such as a Blu-ray player's home screen would work just as well.

One drawback to a budget single-chip DLP projector like the HD33 is that it lacks any lens shift capability and also has a very limited zoom lens range.  This means installation is not as flexible as a 3-chip DLP or LCD projector with lens shift and zoom. Your placement of the HD33 will be dictated by your chosen screen size, or vice versa. You can mount the HD33 above you using a ceiling mount, but then you will either need a low ceiling or an extension fitting for your projector mount. If high (or low) placement is the only option, you can adjust digital keystone control to compensate for the angle of projection and square off the image.  But realize that you will lose some image resolution if you go the keywstone route.
Advanced users will want to calibrate the image (or pay someone to calibrate the image) for color temperature, contrast, brightness and color saturation.  If you don't have the necessary gear, then we'd recommend using one of the Cinema modes as these are closest to an optimized image right out of the box, assuming you're watching in a darkened room.  Setting the lamp to its standard mode will use less power, extend lamp life and should still give you a bright enough image in a light-controlled room. Once calibrated, on our screen we saw a max brightness of about 850 lumens in Bright lamp mode, but a still respectable 670 lumens in Standard mode.
Enter the Third Dimension
One of the first discs I fired up after the projector was set up was the Blu-ray 3D version of Avatar.  Although this was a Panasonic exclusive disc (available with Panasonic's 3D TVs and Blu-ray players), it is pretty widely available on the secondary market.  I queued up a few of my farorite scenes to check out the 3D effect the HD33 did not disappoint.
The cryo wake-up scene near the beginning of the film displayed excellent depth and virtually no crosstalk. The Hallelujah Mountains also looked suitably impressive in all their gravity-defying majesty. And the final battle sequence took on a sense of immediacy that is lacking in 2D mode. Over the course of the review, I put on several more 3D titles including Cloudy with a Chance of Meatballs, Legend of the Guardians: The Owls of Ga'Hoole, Step Up 3D, Toy Story 3 and more.  In all cases, the 3d effect was pronounced and stable.  And the large screen made the 3D much more impressive than it was on a smaller flat panel TV.
Options, Options...
If you are interested in the 3D feature (which you probably are because there are many other options out there for 2D-only viewing), you will have a choice of what type of active 3D glasses to use. No glasses are included with the projector, but two types of active 3D glasses are supported. As with earlier 3D-compatible projectors from Optoma, the HD33 support standard DLP-Link 3D glasses. These require no separate emitter as they use a code embedded in the blanking interval between image frames in order to sync the left eye/right eye images with the projector.
The HD33 also supports RF (Radio Frequency) glasses. These require an RF emitter (included) in order to synchronize the 3D image. These rechargeable RF glasses are not only lighter and more comfortable, but they also create a slightly brighter 3D image and provide more stable 3D viewing. I found that the DLP-Link glasses would sometimes lose sync briefly depending on how my head was positioned and this would cause a collapse of the 3D image accompanied by some rainbow-colored glitches.  It was always quick to recover, but annoying nonetheless. This did not happen with the RF glasses.
Unfortunately you can't use DLP-Link and RF glasses simultaneously with the HD33 (it's an either/or option in the menu), so you will have to make a choice. When they first came out, the RF 3D glasses were a bit more expensive than the DLP-Link ones but now they are nearly identical in price.  I'd say that if you already own multiple pairs of DLP-Link glasses, then you can continue to use them with the HD33, but if you're starting from scratch, go with the RF glasses instead as they provide a superior viewing experience at a comparable price.
Plain Ole 2D
Although perhaps less impressive than 3D viewing, 2D material also looks clean and detailed on the HD33.  Viewing a number of sources (mostly Blu-ray, but some broadcast HD and SD material thrown in for good measure), the HD33 produced a fairly bright image with good color accuracy.  Black levels are slightly lacking compared to more expensive projectors but as good or better than other budget-priced HD projectors we have tested.

I like to use the opening scene of
Blade Runner
as a test of contrast and black levels. The white and red text scrollng up a pitch black background is difficult for many displays to reproduce. The HD33 handled this material well, with clean sharp edges on the text and a nicely uniform black background.  It's not as velvety deep as a good plasma, but that's difficult for any projector to approach, particularly on a white screen. Detail looked fantastic when the large human (or is it?) eye filled the screen and shadow details in the numerous dark city scenes were captured pretty well.  Again, the black levels were not as pronounced as on more expensive projectors, or a good LED-lit LCD or plasma flat panel, but the overall lighting uniformity and picture quality of the HD33 held its own compared to similarly priced options.  And in some ways (specifically lighting uniformity) it looked better than some edge-lit LED/LCD TVs that cost twice as much and create an image about a quarter of the size.
In terms of upconversion of standard def material, we ran the standard test patterns and video from on the HQV Benchmark DVD on the HD33, connected via component video cables at 480i resolution.  On these tests, the unit showed fairly mixed results.  On the "jaggies" tests, the HD33 displayed fairly noticeable jagged lines in both the moving white bar tests and the waving flag test.  This suggests that the HD33's diagonal filtering leaves a bit to be desired. When checking the "Super Speedway" clip which shows the ability for the procestor to identify film-based material on DVD, the HD33 locked in quickly to the 2:3 cadence, removing the tell-tale moire from the grandstands.
The detail test which shows a display's ability to enhance the detail on standard definition sources was a bit soft on the HD33 and the "mixed cadence" tests which feature video text scrolling on a film-based background showed some minor signs of tearing before the projector loked to the mixed cadence.  All in all, the scaling and upconversion performance from DVDs was really only about average.  But the good news is that you may never see this.  If you connect your sources to the projector via HDMI then the upconversion and scaling will be performed in your source device - e.g., Blu-ray player, cable box, Apple TV or ROKU - or in your receiver, and the projector will display this 1080p source quite nicely.
Remotely Interesting
The remote that comes with the HD33 is backlit and features a straightforward button layout. I was able to get into the menus to tweak picture settings fairly easily, even in a dark room, without having to hold the remote in front of the lens for illumination.  The 4-way navigation and enter buttons are comfortably placed in the center of the remote.  Switching inputs was also very simple with direct buttons for each input type on the remote.  The actual illuminated button labels are fairly useless (cryptic pictographs rather than text), but once you get an understanding of the layout, the remote is fairly easy to use.
Really the only quirks I noticed during the review period were minor. The projector did lose HDMI sync with the source (Blu-ray 3D player, switched through a Pioneer receiver) on a few occasions, usually when the projector had been powered down and powered back up. This led to a blue screen with no input found on the projector. The solution here was to unplug and plug back in the HDMI cable.  The other anomoly was a fairly obvious noise that emanated from the projector every time I switched over to 3D content - a whirring not unlike whale song, though perhaps not as loud. The Optoma rep explained that this occurs when the color wheel spins up to higher speed in order to support the higher frame rate of 3D mode.  The sound isn't obnoxious, but you will hear it unless the projector is ensconsed in a closet or housing of some kind.
Turn Ons:
Low price for a huge full HD 1080p 3D image
Good picture quality in 2D and 3D modes
Supports RF and DLP-Link glasses
Turn Offs:
Inflexible mounting/placement options due to limited zoom range and no lens shift
Not quite as strong a performer in 2D mode as some comparably priced options
Slightly noisy
Final Thoughts
The Optoma HD33 is one of the few full HD 1080p 3D projectors on the market for less than $2,500 - it actually sells for under $1,500. Although the lack of lens shift and lack of extended zoom capabilities restrict its placement, you can work around this if you have the right room and suitable placement options. The HD33 is a solid performer in both 2D and 3D modes presenting a bright and detailed image with full 1080p resolution. The HD33 also represents excellent value for huge screen 3D home theater.  Highly recommended.
Specifications from the Manufacturer:
Manufacturer's Contact Information:
Optoma Technology, Inc.
3178 Laurelview Ct.
Fremont, CA 94538
510-897-8600 (Main Number)
510-897-8601 (Fax)
888-289-6786 (Cust. Service/Tech Support)
On the Web: www.optomausa.com