Optoma 3D-XL 3D Projector Adapter Review
By Chris Boylan
Get Converted to 3D
So you bought a 3D DLP projector but can't find any compatible 3D sources?  You have now, with the Optoma 3D-XL 3D Projector Adapter.  It's a converter box that sits between your 3D sources, such as a Blu-ray 3D player or a 3D compatible cable or satellite set-top box, and a 3D-compatible DLP projector.  This little black box enables huge screen high definition 3D for your home theater, without the ridiculous price tag that accompanies other 3D projection options.
Plug 'n Play
The 3D-XL couldn't be much easier to set up.  You plug in the power adapter, connect your sources (up to two) to the unit via HDMI cables, and then plug the 3D-XL's HDMI output into your 3D-compatible DLP projector.  We used Optoma's HD-66, a 720p 3D-capable projector which sells for under $700.  You then flip the toggle switch on the back of the 3D-XL to its 720p output mode.  In this mode, the 3D-XL takes any compatible incoming 3D signal and scales/processes that 3D signal to a 720p/120 Hz 3D output which is compatible with most (if not all) 3D-capable DLP front projectors.  As a 3D source device, we used Panasonic's SC-BTT350 Blu-ray 3D Home Theater System set to its 1080p 3D output.  We also did some 3D testing from YouTube using Side by Side 3D content.

To get the 3D feature to work, you will also need one or more sets of active 3D glasses -- specifically "DLP-Link" glasses -- which allow you to get a 3D image from compatible DLP projectors.  We opted to use Optoma's own DLP Link glasses (model BG-ZD101) which are battery-operated, rather bulky but comfortable enough, and come with 3 nose pieces so you have a few options as to fit.  We inserted a Blu-ray 3D disc into the player, powered up a pair of glasses and sat back to enjoy the ride.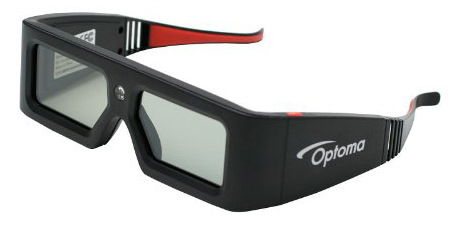 Avatar 3D + 92-inch Screen = Sweet!
Having the ability to watch high quality 3D movies at home is pretty cool.  But watching 3D at home on a 50-inch (or smaller) screen is decidedly less cool.  Oh, the exquisite detail of a Blu-ray 3D Disc and the illusion of depth can be dramatic -- particularly on a high-end full HD 1080p plasma or LED/LCD flat panel set -- but the 3D illusion is compromised when the image doesn't even come close to filling your field of vision.  Nothing makes a large flat panel TV look small like putting on a 3D movie.  The 3D-XL gets around this problem handily by allowing you to use a screen size of 100 inches or more, without a second mortgage or a high interest short term loan from some guy named Vinny.
Watching Avatar on Blu-ray 3D Disc plus a number of additional Blu-ray 3D titles, including Step Up 3D, Cloudy with a Chance of Meatballs, Grand Canyon: A River at Risk, Tron:Legacy and Coraline, we can say that the 3D-XL does exactly what it is advertised to do.  It takes the output of a 3D source component (namely a Blu-ray 3D player) and creates a 3D signal that is fully compatible with the current crop of 3D-capable DLP projectors.  Sure, the resolution is scaled from 1080p down to 720p so there isn't quite as much detail as you would see from a full HD 1080p 3D system, but the quality is still quite acceptable on a 92-inch screen from less than 10 feet away.  And the total price of our review system -- projector, screen, Blu-ray 3D home theater system, 3D-XL box, 3D glasses and cables -- comes in at under $1500.  Try that with a flat panel 3D TV.  You can read more about the complete system in our article, "Big Screen 3D Home Theater Under $1500."
About the only problem we had during the review period was that the 3D image would occasionally get inverted -- the left eye and right eye image would get swapped.  This leads to an odd-looking image where the depth is weird.  It never happened during the viewing of a movie or other 3D content, but it could occur if we stopped watching 3D content for a while and then went back to a new movie or the same movie later.  When this inversion occurs, you can see something going on in the third dimension but it definitely looks strange, with the depth inverted - objects that should be closer are further and vice versa.
If you notice that your 3D image looks odd, then you can flip your 3D glasses upside down temporarily and see if it looks better (this swaps the left eye and right eye images).  If it looks better, then check your projector's set-up menus to see if there is a "3D invert" or "Left/Right swap" setting.  On the HD-66, it is called "3D Sync. invert" and it's an active option in the "Display" menu while the projector is in 3D mode.  If you own a Harmony or other universal remote that supports macros (or a "Sequence" as it is called on the Harmony remotes), I'd recommend programming a sequence to toggle the 3D invert on and off.  This way you can correct the issue with a single button press.
It would be nice if the projector makers (in this case Optoma) could either address this issue or at least offer a dedicated button on their remote to flip the left/right images but we have not seen this feature yet on any 3D-ready DLP projectors.  Adding a left/right swap button to the 3D-XL itself would also be a great addition as it would help to work around this limitation in the projectors easily.

It's important to note that this 3D inversion isn't caused by the 3D-XL box but by the inability of the HD-66 to recognize an "absolute" left or right eye image and lock accordingly.  If the projector drops out of 3D mode, then detects a 3D signal again later, there's a 50/50 chance it will get the sync right.  If not, you'll need to correct the sync in the projector.  For now, it's an annoyance, but a fairly minor one that can be worked around easily enough.
Get Off Your Duff
There is no remote is included with the HD-XL, so selecting the input must be done manually via a front panel button.  Also, if you want to use the 3D-XL with side-by-side content that is not properly encoded with a 3D flag, you can force the 3D-XL into Side-by-Side compatibility mode, via a front panel button on the unit.  I tested this mode with YouTube side by side 3D content, otherwise known as "cross-eyed 3D."  This content can be identified as two nearly identical images side by side on the screen.  It's a way of creating or broadcasting 3D content over a standard 2D delivery system.  If you view this content and then hit the "SBS" button on the 3D-XL, sure enough you get a 3D image through the projector and glasses.  The YouTube 3D content I viewed was pretty grainy and not terribly impressive, but the 3D effect did work properly.
Why Buy One When You Can Buy Two for Twice The Price?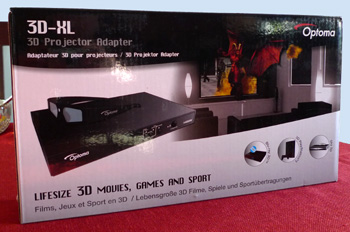 The 3D-XL has an alternate "1080p" output mode which can be used with a dual projection system, thereby enabling the use of passive 3D glasses and full HD 1080p resolution in 3D mode.  In this implementation, you'd actually need two 3D-XL boxes, with one set to 1080p/Left and the other set to 1080p/Right and you'd feed these outputs to two separate projectors.
The assumption here is that you use polarizing lenses on the projectors so that one projects a left eye signal polarized in one direction and the other projects a right eye signal, polarized in the other. These projectors are both set to project on the same screen -- a specially formulated "silver screen" that can support polarized images.  In this case, a pair of inexpensive passive 3D glasses can be used to sort out the left and right eye images so your brain can create the illusion of depth.  We didn't test this type of configuration, focusing instead (no pun intended) on the more common 720p single projector implementation.
The unit that we tested did not come with any 3D glasses in the box, but Optoma tells us that the package that ships to consumers does include one pair of Optoma's DLP Link active 3D eyewear.
Turn Ons:
Adds Blu-ray 3D and 3D set-top box compatibility to 3D-capable DLP projectors
Works with Side by Side 3D content (e.g., YouTube)
Affordable
Turn Offs
Two boxes required for 1080p/passive glasses installations
No remote for switching inputs or enabling SBS mode
A "left/right swap" button would be handy
Final Thoughts
For those who are excited by the possibility of a 3D home theater with a nice big screen, the 3D-XL, combined with a 3D-capable DLP projector from Optoma or other manufacturers represents a compelling, affordable alternative to expensive full HD 1080p projection systems or puny flat panel 3D TVs.  Although a remote control would have come in handy, particularly when viewing SBS 3D content on YouTube, the 3D-XL does exactly what it is advertised to do and does it well.  It enables big screen high definition 3D home theater at a price that won't break the bank.
Where to Buy:
Specifications from the Manufacturer:
Inputs/Outs: 2 3D-compatible HDMI v1.4a Inputs, HDMI v1.3 Output, USB, RS-232
Switchable between 2D and 3D (automatic)
Video Compatibility NTSC, PAL, SECAM, SDTV (480i), EDTV (480i), HDTV (720p, 1080i/p)

Weight 2.38lbs (1.08 kg)

Dimensions (W x H x D) 11.02" x 7.49" x 1.18" (280mm x 190mm x 30mm)

Operating Temperature 41° to 110°F (5° to 40°C)

Power Supply AC Input 100-240V, 50-60Hz, Auto-Switching

Power Consumption 20 Watts, <1 Watt Standby Power

Standard Accessories: One pair Optoma DLP-Link 3D Glasses, AC Power Cord, User's Manual CD, Quick Start Card, Warranty Card

Warranty: 1 Year Limited Parts & Labor

Dual 3D-XL projects 3D 1080p (only passive 3D glasses needed)
Compatible with 3D-ready DLP projectors
MSRP: $399
Manufacturer's Contact Information:
Optoma Technology, Inc.3178 Laurelview Ct.Fremont, CA 94538
510-897-8600 (Main Number)510-897-8601 (Fax)888-289-6786 (Cust. Service/Tech Support)
On the Web: www.optomausa.com