Online Holiday Sales Up 15 Percent in 2011
By Rachel Cericola
It looks like someone had a very happy holiday -- mainly web retailers. According to The Wall Street Journal, now that the Christmas smoke has cleared, final online sales numbers are showing a 15 percent increase over last year.
The WSJ gathered data from the research-firm comScore Inc., who is reporting that web sales between November 1 and December 26, 2011 came to a total of $35.4 billion. That's not just a huge jump for online sales in general, but the numbers actually outpaced U.S. retailers, who grew about 3.8 percent for the season.
The WSJ quotes Scot Wingo, the chief executive of ChannelAdvisor Inc., a company that helps more than 3,000 merchants sell goods online. Wingo says that items such as smartphones and tablets, including Apple's iPad and Amazon's Kindle Fire, helped to fuel a lot of those online sales. Amazon just announced Kindle sales figures, saying that the online retailer sold over 1 million Kindle devices per week, just in the month of December.
Amazon, in general, saw a hearty 53 percent increase between Thanksgiving and December 21, 2011.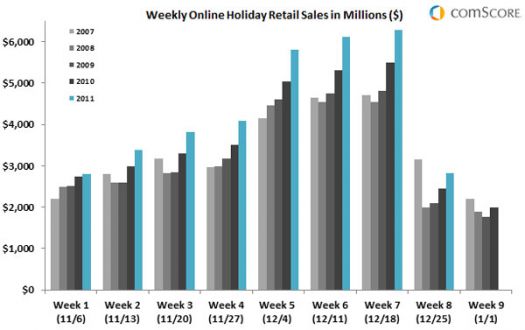 As further evidence that tablets and smartphones were the hot gift of the holiday season, comScore says that digital downloads of music, TV, movies, e-books and apps saw a nice increase on Christmas Day. On an average day during the 2011 holiday season-to-date (November 1 through December 26), Digital Content & Subscriptions accounted for 2.8 percent of retail e-commerce sales. However, on Christmas Day, the category accounted for more than 20 percent of sales.
Seasonal sales numbers also received a nice boost from Cyber Monday 2011. The Monday after Thanksgiving was the single biggest online shopping day for the second year in a row, raking in approximately $1.3 billion in sales. That number is up 22 percent from last year, says comScore.
For More Information: