Onkyo TX-NR809 Receiver Review
By Chris Chiarella
Edited by Chris Boylan
A Perfect Fit, Size M
With all of the advances in home theater in the last few years, it takes a certain grade of receiver to keep up. Embracing the best audio and video technologies of our current era, including several forward-thinking options, the Onkyo TX-NR809 7.2-Channel Network A/V Receiver is a midrange all-in-one model that crosses the thousand-dollar threshold but gives users abundant riches in return.
HDMI has been king of home theater connectivity for a few years now, and rightly so, but does anyone else remember the sobering appearance of more and more A/V source components with HDMI (iPads and Blu-rays and laptops, oh my!) but precious few inputs on the receiver, or on the TV? By the last days of my old receiver, I'd taken to adding a three-port HDMI switcher to eek out a couple more inputs.
Not an issue with the TX-NR809, which packs a total of eight (8!) HDMI inputs, counting the one up front. Front-panel inputs were introduced as a convenience to patch in a visiting videogame system, smart phone or camcorder, many of which now offer HDMI out.  So the pleasant surprise of this option soon gives way to gratified common sense.
For the first time ever, I'm now able to connect every piece of my routinely-used gear to a single, centralized hub: my PlayStation 3, a dedicated Blu-ray 3D deck, DISH ViP722 satellite receiver, Apple TV, Xbox 360, and even oddities like an old upconverting DVD player that I keep in my stack as a universal DVD-Audio/SACD player. I am done juggling different devices between different connections, and I never want to go back.
Even better, we are now living in the age of Full HD 3D in the home, and so all eight ports here are version HDMI 1.4 specifically, able to pass the 3D signal and full-resolution audio together and thereby freeing me up when making the final determinations of what is plugged in where. The TX-NR809 also supports the Audio Return Channel (ARC) for even greater flexibility when configuring the audio hookup between a source component, the receiver and the TV.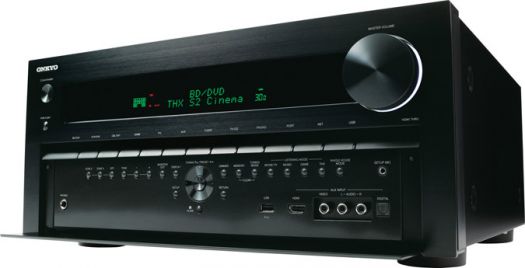 Eager to enter a new age of home entertainment ease and performance, I wasted no time unboxing and wiring up the receiver, an exhausting all-day affair made more complicated--but rewardingly so--as I took extensive before-and-after notes, also marking which components were attached to each port. In a bit of deliberate irony, the Apple TV is now accessed via the "PC" button, but the names of the various ports can be user-edited. The only surprises during the changeover were the sheer quantity of both analog and digital inputs, demanding careful attention and many executive decisions, and a genuine admiration of Onkyo's pride in crafting some exceptionally solid three-way speaker binding posts.
I shouldn't gloss over this: They have served up a full complement of legacy analog and digital connections, including multi-channel analog audio (remember that DVD-Audio/SACD deck?), stereo, optical and coaxial digital inputs, and even a phono input for you vinyl purists. There are two component video inputs, plus composite/S-video inputs for four devices. (Honestly, I didn't wind up using any of the S-video ports, but I'm a sucker for nostalgia.) The receiver also has multichannel analog preamp outputs for our potential use as a preamp/processor with a separate component power amplifier (or seven). A reasonably hefty AC cable is supplied, but is removable should we wish to substitute our own.
Sound Thinking
The TX-NR809 embodies the Then, Now and Next of consumer electronics, bound to satisfy a very large contingent of the home theater populace as a result. It's quite simple to configure it today for de rigueur 7.1- and 5.1-channel setups, with enough automatic/self-driven/no-brainer tools to have us up and running--and hearing the difference--quite quickly, assuming we can follow basic instructions. As the "7.2" indicates, it can drive a second subwoofer as preferred in higher-end home theater setups (but these are not separately adjustable - you'll need to tweak the crossover and/or levels on the individual subwoofers for best results).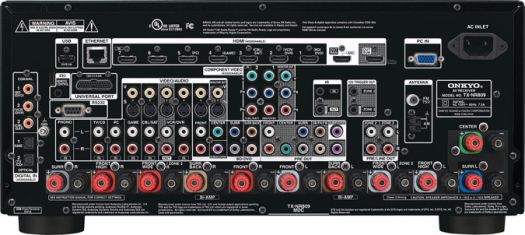 The multi-room-ready receiver can serve not one but two remote zones via its Zone 2/3, with Zone 2 powered by the receiver as well. The ample 135 watts is significantly more than I'm used to, and helps it to earn the coveted THX-Select2 Plus certification. Volume adjusts from 0-100 in increments of .5, with 80 being the optimal THX Reference Level, assuming speakers of average efficiency.
Each of the seven amplifier sections employ Onkyo's low-negative-feedback Wide Range Amplifier Technology (WRAT), three-stage inverted Darlington circuitry, and the High Current Power Supply (HCPS) uses a massive transformer. In addition, Texas Instruments Burr-Brown 192 kHz/24-bit digital-to-analog converters (DACs) are used on each channel to turn the digital signals into analog sound.
While supplying the expected Dolby TrueHD and DTS-HD Master Audio decoding of course, this receiver is no slouch when it comes to available audio enhancements too, beginning with Audyssey MultEQ XT room-correction. This advanced auto-calibration option utilizes full-spectrum acoustic measurements from three (or more) different listening locations unique to our particular seating arrangement. It recognized the supplied Audyssey microphone immediately when it was plugged into the front panel and guided me through the familiar process with quick and full calibration options. It required a bit more involvement from me than I remember in Audyssey usages past but no matter, this feature takes a lot of the guesswork out of the initial system setup, assuring the proper adjustments for both our specific speakers and our unique listening environment. And I love to watch the receiver crunching the collected data into the ultimate settings.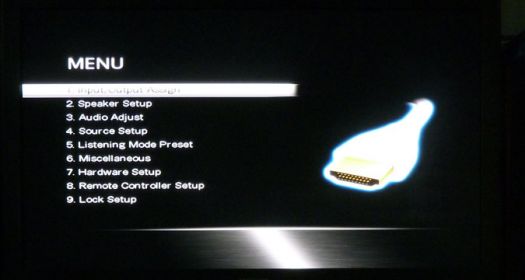 I considered the results of the Audyssey room calibration to be an improvement in terms of the overall soundfield, making me less aware of each individual speaker and more in tune with a unified wall of sound, or perhaps a curtain as it was all around me. The receiver defaults to all-channel stereo ("All Ch Stereo") whenever a two-channel signal is detected, unless we instruct it otherwise.
I will say that I find dialogue easier to understand post-calibration, but still too low to be plainly legible, at least for my taste, particularly on television broadcasts. In truth this is more a criticism of how so many movies and TV shows are currently mixed (trust me, I watch a lot of them), but the center channel is easily boosted and problem solved.
Blu-ray movies can be thrilling when played on the TX-NR809, with clean, nuanced reproduction of every channel in the most demanding DTS-HD Master Audio and Dolby TrueHD soundtracks. It also flaunts power to spare, past the brink of pain if that's how you choose to show off your system to friends and rivals. Multi-channel, high-resolution music such as Pink Floyd's recent Dark Side of the Moon and Wish You Were Here Immersion Edition releases on the other hand can be downright hypnotic, maintaining the artists' vision with a previously impossible purity. I close my eyes and know what it's like to be inside Roger Waters' head.
Further, Audyssey Dynamic EQ provides loudness correction, while Audyssey Dynamic Volume enforces optimal listening levels while maintaining the proper dynamic range. This is in addition to the audibly effective Dolby Volume option, which makes lower sounds within a soundtrack easier to hear while keeping the loud sounds from becoming obnoxious, particularly useful as we transition from a TV show to commercials.
More esoteric but still a source of excitement for the home theater avant-garde, the TX-NR809 supports additional height and width speaker outputs which can be connected and configured within the receiver's menus. Although not discrete channels (there is no discrete source for these yet), these multi-dimensional options can be explored to provide expanded ambience, with your selection of Audyssey's DSX high or wide channels, or Dolby ProLogic IIz height channels.  Gimmick or necessity?  With the 809, the choice is yours.

As clearly indicated on the back panel, some of the speaker terminals pull double duty between different possible setups (height/width, surround/surround back, multiple zones, the receiver's ability to bi-amplify the two main channels), so anything less conventional than 7.1 or 5.1 will require some fiddling with the Speaker Setup menu and sub-menus.  Also, you can't get more than 7.1 channels at a time, so if you go with height channels (for example), you'll have to opt out of having separate rear surround channels.
My experience as an Onkyo receiver owner--and hardcore user--enables me to appreciate how far they have come. One obvious example comes in the form of the remote, which while not much larger packs a great deal more functionality than those of the past. "DVD" has evolved to "BD/DVD" and four of the buttons on the bottom half can be repurposed to serve as the Red/Green/Yellow/Blue multifunction keys in the Blu-ray realm.
This bi-directional, preprogrammed RI remote control uses an on-screen setup method to configure our connected components to work with the one controller. The receiver lays its user-interface graphics on top of whatever we're watching, so we can multitask, continuing our viewing in the background while we do our thing. The remote includes Macro presets for four different one-button "activities"--All Off, My Movie, My TV and My Music--and via the receiver's internet linkup it can maintain up-to-date codes for our connected devices.
V for Victory
While many folks think of the "V" in "A/V" receiver strictly in terms of switching different sources, the TX-NR809 goes beyond to offer a combination of Marvell Qdeo and IDT's HQV Vida video upscaling and processing circuits onboard. Vida offers upscaling of all 480i/p, 576p, and 720p video sources to full 1080p. The Vida processor incorporates Auto HQV and HQV StreamClean to enhance video images in real time and eliminate noise common to compressed web videos.  These lower quality sources intended for small screen computer viewing are being viewed more frequently on larger screens in the home theater now thanks to internet-connected TVs and Blu-ray players, be it free YouTube clips or paid Netflix subscriptions.  So the ability to clean these up is a welcome enhancement.
If you're starting out with higher quality video sources, HQV Vida incorporates multi-cadence tracking, expanded twelve-bit color processing and four-field motion-adaptive de-interlacing, noticeably improving the quality of both standard- and high-definition video images. Qdeo, meanwhile, goes even further to apply full 4K (3840x2160) upscaling of 1080p source signals, if you have a compatible 4K display. Granted, my ability to properly evaluate the Qdeo performance was limited on my lowly 1080p Samsung plasma panel.
Tucked away within the sub-menus for Source Setup - Picture Adjust are a host of user-selectable Picture Modes. Custom offers a list of video tweaks comparable to what we would see on a state-of-the-art display, including Edge Enhancement, separate Noise Reduction, Mosquito Noise Reduction, Random Noise Reduction and Block Noise Reduction settings, Brightness, Contrast, Hue, Saturation, Color Temperature, Gamma, and individual adjustments for the Red, Green and Blue contrast. Most of these can be set not merely to On or Off but to Low, Medium and High. We can even adjust the size/width of the image at the receiver, before it gets from the source to the display.
Someone who knows what he's doing and is willing to devote the time to the necessary trial and error can achieve some pretty amazing results, but we can also take some handy shortcuts. Dedicated Cinema, Game and Streaming modes automatically set many of the above-mentioned criteria to prescribed levels, thereby locking out most of the other adjustments in this section. Imaging Science Foundation (ISF) Day and Night modes also assure optimal, guess-free, professional-quality calibration memory presets for either lighting environment in just a few clicks. Here again, most of the adjustable video settings are locked out to the end user once they are set, to unerringly enforce the ISF's strict standards and assure that your (or your professional calibrator's) carefully derived settings are not accidentally altered or deleted. ISF video calibration technology has never before been available at such an attainable price point. The ISF feature allows for individual calibration of each source input--so a videogame console is not tweaked to the same levels as, say, the Blu-ray player--but we are strongly encouraged to employ an ISF-trained technician for any serious adjustments.
I've been generally pleased with the performance of my DISH ViP722  receiver on 720p HD channels, but TV viewing is improved even further with the HQV and Marvell's help, purging that slight digital edge to the image that I'd grown used to. Not surprisingly, the HQV processing also blew away the company's DVD and Blu-ray demo discs. Tiny lines, stable! Subtle transitions, smooth! Jaggies are rapidly becoming a thing of the past, both on test patterns (SD and HD) and real-world video. Detail is crisp and natural, some of these tests looking better than I can recall on previous gear reviews. Both Noise Reduction and Motion-Adaptive Noise Reduction were clearly effective as well.
I've still yet to see any enhancement of DVD playback that truly puts it on a par with Blu-ray, but I will say that my go-to standard-def discs (notably Gladiator) benefited from the additional video processing, rendering a clean, stable image, noticeably better than how it looks at 480p. My usual Blu-ray suspects (the lush Sleeping Beauty, the gritty Blade Runner et. al) meanwhile looked more vibrant, more filmic, if sometimes subtly so but always in a natural, pleasing fashion.
Work That Net!
Here in the upper mid-range we will also find features that are likely absent from entry-level receivers, including an RS-232 Port for third-party control systems, a pair of multipurpose USB 2.0 ports, a full-sized headphone jack, that phono input I mentioned earlier, and an RJ-45 Ethernet port. That last item is key, as the NR809 is a true "Network" receiver offering users all that we would expect from this cutting-edge category, accessed from the "NET" button.
Flashiest is the multitude of internet radio and streaming music services, with packages from established players Spotify, Aupeo!, Mediafly, Pandora, Slacker, Napster, Rhapsody, vTuner, SIRIUS XM Internet Radio and Last.fm. Some of these start right up and spew their tunes; once we navigate through the many genres, artists, etc.; some arriving in a bare-bones version that can be stepped up for a fee. Some require us to sign up online, while others are strictly paid apps, although SiriusXM for example comes with a one-time free trial. Owing to politics and lawsuits and such, not all (like Napster) might be working in our location when we fire it up.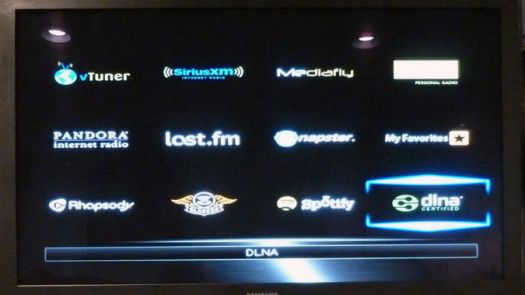 NET also communicated across my home network, tapping into the treasures within the large media library on my connected PC via the Windows 7-compliant DLNA feature, once I was properly authenticated. Less entertaining but surely welcome, the Ethernet port is also our pipeline to the internet for the latest firmware updates. Onkyo advises us to give an update a good hour, but I found the whole process to be much quicker, more like of ten minutes until the cheerful "Completed!" message was displayed.
Updates can be performed through one of the USB ports as well. Either front or back can also accept a flash drive full of music (no photos or digital video), with simple navigation through the contents using the Onkyo remote. Some metadata is displayed on the front panel of the receiver as well as on the TV screen, if the TV happens to be on during music playback. The rear port is near enough the corner that I was able to insert a thumb drive into it strictly by touch, without needing to move the gear or squeeze myself in around behind it. A wide range of codecs is supported, high-quality FLAC (Free Lossless Audio Codec) among them.  For the lossy codecs like MP3, Onkyo's Music Optimizer technology is on board to help make the most of these compressed digital audio files. I can say that my Beatles FLACs from the 2009 remaster set sounded phenomenal when driven by all of that clean power through the best speakers in the house.
Although either port will charge an iPod/iPhone, only the front port is playback compatible. Via simple plug-and-play, I could use the Onkyo remote to pause and skip and control my connected portable in other basic ways, or I could use the connected 'Pod or 'Phone as the controller, sorting through and selecting music. But with this method of course I can only stray as far as the white cable will let me.
In order to access all my music via the Onkyo remote, and pull up track information and more on both the front panel and on the TV, I was instructed by the receiver to "Push [Mode] button to switch to extended mode." This was a bit confusing because the button marked "MODE" did not pull up the enhanced display and control, but a call with Onkyo quickly clarified that the "THX" button--which also doubles as a Mode button--did indeed unlock data display at both locations and even cover art on the TV. Alas, AirPlay is not supported by the receiver itself, so Apple compatibility is only via a wired connection to a device.
Onkyo also sells separately a small wireless network adapter for the USB port to ease setup in Wi-Fi-enabled homes. There is also a proprietary "U-Port" around back to attach Onkyo's optional Apple dock or an HD Radio module.
Turn-Ons
So many ways to customize this receiver to our exact needs!
So many ports!
Outstanding audio and video hardware onboard
So many digital music options, online and locally
Broad complement of Audyssey and Dolby enhancements, including configurable height and width channels and Dolby Volume

Turn-Offs:
No AirPlay
Twitchy iPod/iPhone connectivity
Deep menus and sub-menus can sometimes be non-intuitive
Final Thoughts
Calling these my "final" musings on the subject would be somewhat disingenuous, as I plan to bite the bullet and buy my very own TX-NR809 receiver and make it a permanent, central part of my home theater rig. Based on what I've seen/heard it do, and what it promises to do in the future, I look forward to discovering its many precise customizations and refining its varied settings to run my home theater exactly the way I want it to be run. And I can recommend that you do the same.
Where to Buy:
Optional Accessories:
Features/Specifications of the TX-NR809:
MSRP: $1,099
Available Finish: Black
Power Rating: 135 Watts/Channel into 7 channels
Dimensions (W x H x D): 17.1" x 7.8" x 17.1" (435x198.5x435.5mm)
Weight: 40.3 lbs. (18.3 kg), Gross Weight 49.6 lbs (22.5kg)
Warranty: 2 Years Parts and Labor
THX Select2 Plus Certified
Supported Audio Formats: Dolby TrueHD up to 7.1 channels, DTS-HD Master Audio up to 7.1, DTS-HD High Resolution Audio, Dolby Digital Plus, Dolby Digital, Dolby Pro Logic IIz, Audyssey DSX, DVD-Audio, DSD
Supported Music File Formats (NET/USB): MP3, WMA, WMA Lossless, FLAC, WAV, Ogg Vorbis, AAC
Internet Radio Connectivity: Spotify, Aupeo!, SiriusXM Internet Radio, vTuner, Last.fm, Pandora, Rhapsody, Slacker, Mediafly, Napster
Picture Modes: Cinema, Game. Streaming, Through, Direct, Custom, ISF Day, ISF Night
Video Output Resolution: 480p, 720p, 1080i, 1080p
Qdeo HDMI Video Upscaling (up to 4K-compatible)
HQV Vida VHD1900 Video Processing with 1080p upscaling via HDMI
Audio/Video Ins/Outs:

HDMI v1.4 Inputs (supporting Audio Return Channel, 3D, DeepColor and x.v.Color): 8 (7 rear, 1 front)
HDMI Outputs: 2
Component Video Inputs: 2
Component Video Output: 1
S-Video Inputs: 4
S-Video Outputs: 2
Composite Video Inputs: 5
Composite Video Outputs: 2
D-sub 15 Analog RGB PC Input: 1
Digital Optical Audio Inputs: 3 (2 rear, 1 front)
Digital Coaxial Audio Inputs: 3
Analog Stereo Audio Inputs: 7 + Phono
Analog Stereo Outputs: 4
Multichannel Analog Inputs: 7.1
Analog Multichannel Pre-Outputs: 1 (7-channel)
Subwoofer Pre-Outputs: 2
Speaker Outputs Main (L, R, C, SL, SR, SBL, SBR) + Front Wide/ZONE2 (L, R) + Front High (L, R)
Headphone Out: 1
Other: USB 2.0 (2; 1 front 1 rear), Ethernet (1), Setup Microphone input (1), RS-232 (1), Onkyo Universal Port (1, for optional iPod/iPhone or HD Radio tuner modules), RI (1), IR Input (1), IR Output (1), 12 V Trigger Out (2)

Banana Plug-Compatible Speaker Posts
Bi-Amplifying Capability for Front Left/Front Right (mains) with Surround Back Left/Surround Back Right
Powered Zone 2 + Connected Zone 3
AM/FM Presets: 40
Direct Mode
Pure Audio Mode
192 kHz/24-bit D/A Converters
Dolby Volume
Audyssey Dynamic Volume, Audyssey MultEQ XT, Audyssey Dynamic EQ
Crossover Adjustment (40/50/60/70/80/90/100/120/150/200 Hz)
A/V Sync Control (up to 800 ms)
Onkyo RIHD (CEC) System Control
RI-Compatible Learning Remote with Four Activities and Mode-Key LEDs
On-Screen Display via HDMI
Auto Standby
ISF ccc (Imaging Science Foundation Certified Calibration Configuration)
What's in the Box:
TX-NR809 Receiver
RC-810M Remote Control with batteries
AC Power Cord
Indoor FM Antenna
AM loop Antenna
Audyssey Speaker Setup Microphone
Speaker Cable Label sheet
Manual on CD-ROM
Assorted Paper Documentation
Manufacturer's Contact Information:
Onkyo USA Corporation
18 Park WayUpper Saddle RiverNew Jersey 07458
Tel: 201-785-2600
Fax: 201-785-2650
Web site: www.onkyoUSA.com