LCD TV Deal: 32-inch: $199.99; 55-inch 1080p (VR-5535Z): $699.99 (1 Day Only)
By Chris Boylan
Seems like you can't turn around these days without bumping into a ridiculously good one-day deal on something: $50 worth of dinner for $15; Buy a house, get one free, $9 to see a movie with popcorn and soda included.  But there's always fine print: The dinner offer is only good on stir-friend tofu, the house is a cash-only deal in a derlict neghborhood and the movie ticket excludes pretty much any movie you'd want to see.
But today Best Buy has a one day deal on LCD TVs that is high on value and relatively low on caveats.  While supplies last (or for the next 14 hours), Best Buy is offering up ridiculous deals on two flat panel LCD TVs.  The 32-inch 720p model is just $199.99 and the 55-inch behemoth is $699.99.  Check out the deal here:
OK, they're not Samsungs, and they don't have Smart TV features, and they don't do 3D.  But did I mention the price?  Most buyers are not interested in 3D, and as for Smart TV features, you can add that on for under $100 with an Apple TV or a Roku.
The 55-incher is the Westinghouse VR-5535Z. It features a 54-5/8" screen measured diagonally, "ultra-slim design" (actually 4-1/2" deep), tabletop stand (also supports wall-mounting) and a completely unverified and ridiculously high contrast ratio of 100,000:1.  In reality, given its lack of local dimming and CCFL backlighting, it's unlikely that this set can produce really deep blacks, but for the price, it's probably acceptable.  It does feature a full high definition 1080p resolution (1920 x 1080 pixels) so high quality sources like Blu-ray should  produce nicely detailed images.  The set features 120 Hz processing with ME/MC (Motion Estimation/Motion Compensation) smoothing so it can impart your favorite film with that weird-looking soap opera video effect.  Fortunately, this feature can be adjusted and even turned off entirely in the picture menu.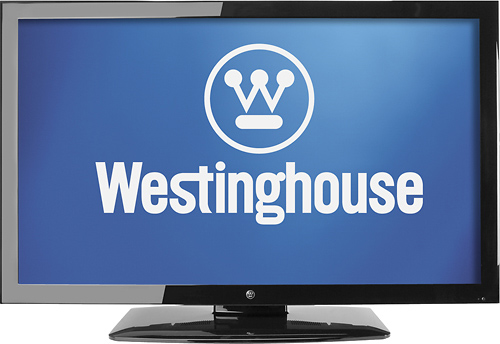 For inputs, you'll find 3 HDMI, 2 component video, 2 composite, and 1 coax cable/antenna input.  There's a fiberoptic digital output so you can watch your TV shows in surround sound (with the addition of a receiver or surround sound system).  There's even a VGA/PC input so you can use it as an enormous monitor for your PC or laptop.
As they say... "Good, Big, Cheap... pick any two."  Here's the direct link:
The 32-inch model is the Dynex DX-32L221A12. It features a 31-1/2" screen measured diagonally, and that same "Ultraslim design" as its big brother (in this case, 3-9/10" deep).  It comes with a stand or can be used with an optional wall-mount.  As for the specs, Best Buy claims a 4000:1 dynamic contrast ratio (1200:1 typical) and a native resolution of 1366x768 pixels, which qualifies it for its "720p" designation.  There are two 8 watt speakers built in along with a sound leveler feature to reduce the glaring volume differences between different kinds of content.
For inputs, you'll find 2 HDMI (1 rear, 1 side), 1 composite (side), 1 PC/VGA (rear), 1 component video (side), 1 PC audio (rear) and 1 coax/RF input for your cable or antenna feed (rear).  For outputs, it's got an analog stereo audio output (rear), 1 optical digital audio (rear) and 1 headphone jack (side).  Here's the direct link:
Stock is available for both models as I'm writing this, but may not last the day so click through on the above links and see for yourself. You can arrange for delivery to your door or reserve the set online and pick it up at your local Best Buy store.  We'd recommend the latter option so you can make sure your local store has one held for you, but if it doesn't look too impressive in the store, you can cancel your order.  These prices will expire at the end of the day on May 4, 2012 or sooner if available stock is depleted.
Please note: all deals posted on Big Picture Big Sound are current as of the posting date and time. These deals are frequently time- or stock-limited and generally do not last. Final pricing and stock are determined by the individual deal provider, not by Big Picture Big Sound so you will need to click through on the offer link to see if it is still available. Through our affiliate relationships with many online vendors, Big Picture Big Sound may earn a small commission on any referred sale.