OmniMount Morello 50 Home Theater Furniture Review
By Greg Robinson
In the world of home theater furniture, flat panel wall mounts seem to get all of the attention. They twist, they turn, they telescope! It's all very exciting. And it's understandable.  When people buy a slim, new flat panel HDTV, the first thing they want to do is hang it on the wall, usually over the fireplace. However, ask any videophile and they'll tell you: the best picture quality (not to mention the least amount of neck pain) is typically achieved when the center of your TV screen is at eye level from a seated position. That's pretty low.

Add to this the fact that not everyone wants to hang a TV on their wall. Maybe you don't want to put holes in your plaster walls, or maybe you're not sure the TV is going to stay where it is. The plain fact is that for many reasons, and for many people, a low television stand is the ideal location for a lightweight flat panel display. To meet this demand, OmniMount has crafted the attractive Morello 50, a member of the company 's Moda Collection of home theater furniture.

As they do with their wall mounts, OmniMount has done an excellent job with the packaging and parts on the Morello 50. Inside the box, all parts were segregated in individual vacuum-sealed bags with clear numbering on the bags and in the assembly instructions. Instructions are straightforward, and I was able to put the Morello 50 together inside of 30 minutes. The only tools I needed were a hammer (for knocking in a few wooden dowels), a Philips screwdriver, and a hex key, which OmniMount supplies. In truth, the hardest part was getting the heavy box down my basement stairs.

Available in Dark (read "black") and Cherry finishes, the Morello 50 is a simple and elegant piece of home theater furniture. Comprised of a top shelf, a bottom shelf, a couple of supports and little else, the Morello 50 carefully walks the line between contemporary and traditional decor, giving it a near universal appeal. Rubber screw-in feet protect your wood floors from any scratches, and self-adhesive cable clips should help keep your HDMI cables under control.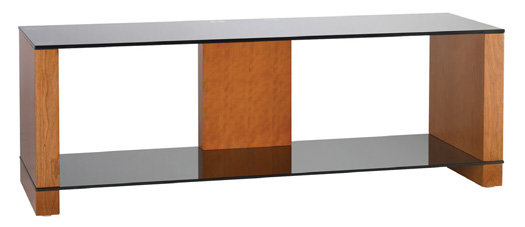 Measuring 50 inches wide and a mere 17.3 inches high, the Morello 50 is short, squat and sturdy, making it an ideal stand for flat panels with screen sizes up to 55 inches. And due to its generous 15.5-inch depth, OmniMount points out that the Morello 50 is also capable of supporting DLP projection displays with screen sizes up to 50 inches.

The unit's top shelf, constructed of thick, tempered glass, can support up to 125 pounds, while the lower shelf can handle up to 80 pounds. After a quick scan on Amazon, looking at numerous 55-inch and 54-inch displays from the likes of VIZIO, LG, Samsung, Toshiba and Panasonic, I couldn't find one weighing more than 86 pounds. That means it's a safe bet that the Morello 50's 125-pound top shelf capacity will have you covered, both now and in the future. Displays certainly aren't getting heavier, that's for sure.
Turn Ons:
Stylish contemporary design that isn't TOO contemporary
Sturdy, attractive tempered glass shelves
Excellent build quality
Turn Offs:
"Dark" finish lacks the wood grain aesthetic of the "Cherry" model
Slightly pricey, considering the lack of doors
Sides and supports apparently house hidden dog hair magnets
Final Thoughts
OmniMount's Morello 50 offers a simple yet elegant solution for holding your new flat panel HDTV stylishly and securely.  For consumers in need of a bit more shelf space, you may want to consider OmniMount's Morello 50FP, which takes the Morello 50 and adds an integrated display mount, thereby freeing up your top shelf for additional components, pictures of me, or whatever else you need a home for. Whichever model you choose, OmniMount's Morello 50 is a stylish, sturdy, and easy-to-assemble display stand and I highly recommend it.
Manufacturer's Specifications for the OmniMount Morello 50 Display Stand:
Accommodates up to 55" fl at panels and 50" DLPs
Top shelf supports up to 125 lbs (56.7 kg)
Component shelf supports up to 80 lbs (36.3 kg)
Color: Cherry with black glass or Dark with black glass
Dimensions: 50"w x 17.3"h x 15.5"d
Warranty: 5 years
Price: $399
Manufacturer's Contact Information:
OmniMount
8201 S. 48th Street
Phoenix, AZ 85044
1-800-MOUNT-IT

On the Web: omnimount.com