Nurse Jackie Season Three Blu-ray Review
By Chris Chiarella
The Show
Edie Falco returns as one of TV's most fascinating characters, Nurse Jackie. Largely because of the care she gives her patients and their families, but in no small measure owing to the multifaceted performance of the exceptional Edie Falco, Jackie elicits a strange sympathy as she continues to juggle work, family, and her addiction to prescription painkillers. But by Season Three her life is unraveling worse than ever as she walks a will-she-or-won't-she-get-busted tightrope. Will she finally kick the habit? Can she?
A series of memorable patients come and go with a variety of often gruesome medical problems, more fuel for the dark comedy fire. All Saints Hospital meanwhile is regrouping for a possible visit from The First Lady. We still love clueless Coop (The Twilight Saga's Peter Facinelli), but he spends much of these twelve episodes moaning, and the late-season subplot about his Facebook bride is a bit weird. And what's the deal with The New Guy (Gbenga Akinnagbe), a rich, charming, handsome nurse who knows everyone and has done it all. We find out, and it is another wickedly unexpected twist on the always-surprising Nurse Jackie.
The Picture
The 16:9, 1080p/24 image displays a striking clarity: If my TV was a little bigger I could probably read the labels on some of the plentiful prescription bottles. The series is captured on high-definition video and is prone to motion streaking, with an extremely faint layer of noise. A somewhat stark color palette is employed, interspersed with many deep, dark shadows, as on the nuances of boss Akalitus' black blazer.
The Sound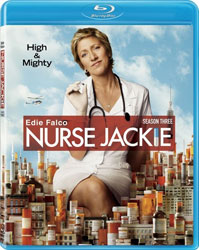 The big, high-resolution DTS-HD Master Audio 7.1-channel presentation exceeds the standards of even the highest-quality original Showtime airings. The frequently pithy music is aggressively distributed across the multichannel soundstage, but sadly the soundtrack here is largely undistinguished. Dialogue is crystal clear but effects are minimal (there's a nice, quick bit when Jackie is strolling down the middle of a busy New York City street) and low end is all but nonexistent. But ultimately the results are natural and don't call too much attention to themselves.
The set also includes a DTS-HD Master Audio Sound Check feature.
The Extras
Audio commentaries for five different episodes are provided across the season, two with actors Anna Deavere Smith and Paul Schulze, and three with star Edie Falco, executive producer Richie Jackson, and executive producers/co-creators Linda Wallem and Liz Brixius. Deavere Smith returns in a featurette devoted to her interesting career and her craft (14-and-a-half minutes), and Schulze is joined by Dominic Fumusa for a look at their respective roles of Eddie and Kevin, the main men in Jackie's life (about twelve minutes).
Also here is a gag reel (about eight minutes) with some real chuckles, albeit for the grownups only. All of the video extras are in HD.
Final Thoughts
Consistently one of the best-written, best-acted shows on television, Nurse Jackie lost none of its momentum as it balanced drama and comedy for a third season. With strong HD video and well-intentioned 7.1 audio, this two-disc set is a great way to prepare for the soon-to-premiere Season Four.
Product Details
Actors: Edie Falco, Merritt Wever, Paul Schulze, Eve Best, Peter Facinelli, Dominic Fumusa, Anna Deavere Smith, Ruby Jerins, Stephen Wallem, Arjun Gupta, Mackenzie Aladjem, Lenny Jacobson, Gbenga Akinnagbe, Jaimie Alexander
Directors: Steve Buscemi, Michael Lehmann, Tristram Shapeero, Bob Balaban, Daisy von Scherler Mayer, Linda Wallem
Audio Format/Languages: DTS-HD Master Audio 7.1 (English)
Subtitles: English SDH, Spanish
Aspect Ratio: 1.78:1
Number of discs: 2
Rating: NR
Studio: Lionsgate
Release Date: February 21, 2012
Run Time: 334 minutes
List Price: $39.97
Extras:

Audio Commentaries on  episodes, by Anna Deavere Smith, Paul Schulze, Edie Falco, Richie Jackson, Linda Wallem and Liz Brixius
"Inside Akalitus: Anna Deavere Smith on Acting, Theater and Nurse Jackie"
"Jackie's Guys: Paul Schulze and Dominic Fumusa"
Gag Reel