New Panasonic Blu-ray HTiB Home Theater Systems and Sound Bars Unveiled
By Chris Chiarella
In an interesting move, Panasonic's upcoming home theater systems (complete bundles with a Blu-ray player, multichannel amps and speakers) are migrating away from 7.1, embracing instead tried-and-true 5.1-channel audio in all three of their new models. At the same time they are also transitioning toward the latest flavor of virtual speaker technology, dubbed True to Cinema Surround, which can create the illusion of as many as six additional speakers.
Top of the 2010 HTiB (Home Theater in a Box) line will be the SC-BT730, distinguished by two impressive features: "Pure Direct" Tall Boy left and right main speakers, for wider dispersion, and wireless rear speakers included in the box. The entry-level SC-BT230 and the step-up SC-BT330 offer rear wireless speaker upgrade capability, with addition of an optional SH-FX71 Wireless Kit for Rear Speakers. These two systems ship with a Kelton subwoofer, the BT330 includes traditional (not Pure Direct) tallboys and the BT230 features compact satellites.
All three systems feature 1,000 watts total power to the 5.1 channels, a universal dock for iPod/iPhone, and all incorporate the Audio Return Channel of HDMI 1.4, to handle the audio signal both to and from the TV over any HDMI cable, eliminating the need for a separate optical audio cable out from the TV. Blu-ray performance for these HTiBs is on a par with the 2010 entry-level standalone player, the DMP-BD65, with True to Cinema picture thanks to the exclusive PHL Reference Chroma Processor Plus.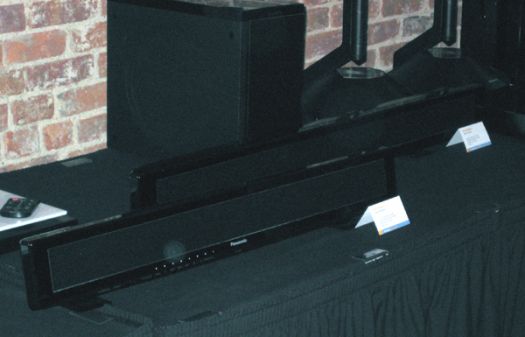 Panasonic is also introducing their very first Sound Bar products, starting with the one-piece, one-cable, one-remote (with Viera Link) convenience of the SC-HTB1, available in June. It offers HDMI 1.4 inputs for future-proof 3D video pass-through, as well as an optical input for further versatility. Clear Mode Dialogue directs voices toward the TV screen for a more realistic home theater experience, and the improved bamboo cones are more responsive. Integrated dual-subs (forward and rear) and an optional IR blaster further enhance the performance and flexibility. If the SC-HTB1's 120 watts aren't quite enough for your needs, or if you're looking for a better fit for your 42-inch screen, the larger SC-HTB500 provides double the power, with a separate, wireless subwoofer to complete the package.
Where to Buy:
More information: