Netgear 3DHD Wireless Home Theater Networking Kit (WNHDB3004) Review
By Peter Suciu
Edited by Chris Boylan
Get Wired... Without Wires
As a matter of full disclosure this reporter has to admit something. He (as in I) hates wireless networking. I have long loathed the idea of wireless. Blame all the years in crowded New York City apartments where my TV, computer, video game consoles and countless other devices were often at arm's length. As my various apartments grew in size I just bought longer RJ-45 cables to go the distance.
Part of this reason was that for nearly eight years I lived a stone's throw away from ABC TV's offices on the Upper West Side on the 19th floor of a high rise apartment building. The level of interference was in a word, overwhelming. In the early days of 802.11a WiFi was not reliable. Latency was an issue; cross traffic caused the ping to go to the dreaded 9999.9999. So I stayed wired.  It was secure, nearly foolproof and (for me then, anyway) just as convenient as WiFi.
I have moved (twice) since that time, and the world has moved forward with wireless without me. I just bought larger drill saw bits to make larger and larger holes through my walls for the ever increasing amount of cabling. When getting a new cable provider the question, "how many wireless devices do you have," would be answered by "none, because I have miles of cable." So here I am the guy who has tested, and come way extremely impressed by Netgear's 3DHD Wireless Home Theater Networking Kit (WNHDB3004).
All that said, I'm not a luddite; I've used WiFi on my laptop but most of the time I just jump on whatever network I can find (oops, did I just say that out loud?).
Cutting the Cord
My latest move has taken me from the big city to the 'burbs, to a house built in the late 1960s. This means real plaster walls, hardwood floors and since it is a ranch house one that is long and stretched out. To this end I opted to place the Internet modem and router exactly below the home theater system in my living room. I am one of those types who considers a reliable connection more important than avoiding drilling through freshly redone hardwood floors. A hole in the floor can always be patched! This location was also chosen because my wife's home office and mine are about as far as physically possible in the house - and thus having the router mid-point seemed like an ideal solution, especially when you're totally wired.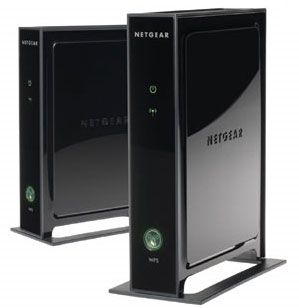 This brings us to the Netgear 3DHD Home Theater Networking Solution. It features four radios on the receiver side as well as four radios on the transmission side (four by four), and more importantly, 5GHz 802.11n WiFi. Despite this fact, the truth is that since my modem and router are directly below the home entertainment system, there is really no need to go wireless. I simply drilled two one-inch holes and have everything wired with RJ-45 cables. This includes a Moxi HD cable set top box, Microsoft Xbox 360 video game system and Sony PlayStation 3 video game system (which doubles as a Blu-ray player). Additionally two extra RJ-45 cables come up, flank a wall, go under a newly installed transition piece to the entry way and through two walls to my office in a back spare bedroom. Yes, OK.  I admit it: wireless would be easier.
Here is where the 3DHD proved it could convert me to wireless. I have two PCs in my office (one for gaming, one for writing), plus a network backup hard drive and a Skype handset, as well as a network capable printer. As I mentioned I have TWO (2) RJ-45 cables running to the office. I have one that goes through a switch and to my various devices. This means I do get some speed loss as a result. The rest of the time I often switch out the cable to suit my needs.
The Set-Up

My first step was to bring the 3DHD to my existing router, and plugging it in. The kit arrived in a plain brown box, and includes two Wireless-N HD Home Theater Adapters, along with Ethernet cables and power supplies. The kit sells for $259.99, which does seem like a lot considering that many routers offer built in wireless. The key with this is that it is so simple! Additional adapters can be added, and these sell individually for $149.99.
One thing that has always turned me off about wireless routers is that even in the best of times there is a little bit of "messing around" to get them to work. Imagine my surprise when I opened the box to find a booklet with just five pages of instructions. I immediately thought, it can't be this easy. I was wrong, dead wrong.
The first step was just plugging one of the adapters into my existing router and powering it up. Then I placed the second adapter in my office. This is about 10 feet up and 50+ feet from the first adapter. This second adapter includes four ports, so I plugged in the second computer, the network backup drive and the Skype phone, and then waited... only about a few seconds and everything was up and running.
The performance was actually comparable to the second cable and switch, but without all the wires. Now if easy wireless were not a viable option, I still would have drilled through the floor and two walls in all likelihood as I'm crazy when it comes to being wired, but I'm glad I didn't have to. Each of the adapters has a front panel that shows the power and wireless speeds. Red means bad, yellow means OK and green, which I saw means good to go.
Put to the test with the latest Medal of Honor for the PC, the ping was very close to being on par with what I was getting with the wired connection. In fact, maybe drilling through my beautiful hardwood floors and original plaster walls really wasn't necessary.
Going HD
Of course some simple gaming didn't put the Netgear 3DHD system to the full test.  The Netgear system is designed to stream HD content, with the promise of streaming up to four sources at the same time - via the four transmitters and four receivers. The truth is that very few people are ever actually going to need to stream multiple sources concurrently. But it also allows for signals to keep going even if conditions should change, such as someone turning on a microwave or otherwise interfering with the signal.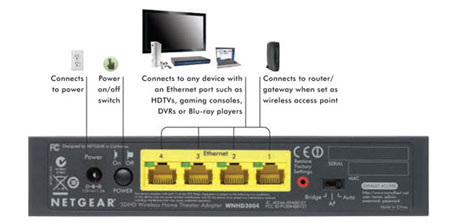 With this mind I placed the second adapter up with my main entertainment system to see how content would be streamed from a PC to the Moxi. In these tests the content came over without any notable delay. Of course, as I previously stated, the home entertainment system is literally right above the router (but through a floor) so this wasn't a huge challenge.
For comparison purposes, I did some upload and download speed testing via the speed tests on dslreports.com.  In these, the wired solution proved a bit speedier with a consistent 5.56Mb/s download compared to a wireless 1.23Mb/s from the 3DHD. This was at the ultimate extreme distance in the house. Moving closer to the location of the router, increased the speed to 2.24Mb/s but it still wasn't up to the robust speed that a wired connection provided. On the upload however, wired gave me 2.55Mb/s while wireless was on par with 2.48Mb/s at the extreme range and 2.49Mb/s in the closer test. Clearly performance took a hit, but it wasn't really as noticeable with real world streamed content.
In a final test I decided to see how the unit fared when sending real content from multiple sources, and this included streaming music to the PC that is set up with my router in the basement, while sending content from a laptop (via a wired RJ-45 cable) to the router, onto the wireless adapter and then to the Moxi. This caused a few minor hiccups, but again so few major problems as not to be of concern.
The system is also adaptable, as it can be used in the automatic mode - the one I mostly used - as well as an AP (Access Point) and Wireless Bridge mode, while offering four switched ports. These different options allow for additional adapters to be added, thus extending the wireless network with even more devices. Thus dozens of devices could be shared within the network.
Turn Ons
Extremely easy to set up
Expandable
Multiple configuration options
Turnkey solution makes your wired networks devices wireless
Turn Offs
Fairly expensive
Redundant if you already have numerous Wi-Fi devices and a good wireless router
Final Thoughts
What makes the Netgear 3DHD Wireless Home Theater Networking Kit special is its comprehensiveness, ease of set-up and ease of use.  It's a solid solution for those who are looking to add wireless to their existing wired network, and want to have a network that can expand throughout a large apartment or even larger house without having to run wires.
Where to Buy:
System Requirements
High-speed Internet access (Wi-Fi or Ethernet)
Ethernet-enabled devices
Specifications
What's in the Box?
Two WNHD3004 adapters
Two Ethernet cables
Two power adapters
Manufacturer's Contact Information:
Netgear
350 East Plumeria Drive
San Jose, California 95134-1911
ph: (408) 907-8000
Website: www.netgear.com