Morgan Spurlock At Comic-Con: He's a Participant and a Fan
By Lora Grady
Could there possibly be a better place to hear producer/director Morgan Spurlock discuss his documentary about Comic-Con than at Comic-Con?  Attending his fourth Con in as many years, Mr. Spurlock dropped in at the Movies On Demand Lounge at the Hard Rock Hotel in San Diego on day one of Comic-Con , and I had a chance to participate in the press roundtable, which was moderated by Reelz-TV host Jeremy Parsons.
The MOD Lounge was a great setting for an up-close and informal exchange, during which Mr. Spurlock responded to questions about his views on Comic-Con, and what inspired him to create the documentary, "Comic-Con: Episode IV - A Fan's Hope".   That inspiration was "to show another side to Comic-Con" – a side that he saw when he attended for the first time in 2009, promoting "The Simpsons Anniversary Special", which he directed.  Instead of the standard cliché about a bunch of introverted oddballs getting out of the basement, Spurlock found that Comic-Con was about smart and dedicated people gathering to explore their shared interests and bond over what excites them in the comic arts and pop culture."No matter what your thing is, you will find someone here [at Comic-Con] who also loves that thing." And does the film succeed in conveying a sense of camaraderie and connection to others with the same fannish dedication?  "I've heard that people buy (the documentary) for their parents to justify or explain their passion for what they do. "  The director noted that, after seeing "Episode IV", the father of one of the film's featured players, talented amateur costume designer Holly Conrad, approached him to say thank you: "For the first time, I understand my daughter."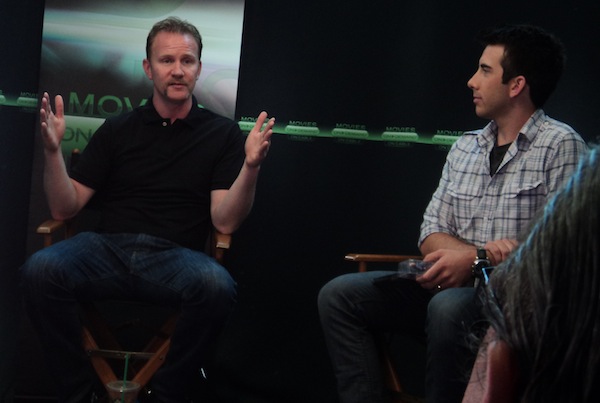 Having spent time making a film on Comic-Con, Spurlock learned some things about the event that surprised him.  "I had no idea that Comic-Con is like a job fair for aspiring comics artists.  The whole thing with portfolio reviews [an opportunity for amateur artists to present their work for critique by well-known practitioners in the field or reps from specific publishers] was new to me."  And with his newfound knowledge came some opinions about the fest.  Asked about whether Comic-Con has gotten too big for San Diego and should move to another city, Mr. Spurlock was clear that, "It should stay.  They need to figure out how it can keep growing.  Maybe they should consider the TED model, where some people pay a certain amount to attend live events, or you can watch videos of popular panels on the web."  Asked for his thoughts about the increasing Hollywood presence and "segregation between celebrity and fan culture at Comic-Con", Mr. Spurlock opined that, in fact, "There is a lot of access here; you can get into those big parties, but you have to get your hustle on."  Overall, he says, Comic-Con provides attendees who may encounter their favorite artist/writer/actor/filmmaker "an opportunity to say thank you as a fan."
Mr. Spurlock took the time to talk about his views on filmmaking, and the comics industry overall.  Of the changes in the process of making and distributing films that have occurred since his debut feature, "Super Size Me", was released in 2004, the biggest shift has been the "democratization of film," with more accessible technology and a preponderance of distribution channels allowing more filmmaking visions to become reality.  "If you have an idea, you can make a film."  Spurlock also sees a similar "democratization of comics" now happening, with electronic options shortening publishing time; this, he feels, "will bring out more great storytellers."  He is a big fan of comics, and notes that he now downloads more titles than he buys in print.  He predicts that someday that will be the norm, and "comic books in print will become collectibles."   Asked to cite some of his favorite titles or series, Mr. Spurlock mentioned Mark Waid's "Incorruptible" and "Irredeemable" (both from Boom! Studios).  He also had high praise for Brian Wood's "DMZ" (DC/Vertigo) series, and particularly , "DMZ Vol. 1", which he says he buys for other people, "because it's such a great entree into graphic novels."
The latest projects for the writer/director/producer include the recently released documentary, "Mansome", which enlists actors Jason Bateman and Will Arnett ("Arrested Development") in an exploration of male grooming rituals and the rise of the "metrosexual", and a narrative feature that will be going into production shortly.  In between these pursuits, it was great to see Mr. Spurlock relaxing and enjoying himself at Comic-Con, where clearly, he's not only an industry insider, he's also a fan.