Monsters, Inc. Blu-ray Review
By Chris Chiarella
The Movie
Fortunately for me and my ilk, some people can't get enough of a lovable oaf, and we don't come much more lovable than James P. Sullivan, "Sulley" to his friends. He is also the top scarer at Monsters, Inc., the company that provides power to Monstropolis by systematically frightening young children a dimension away in the human world and capturing their screams for the ultimate in clean energy.
Life is good for Sulley (voice of John Goodman) and his best friend/roommate Mike Wazowski (Billy Crystal), until one day a human child--believed to bring swift death to monsters--innocently wanders into their world. Suddenly their fellow scarers, the government and civilians alike all want to track down this rogue toddler, nicknamed "Boo," and only the fur-covered lug Sulley begins to see that there's more to this doe-eyed kid than certain doom.
The sparkling physical comedy ranges from broad to subtle, and the wonders of Monstropolis are ceaselessly clever. Monsters, Inc. has earned a place among Pixar's most imaginative, most entertaining films.
The Picture
The Blu-ray preserves the full theatrical 1.85:1 aspect ratio and is as gorgeous as any movie about monsters ever could be. The carpet, stone surfaces, but maybe most of all Sulley's rippling purple-spotted aqua fur are mind-bogglingly realistic. Clearly the character designers (the best in the business) had a field day with all of the different species and their various colors and scales and wrinkles. The hues and clarity are never less than breathtaking, while instances of steam might not be mistaken for the real thing, but neither are there any visible artifacts, or any flaws whatsoever, that I saw.
The Sound
The DTS-HD Master Audio 5.1 mix goes long on the low-end, be it a throwaway gag like a soccer ball hitting a monster in the head, or the clunking of the machinery, or the footfalls or full-on pratfalls of the characters, making us believe that these guys might weigh a ton, easy. Much effort has gone into making Monsters, Inc. headquarters, where so much of the movie takes place, sound like a real place. Active surrounds also distinguish this track, from the wind wafting all around us to a violent blizzard in The Himalayas, or the magical effect of "scream power."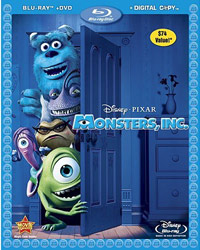 The Extras
Following one of the better director introductions on Blu-ray/DVD, from Pete Docter, we're led to a handful of bonus material on the BD-Live-enabled Disc One. Many of the extras are carried over from the Monsters, Inc. DVD, including the audio commentary by Docter, co-director Lee Unkrich, and executive producers Andrew Stanton and John Lasseter. Also here is a Pixar-themed home theater calibration tool.
The new "Filmmakers' Round Table at the Hidden City Café" reunites Docter and Unkrich with producer Darla Anderson and story supervisor Bob Peterson to look back and laugh for 22 minutes, in HD. "Monsters, Inc. Ride and Go See: Building Monstropolis in Japan" takes us behind the scenes of the new attraction for Tokyo Disney, 12 minutes, also in HD. Two Pixar shorts return, the theatrically released "For the Birds" (about three minutes) and the created-for-home-video tie-in, "Mike's New Car" (about four minutes, both also HD).
Disc Two begins with a "hidden" collection of standard-definition still frames for "Employee Handbook," "Guide to In Jokes," "Monster of the Month" and "Scarer Cards." Most of the ported extras maintain the original "Humans Only" (more serious) and "Monsters Only" (kid-friendlier) dichotomy. Monsters Only begins with "New Monster Adventures," namely the "Monster TV Treats" (brief SD video tidbits) from Ponkickies 21 (Rock, Paper Scissors or Lucky Door Game, with new animation created for a Japanese TV Show) and the "If I Didn't Have You" music video (one minute, HD). "Behind the Screams" takes us "On the Job With Mike & Sulley," a faux interview with the main characters (two-and-a-half minutes, SD), followed by "Orientation," "Welcome to Monsters, Inc. (the commercial from the movie, one minute, SD), "Your First Day" (three-and-a-half minutes, SD) and "History of the Monster World" (one-and-a-half, HD), drawn and animated by Bud Luckey.
For Humans Only, we learn about life at Pixar ("Pixar Fun Factory Tour," about four minutes, SD; "Story is King," "Monsters are Real," "Original Treatment ," "Story Pitch: Back to Work" about 22 total in a combination of SD and HD). The five "Banished Concepts" deleted/alternate scenes are presented largely in animatic form, in HD, 10 minutes total including a standard-def intro. The "Storyboard to Film Comparison" shows us the Storyreel and Final Scene, plus top-and-bottom combination for the "Boo bedtime" sequence, each version five minutes, in HD.
The featurettes--and more--continue with "Designing Monstropolis" and "Set Dressing Intro" (virtual props etc.), about three minutes each, in SD. "Flyarounds" run about seven minutes in SD; although I wish these set tours had been re-rendered in HD; chaptered area by area. "Monster File" consists of "Cast of Characters" and "What Makes a Great Monster," about seven minutes total, in SD. "Animation" goes in-depth with multiple segments, 20 minutes total, followed by four versions of the two-minute scene "23-19!" These alone are in HD. We also learn about "Music & Sound" with designer Gary Rydstrom and recording the Randy Newman song, with brief archived video bits for the "Release" and "Wrap-Up." Images for the Art Gallery section have now been rescanned specifically for Blu-ray.
Roz's 100 Door Challenge is brand-new for this edition, with 100 very different questions arranged like an interactive job application. Disc Three is a DVD of Monsters, Inc. with select bonus features, and disc four carries a Digital Copy of the movie for either Windows Media or iTunes.
Final Thoughts
Ultimately, Monsters, Inc. speaks to the "monster" inside each of us: If a Sulley can learn to love, can't we all? I choose to view it as a treatise on fatherhood, which is probably why the heartbreaking-ending-with-a-surprise gets me every time, never more so than in HD.
Product Details
Voice Actors: John Goodman, Billy Crystal, Steve Buscemi, James Coburn, Jennifer Tilly, Mary Gibbs, John Ratzenberger, Frank Oz, Bob Peterson
Director/Co-Director: Pete Docter/Lee Unkrich and David Silverman
Audio Format/Languages: DTS-HD Master Audio 5.1 (English), Dolby Digital 5.1 (French, Spanish)
Subtitles: English SDH, French, Spanish
Aspect Ratio: 1.85:1
Number of discs: 4
Rating: G
Studio: Walt Disney
Release Date: November 10, 2009
Run Time: 92 minutes
List Price: $45.99
Extras:

Audio commentary by Pete Docter, Lee Unkrich, Andrew Stanton and John Lasseter
"For the Birds" animated short
"Mike New Car" animated short
"Filmmakers' Round Table at the Hidden City Café"
"Monsters, Inc. Ride and Go See: Building Monstropolis in Japan"
"Employee Handbook"
"Guide to In Jokes"
"Monster of the Month"
"Scarer Cards"
"Monster TV Treats"
"If I Didn't Have You" music video
"On the Job With Mike & Sulley,"
"Orientation"
"Welcome to Monsters, Inc."
"Your First Day"
"History of the Monster World"
"Pixar Fun Factory Tour"
"Story is King"
"Monsters are Real"
"Original Treatment"
"Story Pitch: Back to Work"
"Banished Concepts"
"Storyboard to Film Comparison"
"Designing Monstropolis"
"Set Dressing Intro"
"Flyarounds"
"Cast of Characters"
"What Makes a Great Monster"
"Animation"
Scene: "23-19!"
"Music & Sound"
"Release"
"Wrap-Up" Art Gallery
Roz's 100 Door Challenge interactive game
DVD of the movie
Digital Copy
BD-Live