The Site for Home Theater and Movie Reviews
Monsters, Inc. Blu-ray 3D Review
By Rachel Cericola
The Film
It's been a while since Billy Crystal and John Goodman first teamed up with Pixar to make monsters more lovable. About 12 years and half-a-billion dollars later, the crew is planning to reunite for this summer's Monsters University. First though, it's time for a bit of a refresher course.
Three years after the first Blu-ray release, Pixar is adding Monsters, Inc. 3D to its arsenal -- and possibly your's as well. This is one of the many titles that the studio has re-released, remastered with 3D effects.
The plot is pretty simple: There really are monsters under the bed and in the closet. However, they aren't as scary as you think. In fact, they're actually more scared of us than we are of them. That said, they need those little kid screams to create energy and make their monster magic. When one kid comes over to the furry (and sometimes slimy) side and enters Monstropolis, things get downright scary (and funny) for top scarer Sulley (John Goodman) and his sidekick Mike Wazowski (Billy Crystal).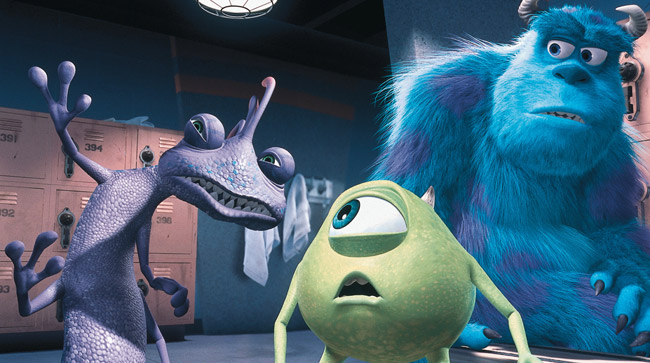 Pixar has come up with some pretty interesting characters over the years. However, leave it to the studio to make monsters seem kind of cuddly -- and really funny. Monsters, Inc. is a scary good time for all ages.
Want to scare up some additional info on the 2009 Blu-ray release? Check out Chris Chiarella's Monsters, Inc. Blu-ray Review.
The Picture
This is Pixar, people. Some of the studio's films are better than others, but all are gorgeous and Monsters, Inc. is no different. Wisely, the studio hasn't touched the film's stellar 2D image. They also haven't messed with anything by adding in 3D effects. The image is sharp and the colors are plentiful and pop really well. Although the movie has its share of mayhem, there aren't really any pop-out effects here. Instead, the 3D adds a great deal of depth to the image, all without distorting one hair, scale or other element here. Instead, the 1.85:1 image just displays some great textures on the creatures, with the 3D adding a nice little overall punch.
The Sound
If you have the Blu-ray, the most obvious addition here is the new Dolby TrueHD 7.1 track. This alone may be worth the upgrade, because a film like Monsters, Inc. certainly knows how to take advantage of that extra channel. It's a really fun track, with echoes, the sounds of the CDA, winds, screams, and all of the general mayhem filling up the soundfield.
The Extras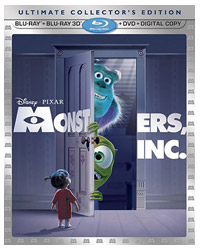 Back in 2009, our own Chris Chiarella called director Pete Docter's intro "one of the better director introductions on Blu-ray/DVD." Well, Disney didn't seem to agree, so they ditched it for this 5-disc set. To ease some of that pain, the studio has added the
Toy Story
-themed short "Partysaurus Rex," which is in 3D. In fact, all of the extras on the 3D disc are in 3D, and it's a welcome addition. Otherwise, the rest of the Blu-ray's extras are here, intact. The collection includes anything and everything you'd want to know about the film, with audio commentary, a roundtable, storyboards, and much more. And on the off chance that you don't care to know more about the movie, there are plenty of shorts, videos and other extra goodies. It's also worth noting that the bonus Blu-ray has four Easter eggs, which are accesible by left-clicking anywhere on the main menu. That's just one of the many goodies in this stellar selection.
Final Thoughts
After 12 years, Monsters, Inc. is still a fun, innovative movie. It's also worth the 3D upgrade. The new effects add a little something extra to an already awesome Blu-ray release, with the new 3D extras being another nice touch. Don't be afraid to indulge in Monsters, Inc. 3D. Pixar knows what it's doing.
Product Details
Voice Actors: John Goodman, Billy Crystal, Mary Gibbs, Steve Buscemi, James Coburn, Jennifer Tilly, Frank Oz
Directors: Pete Docter, Lee Unkrich, David Silverman
Audio/Languages: Dolby TrueHD 7.1 (English), Dolby Digital 5.1 EX (English, French, Spanish), Dolby Digital 2.0 (English), DVS 2.0 (English)
Subtitles: English SDH, French, Spanish
Aspect Ratio: 1.85:1
Number of Discs: 5
Rating: G
Studio: Disney
Blu-ray Disc Release Date: February 19, 2013
Run Time: 92 minutes
List Price: $49.99
Extras:

3D Disc:

Toy Story Toons: Partysaurus Rex
For the Birds
Outtakes and Company Play
Sneak Peeks

2D Disc:

Toy Story Toons: Partysaurus Rex
For the Birds
Mike's New Car
Filmmakers' Roundtable
Audio Commentary
Sneak Peeks

Bonus Blu-ray:

Roz's 100 Door Challenge
Humans Only

Pixar
Story
Banished Concepts
Storyboard to Film Comparison
Art Gallery
Designing Monstropolis
Set Dressing Intro
Location Flyarounds
Monster File
Animation
Music & Sound
Release
Wrap-Up

Monsters Only

New Monster Adventures
Behind the Screams
Orientation

Easter Eggs

Employee Handbook
Guide to In Jokes
Monster of the Month
Scarer Cards

Standard-Def DVD
Digital Copy
What do you think?
| | |
| --- | --- |
| Overall | |
| Video | |
| Audio | |
| Movie | |
| Extras | |
Explore Big Picture Big Sound