Molly's Game Review
By David Kempler
Word Games
Aaron Sorkin's directorial debut feels like most of his projects where he served solely as the writer: it has an air of intellect presented in a very wordy fashion. Sometimes this technique works beautifully, like it did in his "A Few Good Men." At other times it still works, but is a bit too wordy for my taste.

"Molly's Game" is verbose, incredibly professional looking, and hits all the right notes at the appropriate times. This makes it a bit formulaic in addition to accomplishing its goal of telling the story effectively. It also benefits from being a fascinating look at a woman's exotic life that is based in truth. As always, there is no way of knowing how close it is to the truth, though.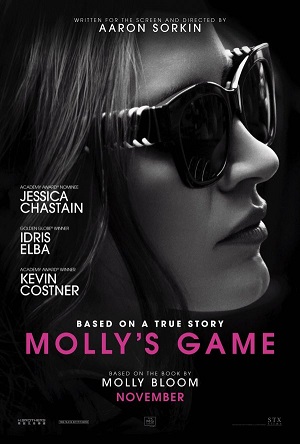 Jessica Chastain plays the title character, Molly Bloom, and she also narrates a good deal, to flesh out Molly and because Sorkin loves lots of words. Molly has always been driven, with her father (Kevin Costner) pushing her every step of the way.

As a young woman, Molly was an ultra-competitive athlete from a family that included a brother just as ambitious and even more successful. She was one of the top women skiers. He was the top men's skier. Just as she was about to finally break through and make it to the Olympics, she suffered a career-ending injury.

Becoming a lawyer becomes her next goal, but it gets derailed when she takes a job working as a personal assistant to a guy she meets. She's not totally clear about her duties, at first, but she learns that her boss runs private high-stakes poker games. The regulars include actors, Wall Street bigshots, and well-to-do gamblers.

Molly is a natural and she updates how the business is run by injecting Excel sheets to track all of the transactions. She becomes so good at it that she runs afoul of the law and her face and story get splashed all over the news, turning her into an infamous figure.

"Molly's Game" jumps back and forth in time, often, as she tells the story to her lawyer, Charlie Jaffey (Idris Elba), and her story is quite the ride. It's a solid and sometimes gripping tale and well worth your time. One problem I had with it is that it looks so good that even when it tosses in the odd gritty scene, it feels too pretty to look at. Sorkin and Chastain have given us a good if not great game.