Mitsubishi WD-92840 92-inch 3D Home Cinema TV Review
By Ian White
Edited by Chris Boylan
The Greatest Show on Earth
CES 2012 was all about OLED HDTVs and how amazingly thin manufacturers can make panels right now, but that "coolness" also comes with a rather steep pricetag. LG and Samsung have some wonderful products making their debuts in 2012, but do you really want to spend $8,000-$9,000 for a 55-inch HDTV? Will prices begin to drop significantly for OLED over the next few years making it the product to own? Most likely. But what about the consumer who wants the biggest and most affordable image in their home right now but isn't interested in the complexity of a component front projection system? Say hello to my seriously large friend; the Mitsubishi WD-92840 92" 3D rear-projection DLP HDTV.  And yet that big TV comes at a fairly low price tag: under $6000 list and available for about half that online or in stores.
Mitsubishi is not the only game in town when it comes to large-screen HDTVs; Sharp and Panasonic have 80"- 152" HDTVs but those sets come with a serious case of sticker shock. During my ISF calibration course, I was fortunate to learn on the incredible Panasonic TH-85VX200 85" 3D plasma and while that particular set is my "dream" HDTV for the living room, it also sells for around $40,000. You can buy a fully tricked out 2013 Camaro SS for less money. The larger 103" and 152" models from Panasonic cost more than some homes so their appeal is really limited to Persian Gulf Emirs and Facebook executives.
If you can afford to spend $40,000 on a flat-panel HDTV, you can probably afford a JVC/Runco projector and a Stewart screen instead, so you would be rather crazy not to spend the money on a dedicated home theater room where you would have total control over ambient light and screen size. Not to mention a fantastic 7.2 channel surround sound system.
But what if you can't afford $40,000? Or even $5,000? What if your kids are driving you crazy about Blu-ray 3D and you have the room for a 92" rear-projection HDTV in your living room or basement-cum-home-theater?
Don't even try to sneak this in and think that your wife won't notice.
It's like parking a car in your living room. A Porsche Panamera.
Hope you have a wide door.
Enter the WD-92840.
Baby did a bad bad thing...
Before the cynics start tossing stale licorice at me (which really hurts), I want to address some of the WD-92840's shortcomings. Let's get all of the negatives out of way before I try to convince you that this is one of the greatest TV experiences ever. And it is...
From a practical perspective, the WD-92840 is an incredibly large HDTV (81.9" x 54.9" x 25"). You can't mount it on a wall because it is 25" deep. Unless you have the ability to flush mount the set inside a wall cavity or have a custom wall unit made to surround it, it is always going to look like a 92" rear-projection HDTV taking up a significant chunk of the real estate in your den or living room.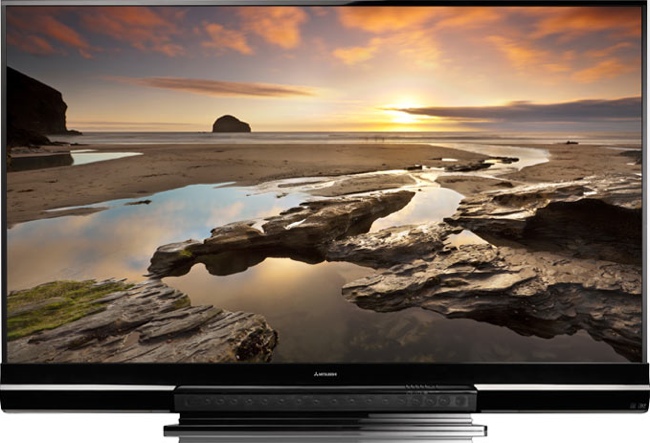 The poor schlub sent to deliver it almost freaked out when he saw the box. Getting the box through my front door was a minor miracle and don't even ask how I moved it from the front hall to the den. Towels. Lifting it up on a stand I had made specifically for the review? Ouch. Still feeling it.
The enormous size of the set is also part of its charm. People actually came over to my house just to see it. Neighbors came knocking. My Rabbi called me up one night at 11 pm and asked if he could watch Avatar in 3D. We did. He was so impressed, he blessed the set on his way out. I held three movie nights during the review period and it was literally standing-room-only in my den. Everyone wanted to watch movies on the WD-92840 because the image was so big.
BPBS Head Honcho Chris Boylan and I were two of the first to see the WD-92840 at a trade show in early 2011 and one of the first things that we noticed was the reflective nature of the screen. There are technical reasons for it, primarily related to the set's performance with 3D viewed through active glasses, but the screen still has some serious issues with ambient light. The screen is specially treated to increase the light output with 3D and while it certainly works well, if you can't control the ambient light at all in your room, this is not the set for you. The image will be unwatchable during the day.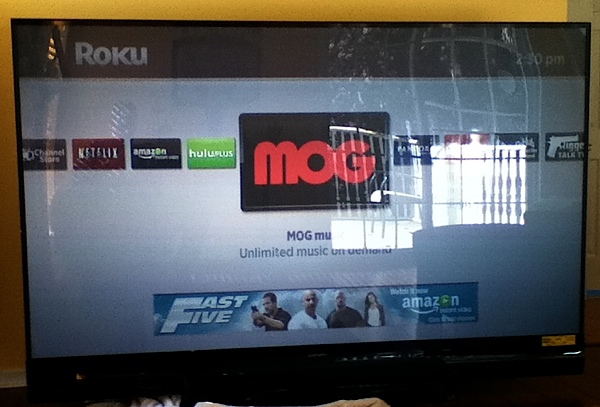 My den has rather dense velvet curtains and I felt the need to close them whenever I wanted to watch the set before dusk. If you can place the TV in a dedicated room and eliminate the ambient light, it will never be an issue.
Another issue with the WD-92840 is placement and image height. At 194 pounds, this is not an HDTV that you can just move around with ease. You set this bad boy up and leave it there. The input bay is well placed on the bottom, however, of the rear panel and it was quite easy to plug and unplug the various Blu-ray players and media streamers that I tried during the review.
One set-up issue to think about is the degree of ventilation around the rear panel in order to keep the bulb cool. You want some space for the set to breathe so I would keep that in mind if considering a fancy cabinet or wall cavity.
But just how high should this HDTV be set-up?
Leaving this HDTV on the floor is a bad idea. Bad for image quality and certainly bad for the audio; its loudspeaker system is better than most inexpensive HTiB systems I've heard by a considerable margin.
Mitsubishi doesn't offer its own stand for this set; there are a few options from other stand manufacturers, but I had my carpenter fashion one for me that was 16" high. Based on my own experience and what I've seen at some dealers, this set is fine with a stand between 13-16" in height. In my room, that placed the middle of the screen almost 48" off the floor. I think you are asking for trouble if you go much higher, although Mitsubishi claims that you can go as high as 22".
If I may vent for a second - why are installers still mounting flat-panel HDTVs so high up on people's walls? Nobody really wants to watch a movie that way (terrible on your neck) and your seated viewing position is supposed to place your eyes in the middle of the screen; not three feet lower. You'll never have that issue with the Mitsubishi.
Not a big black box made of ticky tacky...
One of things I really like about the WD-92840 is its styling. It will never be confused with any other HDTV and I mean that as a compliment. The bezel is a tad thick on the bottom (and somewhat reflective), but this set is just undeniably cool to hang out with. Yes, you hang out with this TV. It's the new kid who moved into the neighborhood with attitude and a really muscular chest.
The base of the WD-92840 is quite narrow (another reason why for safety reasons I would not leave it on the floor) and really places all of the visual focus on the enormous screen that resides above it.
Directly below the screen in a neatly alligned array are 16 loudspeaker drivers, powered by an internal 32-watt amplifier. Don't let the size of the drivers fool you; this HDTV's audio system (which has its own Dolby Digital 5.1 processor) is anything but anemic. I watched more than a few movies with the WD-92840's internal loudspeakers and it was far and away, the best sound I've ever heard from an HDTV.
The sound was punchy, warm, and enveloping. Does it have the dynamic capabilities of a component-based surround system? No, but it wipes the floor with most HTiBs that I've heard. The rear panel allows you to connect an external subwoofer to the system which I did try and to my amazement it worked quite well.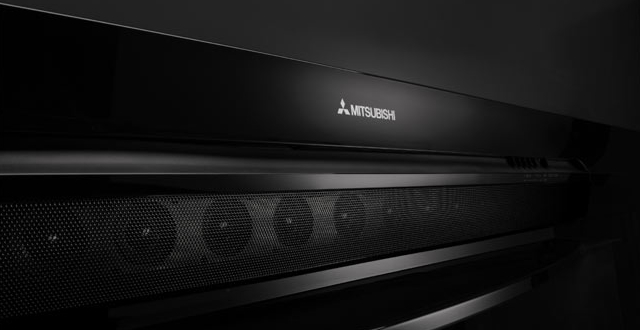 The audio system also allows you to utilize the loudspeaker array as a center channel speaker (to be used with additional right/left, and surround channnels) only.
The rear panel has a sufficient number of inputs/outputs for a 21st Century home theater including; 4 HDMI inputs (with 3D and Deep Color support), 1 component video input, 1 DVI/PC Audio input, 1 Digital Audio output, an analog stereo/surround audio output, variable subwoofer output, 2 USB 2.0 ports, a 3D glasses emitter, LAN port, and coaxial antenna input. The stereo/surround output is interesting in that it can send a standard analog stereo output to a receiver or powered speakers, or it can send just the rear surround channels to a receiver or powered speakers.  This allows you to use the built in spakers for front/left/right and add on a separate pair of speakers for discrete rear channel surround.
You can also stream via Bluetooth A2DP, audio directly from a Bluetooth-enabled device to the set. If you don't have a handy network cable in close proximity, you'll need to add on an optional wireless network adapter in order to stream content from external providers such as VUDU directly on the TV.
On the video end, the WD-92840 is a full HD 1080p 3D DLP set that operates with a 120 Hz Sub-Frame rate and comes with 9 picture format modes (6 for 4:3 sources, and 3 for 16:9 sources). The WD-92840 comes with an internal 3D emitter to sync the 3D signal with your active 3D glasses so you don't need to stick any little boxes on the top of the set to achieve coverage all over the room.
The set also has four video modes; Brilliant/Bright/Natural/Game, but you should skip all of those and go directly to the Advanced mode and utilize the ISF ccc advanced video adjustments which can be saved for both 2D and 3D. If you don't know what this means, we'd suggest hiring an ISF professional to calbriate your set (it's worth the investment). Also remember to turn the video noise filter to off and turn the lamp to the higher output setting.
Silly me. How could I forget? The Mitsubishi utilizes a lamp. They still make those things? They sure do. Otherwise you wouldn't be able to get the image from that tiny little DLP chip onto this enormous screen.  How long will it last? I would expect a few thousand hours of viewing before you start to notice a decrease in brightness, but the best part is that the replacement bulbs are under $100. What does that mean? If you take care of this set, it just may last you a very long time at a very low maintenance cost.
What happens if I press this button...
Out of the box, I'll admit that I wasn't expecting Godzilla (the most popular name for the WD-92840 among guests) to measure that well. My first tests with CalMAN 4.0 and my i1Pro had the set blowing well past 7,500 Kelvin (with color set to "warm"), which meant whites took on an unnatural blue-ish tint ("Funny, she doesn't look Blue-ish"). That being said, I was able to dial this set down to 6,750 Kelvin after many hours of grayscale and other adjustments.  6500K is the ideal temperature for white, so this got pretty close after calibration. This set is more of a challenge to get right compared to the recent Panasonic plasma and LG LED/LCD HDTVs that I've reviewed, but I applaud Mitsubishi for working with Joel Silver and Kevin Miller at the ISF and implementing a rather good color management system.
For the first week or so, I battered the WD-92840 with my Roku XDS and a Panasonic DMP-BDT210 Blu-ray 3D player and I must confess that I was more than just a little impressed.
I ran my usual battery of tests for proper de-interlacing and cadence (via a Panasonic Blu-ray 3D player, Oppo Blu-ray player, Panasonic DVD player, and a Sony PS3) and the Mitsubishi was a very strong performer. Nothing glaring at all with 480i content, 1080i or 1080p, but it wasn't 100% sold with 3D content (read on).
Black levels on the WD-92840 are actually quite solid; not as inky black as the Panasonic TC-P50ST30 3D plasma, but better than what I have seen on some LCD HDTVs. You notice more flaws on a 92" screen but the Mitsubishi was quite respectable. Shadow detail was also quite good but I wouldn't give the Mitsubishi the edge over the Panasonic plasma.
One area where the Mitsubishi is truly outstanding? Sharpness. Sitting fifteen feet back, I was always amazed at how crisp and detailed images looked. On sub-par material, the Mitsubishi reproduced exactly what it was fed.
When I started watching films such as West Side Story, The Ten Commandments, or Avatar, I was genuinely blown away by the image quality; strong blacks, accurate color, and fantastic clarity.
I don't think the WD-92840 looks as good as my JVC projector/Stewart Filmscreen combination but the price of that combo is more than double that of the Mitsubishi set, and that's not including speakers. The JVC has better blacks and more pop (the Stewart screen has a lot to do with that) but it may actually lose out to the Mitsubishi in perceived image sharpness.
Overall, the Mitsubishi can be calibrated to look rather spectacular, but I think that money is wasted unless you get the room right first. Mitsubishi has a ridiculous image on their website with a couple watching the set during the day in a room with floor-ceiling windows and that has to make one laugh. I volunteer to shoot the installer who advises any client to set-up a set like this in that environment.  Keep the lights low and forget about any direct sunlight if you want to enjoy this set.
One little quirky item about the Mitsubishi is that when you turn the set off (the supplied remote is basic but gets the job done), you are treated to a service message from the company with a 1-800 number if you need help.
What did you do Ray?
Remember the scene in Ghostbusters when the Stay-Puft Marshmallow Man comes as the form chosen to destroy the world? I thought that was pretty great too but I would have chosen a giant veal parm sandwich. The WD-92840 causes the same reaction the first time you watch something really great on it.
Not only is the image size decidedly impressive, but you really feel like you are watching a quality projector do its thing. The accompanying image below from West Side Story was taken with a $300 digital camera in my darkened media room and there was stone cold silence when I watched the film with guests. I could have charged admission and people would have paid. Just not for the popcorn which I burned. I hate when that happens. You can't get the smell out of the children for weeks.  But for the sheer size and quality of the image.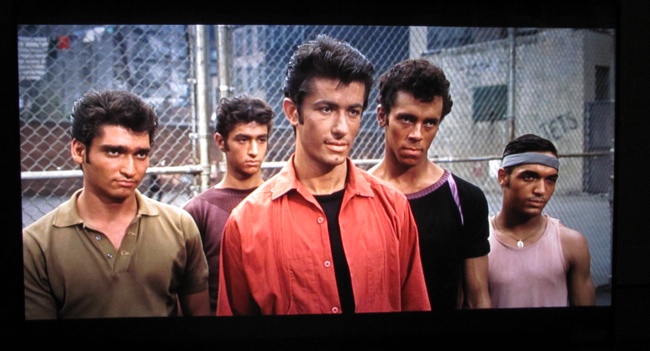 It is a family ritual to watch The Ten Commandments only before Passover, but passing on the opportunity was next to impossible with the Mitsubishi. My five year-old son had to pulled away from the set (he was sitting on the floor checking out Anne Baxter) more than once because he was utterly transfixed by the image size (and he's grown up with a 100" Stewart screen in the house).
Rear-projection HDTVs are/were very popular with sports fans, and until you've watched auto racing, football, or ice hockey on a 92" screen in HD, you really can't appreciate how that changes the experience. Watching the NHL in HD truly sells the sport and it was a genuine treat to catch my beloved Red Wings in action on the Mitsubishi.
But what about streaming video?
One area where the WD-92840 is quite weak in comparison to its rivals (Samsung, Panasonic, LG) is with streaming content. Aside from VUDU (which I love) and some VUDU apps, the Mitsubishi has next to nothing in the streaming department. However, the reality is that any Blu-ray player you are likely to buy in 2012 has those services already built-in and do you really care where you get your VUDU, Amazon, Hulu, Netflix, or Pandora from?  If you're not into physical media, you can also pick up a ROKU or Apple TV for under $100 and get built-in WiFi.  Problem solved.
But if you do happen to like VUDU, you're in for a treat.  VUDU's HDX-encoded 1080p films looked very impressive on the WD-92840, mostly due to the sheer screen size, but also the streaming video quality of the source.  It's not Blu-ray, but it's not bad and holds up pretty well even at this size.  I will say that this same content held up better on the smaller screens in our home. I saw a slight increase in compression artifacts such as pixelization and video noise on the 92-inch HDTV.
Despicable Me...
I often worry that my son has grown too attached to the Steve Carell-voiced animated film (can't wait for the sequel); we're pretty certain that he's destined for Princeton University which is just down the road from us and a life as an evil genius or Republican. When we unpacked the WD-92840, he was standing in the corner of the room cluthching his Blu-ray 3D copy of the film and already wearing a pair of the XPAND active 3D glasses that Mitsubishi supplied. He was also wearing Gru underwear and tinkering with a freeze ray he's been making in school, so we were a tad concerned.
I made the little guy wait two days before we tried 3D and I must admit that I was slightly underwhelmed. He was laughing too hard to care (he speaks minion) but I kept switching back and forth between the Mitsubishi and the Panasonic 3D plasma in the living room just to compare.
On really well done 3D content (Despicable Me, Avatar), the 3D effect was rather convincing. Watching my Rabbi reach for the plants on Pandora (the planet, not the music-streaming service) was kinda creepy, however. I kept reminding him that they were not kosher. Traif is bad. Even in 3D.

On the vast majority of 3D or 2D-3D conversions, I found the ghosting or cross-talk rather tiring to view for extended periods of time. My dislike of 3D as a format isn't news to anyone, but I've enjoyed it more on other sets to be honest and I find that distressing because 3D needs a large screen to be effective. If you only watch animated films or content like Avatar, the Mitsubishi's 3D performance will probably work for you. I'm far more interested and impressed with how it performed with 2D films to really care about its 3D performance. The JVC projector (which doesn't do 3D at all) is still sulking.
Turns-ons
It has a 92" screen
Movies look and feel like you are watching on a good projector/screen combination
It made me the most popular person in town for two months
Excellent image sharpness and clarity in 2D mode
Solid black levels
ISF Advanced Adjustment Settings
Did I mention that it has a 92" screen?
Replacement bulbs are inexpensive
A competent calibrator can make it look quite spectacular
Excellent value for the money when a 85" plasma is $35,000 more
Turns-offs
Highly reflective screen
Needs a big room and careful placement
3D is only slightly above-average
Media apps are lackluster
Good luck moving this yourself
Active 3D glasses are heavy and uncomfortable
You may never go to work once you get one
Final Thoughts
The Mitsubishi WD-92840 is without a doubt, one of the most fascinating home theater products I've experienced. In some respects, it is impractical and unforgiving in the wrong environment. It spits in the eye of the rest of the industry at a time when everyone is fighting to see who can make an HDTV as thin as a sheet of paper. It needs its own room with controlled lighting for optimum set-up. With all of that stacked against it, one still can't help but admire the overall experience; that feeling that you are finally viewing a "big-screen" HDTV that looks pretty spectacular with 2D if you take time to squeeze every last drop out of it.
If I had $10,000 to spend on a large screen video display, I would still buy a front projector/screen combo without hesitation. If I had around $5,000 to spend and only had room for a flat-panel HDTV, the Panasonic 65" VT50 would probably be my choice. But if I had under $5,000, wanted that big screen experience and had the room and control over ambient light, the WD-92840 would be the easiest buying decision I ever made. Highly recommended.
Manufacturer's Specs and Other Information:
Manufacturer's Contact Information:
Mitsubishi Electric Visual Solutions America
9351 Jeronimo Road
Irvine, California 92618
Email: tvsupport@mevsa.com