Film Stars Don't Die In Liverpool Review
By Lora Grady
There's an excellent reason to see "Film Stars Don't Die in Liverpool," and it comes in the third act of this autobiographical tale of British actor Peter Turner (Jamie Bell, "Fantastic Four"), who enjoyed a romantic relationship with much older film star Gloria Grahame (Annette Bening, "20th Century Women") as the 1970s were turning into the 1980s. In the scene, Turner and Grahame sit on a bare stage in an empty theater and perform the young lovers' first scene together from "Romeo and Juliet." Those who've seen a hundred iterations of the Bard's signature tragic romance and think there's nothing new that can be done with it are proven wrong: in Ms. Bening's hands, as she plays the terminally ill Grahame in one last exchange with her former lover, the teasing words about the physical and spiritual nature of true love echo with a poignancy and depth unguessed at in their original context.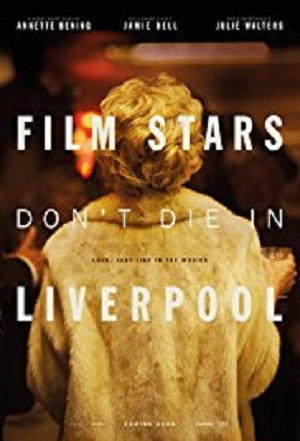 In fact, Ms. Bening is the primary reason to see "Liverpool." She follows her tour de force performance in last year's "20th Century Women" with an equally strong portrayal here, managing to imbue the tempestuous and troubling Grahame with a sympathy that not all would agree is justified. But Ms. Bening is true to the material in this story of how Oscar winner Grahame (she won Best Supporting Actress in 1952 for "The Bad and the Beautiful"), in her mid-50s and with four marriages behind her, began a relationship with Turner, a struggling actor still in his 20s. "Liverpool" shows Grahame to be occasionally moody and neurotic about her appearance but glosses over the deeper emotional pathology that may have led to her secret relationship with her teenaged stepson, whom she later married.
Ms. Bening opts for empathy over judgement with her performance, so her Grahame is compelling and quirky, sweetly self-centered and surprisingly sympathetic. She and Turner meet when she is in Liverpool to star in a play and both are tenants at the same boardinghouse. The two connect when she persuades him to help her practice dancing, and it's a delight to see the chemistry that ignites between them as they echo each other's steps to strains of "The Hustle" and other decidedly timebound tunes. It's also a reminder that Mr. Bell initially came to prominence as a pre-teen ballet dancer in the runaway hit "Billy Elliot," and he's still got plenty of moves.
"Liverpool" starts as Grahame is descending into the final bout of the cancer that will end her life, and it slowly unspools the story of the May-December romance from Turner's perspective. He's pulled into her orbit as they become a couple, spending time together in Los Angeles and New York and seeming heedless of their age difference until it's commented on by others, including Grahame's jealous sister (Frances Barber, in a brief but hilariously sour turn). Chapters from the past are introduced in stagy transitions, often by Turner pushing at a door that opens onto a scene from the past or rounding a corner to a change of light and a skip back across the years.
This artifice points to "Liverpool's" primary shortcoming: it has a sense of drama of the week that comes from plot points that feel a bit too familiar, despite the unusual elements that make up this tale. The aforementioned "Romeo and Juliet" scene is deeply felt, but it's also fairly pointedly foreshadowed. Director Paul McGuigan ("Victor Frankenstein") has worked steadily in television, and it's the rhythm of the one-hour drama that seems to imbue his work here. It's not bad; it just renders "Liverpool" a bit too mundane to be an effective setting for the strong performances it contains.
Because there are many strong performances here, in addition to Ms. Bening's. Mr. Bell deserves kudos for holding his own while recognizing that the spotlight belongs to his leading lady; it's a mature and generous performance that demonstrates how well-rounded he's become since his days as a child actor. Julie Walters ("Educating Rita") brings a no-nonsense warmth to her role as the Turner matriarch, while grand dame Vanessa Redgrave, with her impeccable theatrical pedigree, is the smart choice for the small but diverting role as Grahame's mother.
"Film Stars Don't Die In Liverpool" is a bit soapy to be sure, but that shouldn't detract from Ms. Bening's accomplishments here. This film is going to make a splash as we draw closer to awards season, and it wouldn't be a surprise to see both Ms. Bening and Mr. Bell recognized in some capacity. And if Ms. Bening finally wins her well-deserved Oscar, you can bet that on awards night there won't be a dry eye in the house.