Meet the Fokkens Review
By David Kempler
No Fokken Kidding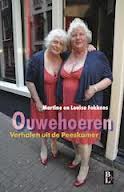 This documentary by Gabrielle Provaas and Rob Shröder features a pair of identical twins and reviews their lives. Louise and Martine Fokkens, are 69-years-old. They aren't primarily known as apple-pie baking grandmothers. What they are famous for is being prostitutes working in Amsterdam's Red Light district, and they have been plying their trade since they were teenagers.
"Meet the Fokkens" examines their lives through their own words and memories. Louise stopped working at 67 because her agility had fallen by the wayside. Martine, however, is still going strong. She sits in her window, as is the custom, petting her little Chihuahua. And the customers still come knocking at her door. We see some of the interactions between her and her customers and they tend toward the kinky side. There is a lot of dressing up by the men, and quite a few being treated like submissives. The camera is right there bringing us the action, close-up. It's not much of an erotic watch, not because of the age of Martine, but rather because of the element of sadness surrounding some of her customers.
The sisters recall their exploits through the years, and some of their anecdotes are funny and even heartwarming, but nothing is particularly funny or fascinating. The directors have managed to turn a film about prostitution into a detached and passionless experience. More accurately, that is the nature of the business, at least as it is presented here.
One oddity is the repeated presence of a small religious group who appears to want to save the ladies. They are a kind group, but one can't help but feel that they are spinning their wheels. All of these scenes derail the story without creating another one, leaving it feeling like a waste of film.
The overwhelming sadness of it all is that the ladies are living a life where they are short of cash. I'm not sure why, but I expected that at the very least the sisters would have at least been able to have created a life of leisure in their golden years, but that is not the case. At the same time, the sisters are not particularly sad. Everything about them is matter-of fact and that is my central complaint with "Meet the Fokkens". It feels slightly empty. Maybe that is a moral lesson being put forward, but all it made me feel was disengaged. It's a decent watch, but far from memorable.