McIntosh Offers 50th Anniversary Limited Edition MC275 Tube Amp
By Chris Boylan
At a press event in downtown Manhattan last week, McIntosh offered a sneak preview of their 2012 model line-up.  The theme?  Same high quality, lower prices.  Also on display was a stunning gold-plated re-issue of one of the classics of the McIntosh line, the MC275 tube amplifier.  The 50th Anniversary Limited Edition MC275 Tube Power Amplifier will be made in extremely limited quantities and will sell for $6,500.  This is a far cry from the $444 price tag that the original held, from 1961 to 1971.  Even adjusting for inflation, the price would only be around $3,300 in adjusted dollars.  But the new model is destined to become a classic in its own right.
Although it was not actively hooked up to any sources or speakers, the new amp still put on an impressive show, based on its sheer retro good looks, elegant style and some clever new twists.  Overall the limited edition MC275 tube power amp looks quite similar to the original but with a few cosmetic and functional tweaks.  The amp maintains the same tube circuits as the original, for that warm, smooth, classic tube sound.  But subtle improvements have been made.  The contacts, and most of the exposed metal is gold-plated for an elegant look, and the plain looking old speaker taps from the original have been replaced by solid 5-way binding posts that will accept any speaker connectors you choose and clamp down on them tightly to make a solid connection.  Courtesy of a new Power Control input and output, the amp will turn itself on when required and will power down when associated equipment is powered down.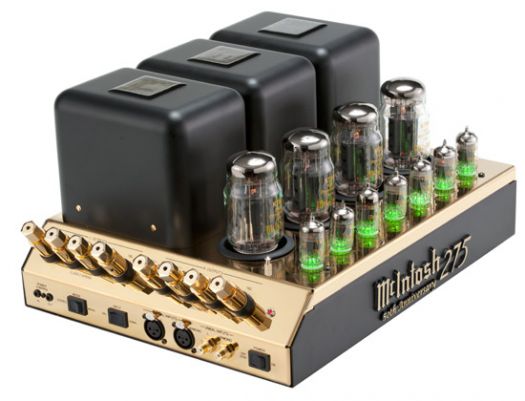 The most unusual twist is the addition of LED lighting to the preamp tubes.  When fired up, the preamp tubes glow orange in succession from left to right.  And when the tubes reach ideal operating temperature, they turn green, indicating that sound will now flow through the amp.  Over time, if one of the KT88 power tubes fails, the amp's new High Speed Sentry Monitor circuit will automatically turn the amp off before any damage can occur to amp or speakers, and the corresponding two preamp tubes will glow red to indicate that a tube replacement is necessary.  As a tube amp owner myself, I can tell you that this built-in tube tester is a really nice feature as it takes the guesswork out of tube replacement and maintenance.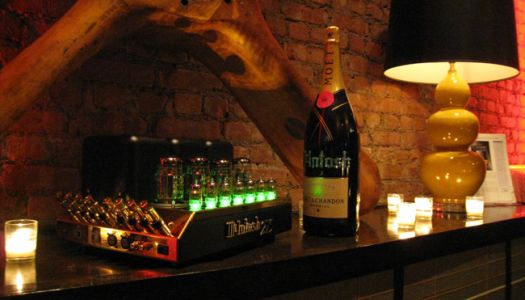 If it sounds as good as it looks -- and by all rights it should -- then I'm sure McIntosh will have another winner on its hands.  The 50th Anniversary Limited Edition MC275 tube amp is expected to be available in limited quantities in December of this year.
More Information:
Related Article: