Mark Smotroff, Music Obsessionista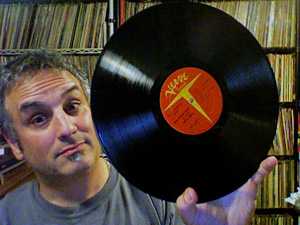 Mark Smotroff
caught the bug for music at a very young age. In fact, one of the three earliest memories he has is of The Beatles appearing on The Ed Sullivan Show when he was but three years old.  He wasn't sure exactly what it was on the TV screen but it sure sounded good and seemed to be making everyone around him smile and dance. He bought his first 45 RPM single at five years old and has been collecting ever since. Fifty years on, Mark has successfully incorporated music into his everyday life, be it writing -- or writing about -- new songs or publicizing technologies which somehow relate back to audio, video and other types of home entertainment.
As product category lines of audio, video, gaming, computing, and such have blurred over the years, Mark has dubbed them "entertainment technologies" and -- accordingly -- over the years he has worked with many of the top names in the industry. Mark cut his PR teeth in New York City doing PR for Sony and Sharp in the 80s before moving to San Francisco, driving a new wave of passion for video games in the 90s with Sega, Acclaim Entertainment, 3DO, US Gold and many others. Mark spent much of the first decade of this 21st century spreading the gospel for surround sound home theater technologies for DTS (which is how we here at Big Picture Big Sound first came to know Mark).
Mark's knowledge of music and technology has also enabled him to steadily build a reputation as a music reviewer / feature writer for numerous publications. In the 1990s, Mark wrote for EQ Magazine, Mix Magazine and DISCoveries Magazine (later acquired by Goldmine Magazine). In the 00s, Mark has expanded his scope as a blogger for the likes of Audiophilereview.com, Sound+Vision Magazine, HomeTechTell.com and now here at Big Picture Big Sound.
Mark's musical portrait would not be complete without a performance element and this is where he has surprised many of his friends by emerging as a musician / composer.  In addition to leading bands performing his original tunes, Mark's songs have been used in TV shows such as Smallville and Men In Trees as well as films and documentaries. Mark is currently rolling out a new musical he's written.
You can read more about Mark at www.smotroff.com and his old band at www.ingdom.com.
Mark's Current Reference System:
Mark chose his gear carefully to obtain great sound quality approaching audiophile grade standards, yet keeping within reach of his budget and those of his friends.  A true believer that audio gear doesn't have to cost big bucks to sound great, Mark has converted many iPod-era friends to upgrade their systems even just a little bit to make big leaps in fidelity.  Many of Mark's friends are now in the process of upgrading their gritty lo res MP3 files to (at least) CD quality, buying turntables and new vinyl and some even diving into the world of 5.1 surround due to Mark's demos.
Source Components:
OPPO BDP-83 Blu-ray/SACD/DVD-Audio Player
Sony BDP-BX37 Blu-ray Player
Music Hall MMF-7.1 Turntable w/ Goldring 2400 Moving Magnet Cartridge
Bellari VP530 Tube Phono Pre-amp
iMac
Audioengine D1 D/A converter
Kenwood KD-3055 turntable w/ Grado black cartridge
Esoteric transcription turntable with several different cartridges
Tascam DA-20 DAT recorder
Onkyo TW-RW411 Dual Cassette Deck
Magnavox ZV457MG9 DVD Recorder/VCR
Wollensak/3M Professional 8-track Recorder (vintage gear!)
Receivers:
Denon AVR-3802
Pioneer VSX-1019AH AVR
Loudspeakers:
JBL 4410A Studio Monitors (2 in studio/office, 2 in front channels of home theater system)
Cambridge Soundworks Newton home theater speakers (center & rear surrounds)
Video Display:
Panasonic TC-P50G10 Viera 50-inch Plasma HDTV