The Site for Home Theater and Movie Reviews
Madagascar 3: Europe's Most Wanted Blu-ray Review
By Rachel Cericola
The Film
The Madagascar franchise is a freight train that can't be stopped. And why bother? Madagascar 3: Europe's Most Wanted may actually be the best of DreamWorks' insanely successful series.
The third film picks up exactly where Madagascar 2: Escape 2 Africa left off. Our furry friends are still stranded in Africa, still longing for the bright lights and big cages of the zoo in New York City. Within minutes, the cuddly quartet of Alex (voiced by Ben Stiller), Marty (Chris Rock), Melman (David Schwimmer), and Gloria (Jada Pinkett Smith) decide to hit up those pesky penguins -- the same ones that ditched them and took off for Monte Carlo.
Of course, four wild animals traveling across... well, anywhere... comes with a lot of other surprises. There's crazed animal control officer Chantel DuBois (Frances McDormand), who desperately wants Alex's head for her wall. Also, the crew attaches itself to a traveling circus, hinging on the hope that will be their ticket home. This is really where the action is at (literally). Besides the circus performances, this plotline allows the audience to be introduced to a slew of new characters, including Stefano the Italian sea lion (Martin Short), Gia the jaguar (Jessica Chastain) and Vitaly the Russian tiger (an unrecognizable Bryan Cranston).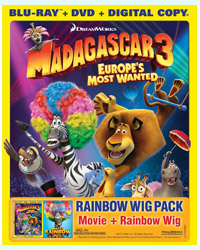 Frankly, McDormand's character seems totally secondary and almost unnecessary. I guess our main characters need to be running from the evil cluthes of someone. However, bringing the circus performers into the fray makes this film both frenetic and fun. There's more to care about, more to cuddle, and more to ogle in this one. Consider Madagascar 3: Europe's Most Wanted to be the best of the bunch; it's a fun, non-stop installment.

The Picture
As far as the image is concerned, Madagascar 3 is as perfect as a Blu-ray can get. The film has a total three-dimensional quality to it, probably because it was released theatrically as a 3D movie (and has a Blu-ray 3D release to match). Even though we didn't get the 3D version to review, the 2D film has tons of imagery that practically leaps off the screen. Whether it's exploding feathers, exploding water, exploding money, exploding seals or just the animals hanging out on-screen, every image really pops. Detail is exceptional, especially on Alex's mane, the grains in the mud model of NYC, and that close-up on Vitaly the Russian tiger. Even with such an impressive level of detail, the colors are probably this release's standout, given how varied the palette is and how bright everything looks. It's demo-worthy for sure.
The Sound
The Dolby TrueHD 7.1 track is just as impressive here. Despite the constant melee, the dialogue is always crisp and clear. Otherwise, there is a lot going on in this movie and the track seems to keep up quite nicely. When the penguins are on-screen there's usually additional mayhem and some nice directional effects. The track rarely has a dull moment, but it's at its wildest during the circus action set to Katy Perry's "Firework" and the chase scene with all of the crashes, motorcycles and Journey rocking out.
The Extras
The 2-disc Blu-ray set comes packed with a special rainbow wig, just like Marty wears in the movie. It's the worst wig ever -- and I've seen some bad wigs. Multiple pieces fell out before the disc even made it into my Blu-ray player. That said, it got my 6-year-old through quite a few dance routines and became an absolute necessity for the climax of the movie.
On the Blu-ray, most of the special features can be found under the "High Flying Fun" option on the main menu. This includes shorts about the cast and the directors, as well as commentary, deleted scenes and an extra minute of "Afro Circus." There's also a selection of Blu-ray exclusives, including a pop-up trivia track, a game, and a picture-in-picture commentary. I had a few problems with the latter, until I realized that I needed to enable my Blu-ray player's BD Secondary Audio feature. If you're having a problem where you see the commentary window without the sound, consider that to be your solution. It's definitely something you'll want to follow up on, as this is an informative, fun track.
Back on that main menu, you'll see a Sneak Peek tag to the right. It's not a new cartoon or some other animated theatrical release. Instead, it's a 20-minute teaser for the new "How to Train Your Dragon Live Spectacular." It looks like quite the pricey production!
Final Thoughts
The third time is definitely a charm when it comes to the Madagascar franchise. Madagascar 3: Europe's Most Wanted may actually be the best in the series. Even if you can't stomach the sometimes seizure-inducing pace of the film, the kiddies will be completely mesmerized. You probably will be too, thanks to a stellar image and an audio track to match.
Product Details
Voice Actors: Ben Stiller, Chris Rock, David Schwimmer, Jada Pinkett Smith, Sacha Baron Cohen, Cedric the Entertainer, Andy Richter, Tom McGrath, Bryan Cranston, Jessica Chastain, Martin Short, Paz Vega, Frances McDormand
Directors: Eric Darnell, Conrad Vernon, Tom McGrath
Audio/Languages: Dolby TrueHD 7.1 (English), Dolby Digital 5.1 (French, Spanish), DVS 2.0 (English)
Subtitles: English, English SDH, French, Spanish
Aspect Ratio: 1.78:1
Number of Discs: 2
Rating: PG
Studio: Paramount
Blu-ray Disc Release Date: October 16, 2012
Run Time: 93 minutes
List Price: $39.99
Extras:

Get Them To The Train
The Animator's Corner
Trivia Track
Big Top Cast
Deleted Scenes
Mad Music Mash-Up
Ringmasters
Madagascar 3 Roundtable
Filmmakers' Commentary with Directors Eric Darnell, Conrad Vernon & Tom McGrath
Previews
Sneak Peek
Standard-Def DVD
Digital Copy
UltraViolet Digital Copy
What do you think?
| | |
| --- | --- |
| Overall | |
| Video | |
| Audio | |
| Movie | |
| Extras | |
Explore Big Picture Big Sound