Mad Men: Season Six Blu-ray Review
By Rachel Cericola
The Film
Mad Men has had its ups and downs since its 2007 debut. You probably didn't think the most recent season was all that great during its original run on AMC. After all, what show is hitting its stride in its sixth season? Duh, Mad Men, of course, which is exactly why Mad Men: Season Six deserves repeat viewing.
This is where we see Don Draper (Jon Hamm) return to form -- and completely shatter, all in a matter of 13 episodes. Although he seems to limit his romantic endeavors to just three women (as far as we know), Don has plenty to deal with this season, including those pesky demons, his growing company, and the tumultuous time period.
Of course, Don has always been the center of the show, but the great thing about Mad Men is its lengthy cast. Thanks to a quickie company merger, that cast has almost doubled overnight. With Ted (Kevin Rahm), Jim (Harry Hamlin), Sylvia (Linda Cardellini) and Bob Benson (James Wolk) getting so much screen time this season, it leaves little room for the likes of Joan (Christina Hendricks), Roger (John Slattery) and even Betty (January Jones). Sure, those classic characters have plenty of memorable moments here, but Mad Men: Season Six will surely leave you wanting more from the people you've been waiting almost a full year to follow up on.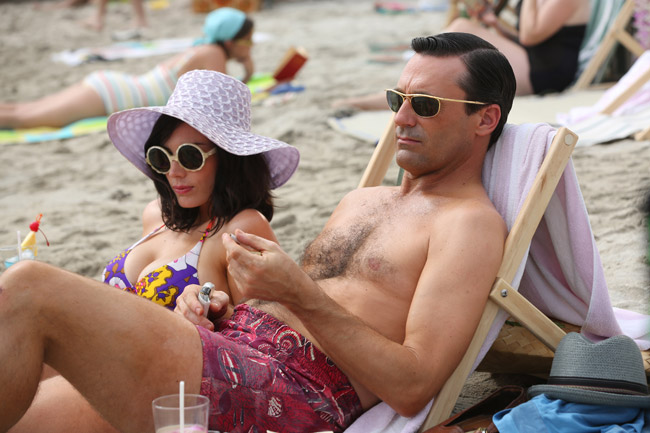 That lack of character development is one of the many things that may have had you upset with this season. Mad Men is like Don Draper himself. He has his ups and downs and sometimes you even want to throw a shoe at him. However, when you look into his weathered, deep eyes, you'll see his soul -- and it's really hard to look away. If you're still not sold by this group of ad men, rewatch this season and pay special attention to the finale ("In Care Of"). Then, if you still don't think Mad Men: Season Six isn't good TV, I need to know what you're watching.
The Picture
Oh, Don Draper, you beautiful man. If you liked Mad Men: Season Five, this 1.78:1 image will be just as enjoyable. There are some good details here, but it could be a tad sharper in some spots. That said, the colors are what make this release truly stunning. The season's opening scenes from Hawaii are especially gorgeous, but the wardrobe, Don's apartment, and Joan's hair all deliver some excellent pop throughout the season.
The Sound
Like every other season before it, Mad Men: Season Six is very focused on the dialogue. There are a crazy amount of characters here, but the DTS-HD Master Audio 5.1 mix delivers each one's pain and pleasure quite nicely. That said, the track makes use of its soundfield, most notably with the show's soundtrack. Still, the office, the beach, the city and the air travel do create plenty of ambient noises, if you're willing to listen for them.
The Extras
Mad Men
has never been big on the extras. There's usually not a whole lot about the show or its many characters. And forget about deleted scenes! However, after last season's collection of commentary tracks, this set is slightly disappointing. It has just one short tidbit per disc. Disc One has "Summer of Love," an interactive gallery that uses clunky navigation to deliver photos and video from the real-life time period covered this season. Disc Two's "Turn On, Tune In, Drop Out" spends 30 minutes focusing on Timothy Leary and the drug culture of late '60s. The best of this bunch is definitely Disc Three's "Recreating an Era," which actually focuses on the show -- or at least its design.
Final Thoughts
If you've been collecting Mad Men seasons so far, there's really no reason to stop now. As far as the AV is concerned, Mad Men: Season Six offers a nice boost over the AMC broadcast. The biggest disappointment of this 3-disc set is its skimpy collection of special features. That said, what it doesn't have in extras, it makes up in acting and plotline. Pour yourself a Canadian Club and drink it all in.
Product Details
Actors: Jon Hamm, Elisabeth Moss, Vincent Kartheiser, January Jones, Christina Hendricks, Aaron Staton, Rich Sommer, Kiernan Shipka, Jessica Paré, Kevin Rahm, Christopher Stanley, Jay R. Ferguson, Ben Feldman, Robert Morse, John Slattery
Directors: Phil Abraham, Jennifer Getzinger, Jon Hamm, Scott Hornbacher, Christopher Manley, John Slattery, Michael Uppendahl, Matthew Weiner
Audio/Languages: DTS-HD Master Audio 5.1 (English)
Subtitles: English, English SDH, Spanish
Aspect Ratio: 1.78:1
Number of Discs: 3
Rating: NR
Studio: Lionsgate
Blu-ray Disc Release Date: November 5, 2013
Run Time: 618 minutes
List Price: $49.97
Extras:

Summer of Love (Interactive Gallery)
Turn On, Tune In, Drop Out
Recreating an Era