Mad Max: Fury Road Blu-ray 3D Review
By Rachel Cericola
The Film
Typically, when audiences hear the words "remake" and/or "reboot," it conjures up a little moaning and groaning. (Sorry Hollywood execs, but it's true.) However, some movies do deliver the type of payoff that makes it worth that try-try-again formula we've been seeing so much of these days. Such is the case with Mad Max: Fury Road.
When it was first announced that Mad Max would live another vengeful day on the big screen but without Mel Gibson, there were probably a few of you that had heavy reservations. However, director George Miller has returned a fourth time and he knows how to handle his sometimes creepy, often crazy baby.
Tom Hardy fills our post-apocalyptic hero's heavy boots quite nicely. However, the title character isn't the only hero here -- not even close. Imperator Furiosa (Charlize Theron) is a major presence and a major bad-ass. In fact, it's her rogue behavior that ends up saving the haunted Max Rockatansky from spending his life as a "blood bag" for a sick member of the War Boys army (Nicholas Hoult).
Furiosa has a good reason to go off the rails and off her regular gasoline route. Well, five of them, actually. She's trying to save the "Five Wives" (Rosie Huntington-Whiteley, Riley Keough, Zoë Kravitz, Abbey Lee, and Courtney Eaton) from a lifetime of breeding with evil leader Immortan Joe (Hugh Keays-Byrne). Once the women are discovered missing, all hell breaks loose, resulting in a movie that's both thrilling and perfectly captures the maniacal spirit of the franchise.
Looking for a little more action? Check out Tom Fugalli's theatrical review of Mad Max: Fury Road.
The Picture
Mediocre? Not even close. Mad Max: Fury Road is a true feast for your eyeballs, both in 2D and 3D. The 3D effects give this film some great depth; you almost feel like you're riding shotgun, which may be a little too close for comfort in some parts. However, the 3D never dims this gorgeous image. Everything is as bright, dark and sharp as it should be. There aren't too many gimmicky pop-out moments, although you are treated to a few projectile harpoons, blood splatters, one flying guitar, and a steering wheel.
The 2D is equally as wonderful, with stellar black levels. Even though the colors are limited to the typical "post-apocalyptic" palette, everything looks perfect here. That said, the detail is one of the reasons this will become a demo disc in your house. Oh. My. Goodness. This is one good looking film. The grains of sand, the dirty faces and even the texture on the seared skin is all stunning. Every hair, frown line, spray-painted tooth, and pointy tire stands out. It's just an awesome image from beginning to end; one of my favorites so far this year.
The Sound
If we keep seeing movies like this getting a Dolby Atmos mix, more people will demand that sort of setup. Unfortunately, I didn't have the equipment to test out that experience for this review, but I am working on it -- and will work a lot faster now. This audio presentation is that good. For those (like me) without Atmos, the track defaults to Dolby TrueHD 7.1. Although I would love to hear what sorts of goodies would be flying overhead, there's not one second that's disappointing here. From the opening rumbles, you know you're going to be in for a real treat with this track, Screams will have the hairs on your arm standing at attention, multiple explosions will shake the room, and crazy guitars will scare the neighbors. However, the most notable audio comes from all of those motorcycles and souped-up cars revving engines and racing around the soundfield. The dialogue isn't always crystal-clear, but I'm not sure it's supposed to be.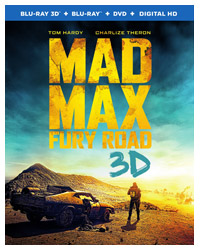 The Extras
Sadly, there are no 3D-enhanced extras. That and maybe even a George Miller audio commentary would have been nice. That's just me being nitpicky, though. What's on the Blu-ray is pretty hearty and very worthy of your time. There are deleted scenes and a handful of shorts to highlight the two main characters and the "Five Wives," as well as other tidbits in the movie (including the guitars!) and the stunts. Two lengthier pieces delve into the meat of the movie. According to Production Designer Colin Gibson, Mad Max has always been about cars. Basically, he says that cars translate into power in this franchise. That type of power gets them a 23-minute featurette. The best of the bunch, however, is "Maximum Fury: Filming Fury Road." Although fans will probably want it to be a little longer, this 29-minute peek at the film covers how the movie went from 3,000-plus storyboards to the big-budget film you'll be clamoring to add into your collection. It mostly covers visuals, with great info on the dust, the stunts (even the polecats get a special mention), the explosions, and much more.
Final Thoughts
You don't have to be a Mad Max fan to enjoy Mad Max: Fury Road, but it certainly helps. Director George Miller has the franchise going as maniacal as ever, leaving you wanting even more from Max Rockatansky. (Not to worry; Wikipedia says that Tom Hardy has signed on for four more films.) Of course, much of the film's success is thanks to Charlize Theron, whose character deserves its own franchise. That said, Mad Max: Fury Road is absolutely one of the franchise's best, with an explosive Blu-ray to match. Witness this and witness it again; it's an absolute must-have.
Product Details
Actors: Tom Hardy, Charlize Theron, Nicholas Hoult, Hugh Keays-Byrne, Rosie Huntington-Whiteley, Riley Keough, Zoë Kravitz, Abbey Lee, Courtney Eaton
Director: George Miller
Audio/Languages: Dolby Atmos (English), Dolby Digital 5.1 (French, Portuguese, Spanish)
Subtitles: English SDH, French, Portuguese, Spanish
Aspect Ratio: 2.39:1
Number of Discs: 3
Rating: R
Studio: Warner Bros.
Blu-ray Disc Release Date: September 1, 2015
Run Time: 120 minutes
List Price: $39.99
Extras:

2D Blu-ray:

Maximum Fury: Filming Fury Road
Fury on Four Wheels
The Rod Warriors: Max and Furiosa
The Tools of the Wasteland
The Five Wives: So Shiny, So Chrome
Deleted Scenes
Crash & Smash

Standard-Def DVD
UltraViolet Digital Copy
Where to Buy: