Lora Grady, Staff Writer/Pop-Cultural Attache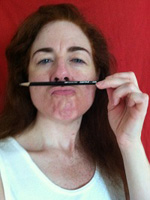 Lora Grady
has learned over the years to stop apologizing for how much she loves horror movies. In response to the perpetual follow-up question that she fields whenever horror movies are discussed, she produced the Big Picture Big Sound 2012 feature, "
31 Days of Halloween
."
A bit obsessive about movies in general, she saw "Moulin Rouge" 14 times in the theater the year it was released, and she figures that she's pretty much the target audience for AMC's annual "Best Picture Showcase" marathon. Other film favorites include "Rushmore," "Withnail & I," and "Gone With the Wind."
If you're looking for Lora at the theater, check out the first couple of rows: she'll be sitting there with her feet up, totally immersed in the experience, and always on the lookout for her next obsession.