Lockout Blu-ray Review
By Peter Suciu
The Film
The cover of Lockout suggest this one is "Die Hard meets Blade Runner," but actually it is a little bit Die Hard (in a space prison), a little bit Demolition Man, a little bit Escape From New York and just a tiny bit Blade Runner. While the credits may suggest "an original story by Luc Besson," it is actually as original as the aforementioned description suggests.
Snow (Guy Pearce) has been framed for a crime he didn't commit and is sentenced to 30 years in suspended animation in an orbiting space station. But before he can go the President's daughter (Maggie Grace) happens to be there when the prisoners take over and hold her hostage. Given the option to go to the prison and rescue the first daughter in exchange for his freedom, how can Snow say no? Of course he gets there, hooks up (in more ways than one) with the POTUS' daughter and then the film becomes a sort of Under Siege on a space ship. In the end it is more fun to look out for what Lockout "borrowed" in plot twists from other films.
For another lockdown on Lockout check out Mark Grady's review.
The Picture
To paraphrase the TV show "Red Dwarf" - which was set in space and played intentionally for comedy - the thing about space is its black, your basic space color, while much of the prison is pretty dark with lots of shadows, your basic shadowy color. The result is that this film is one that does black levels very well. Too bad it wasn't actually sucked into a black hole, which is also black.Other colors such as the orange jump suits pop from the dark background in this 2.40:1 1080p transfer. The film's plot may be lost in space but it looks quite good.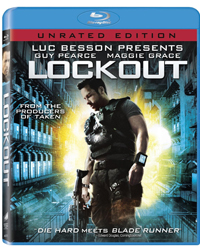 The Sound
In space no one can hear you yawn, which is about what the film and the cheesy dialog deserve, but those one-liners come through with crystal clarity. Even more stunning than the picture the DTS-HD Master Audio 5.1 lossless soundtrack is the big saving grace with this Blu-ray. The action sequences are nothing short of forceful - and while in real life sound doesn't travel in space - it sets the tone extremely well. The bombastic audio is contrasted by more subtle and ambient sounds to firther up the tension and intensity.
The Extras
Bonus features weren't entirely lost in space. And among the included bonus material is a making of featurette, "Breaking Into Lockout," which includes cast and crew discussions; and a" Vision of the Future" featurette that highlights the look of the film. There are also previews of Sony titles and UV Digital Copy.
Final Thoughts
It isn't so much that Lockout is a bad movie. It is actually a really bad movie, but it lacks any originality. Every aspect of this wannabe cyberpunk film has been done before, and in most cases done better - and who would ever think that Demolition Man would be used in a comparison as the better film? The saving grace is that as time passes this one will probably look better as it already raises the bar for what Blu-ray can do.
Product Details
Actors: Guy Peare, Maggie Grace
Directors: Saint & Mather
Audio Languages: English 5.1 DTS-HD Master Audio, Spanish
Subtitles: English SDH, Spanish, Italian , Portuguese
Aspect Ratio: 2.40:1
Number of Discs: 1
Rating: R
Studio: Sony Pictures
Release Date:  July 17, 2012
Run Time: 95  minutes
List Price: $35.99
Extras:

Breaking Into Lockout Featurette
A Vision of the Future - Production Design & Special Effects
Previews
UV Digital Copy