Lightning Bug Blu-ray Review
By Lora Grady
The Film
The multi-faceted Robert Hall is well known in the industry for his award-winning make-up designs and special effects work. He is the founder of Almost Human, one of Hollywood's top special effects firms, and his long list of film and television credits includes "Buffy the Vampire Slayer", "Angel", "Terminator: the Sarah Connor Chronicles", "Teen Wolf", Quarantine, The Crazies, Pineapple Express, and Superbad.
When Mr. Hall initially turned his hand to directing, the obvious choice might have been to stay within the horror genre, where he is already so accomplished. Instead, his debut film, originally released in 2004, is a semi-autobiographical coming-of-age drama that focuses on characters and relationships rather than supernatural shocks.
Lightning Bug is based on Mr. Hall's own experiences as a young horror film fanatic growing up in rural Alabama at a time when video stores still offered the promise of a solid night's entertainment - or a blueprint for escape. The film elicited enthusiastic responses in its initial festival appearances, and it has gone on to become something of a cult favorite. With its Blu-ray premier this month, a new round of viewers will have an opportunity to check out Lightning Bug.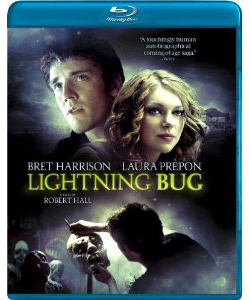 Lightning Bug
tells the story of Green Graves (Bret Harrison, "Reaper"), whose passion for horror movies inspires him to break away from the dead-end life awaiting him in the small-town south by heading to Hollywood to become a special effects artist. As he plots his escape, Green hones his craft by studying mail-order FX instruction books and practicing his technique, and he hopes to make his mark locally by using his talents to give the town's annual Halloween haunted house a creepy facelift.
Green's aspirations are hampered on the homefront by his dangerously unbalanced stepfather who bullies Green's mother, Jenny (Ashley Laurence, Hellraiser), and mocks Green's ambition. A measure of relief comes through Green's relationship with Angevin Duvet (Laura Prepon, "That 70s Show"), who works at the local video store and shares his love of horror movies. Their developing relationship is passionate and honest, and Angevin provides the final push that encourages Green to head out in pursuit of his dreams.
Although Lightning Bug isn't a horror movie, there are plenty of scares to be found here, particularly in the character of Green's stepfather, Earl (Kevin Gage). Portrayed with impressive menace by Mr. Gage, Earl is by turns a raging drunk, a soft-spoken psychopath, and a matter-of-fact killer of dreams. Equally unsettling is Shannon Eubanks as Ms. Duvet, Angevin's dogmatic mother. As the story unfolds we learn about the possible fate of her missing husband, and her attachment to a strangely anthropomorphized bed pillow. Ms. Duvet's spooky zealotry provides a harrowing example of small-town religious extremism, as her resolute fury threatens to derail Green's carefully laid plans for his future.
Bracketing these real-life horrors are the creepy creatures that Green brings to life through his artistry. It's inspiring to see the dedication with which he pursues his goals - and entertaining to get an occasional glimpse at the technique behind the scary effects. Lightning Bug is a unique look at the growth of an artist, and while the trappings of the story are unconventional, many of the themes are universal: the passion to pursue a dream, the obstacles that must be overcome on the path to success, and the importance of finding kindred spirits along the way.
The Picture
Per the director's commentary, the Blu-ray release gave effects house Almost Human a chance to revisit several scenes and touch up some of the original shots. Overall, the colors are very natural, with slight overexposure in some scenes that enhances the rather nostalgic feel of the production. The backgrounds get slightly lost in some of the nighttime scenes, but you won't feel like you're missing anything significant as the main action is always clear.
The Sound
There aren't a lot of sound effects to worry about here, but the dialogue sound rachets up quickly in some of the scenes where characters are arguing or fighting. If you're sensitive to that, you may want to keep the remote handy. Also, although Kevin Kinney's theme music provides a nice backdrop for the film, if you spend much time toggling back and forth to the various features and extras you may grow tired of the jangling opening chords that play over the main menu.
The Extras
The extras really round out this release. In addition to the finished 95-minute final cut, there is a previously-unseen extended cut that provides a bonus 15 minutes of footage. A brand new featurette, "Afterglow: A Look Back at Lightning Bug," is particularly interesting; it includes recollections from the cast and crew about the filming experience, and commentary from Mr. Hall's peers (director Darren Lynn Bousman) and actors from some of his other projects (Lena Headey, Thomas Dekker, "Terminator: the Sarah Connor Chronicles") about their impressions of the film. Star Laura Prepon also discusses taking a crew out to capture some second unit footage during the production as a result of her burgeoning interest in directing. The overall impression is that Mr. Hall is an artist who inspires admiration and loyalty in the people he works with.
Final Thoughts
This "Portrait of the (Horror) Artist as a Young Man" is a unique offering, and you're bound to find something of interest in it whether you're looking for a blueprint of how to prep yourself for Hollywood success, or seeking an unorthodox coming of age story.
Product Details
Actors: Bret Harrison, Laura Prepon, Ashley Laurence, Kevin Gage
Director: Robert Hall
Audio: DTS HD Master Audio 5.1, 5.1 Dolby Surround, 2.0 Dolby Surround
Format: Enhanced for 16x9 TVs
Number of Discs: 1
Studio: Image Entertainment
Blu-ray Disc Release Date: January 16, 2013
Run Time: 95 minutes
List Price: $17.97
Extras
Extended cut with 15 minutes additional footage
Optional commentary from director Robert Hall, producer Lisa Waugh, actors Ashley Lawrence and Laura Prepon
Featurettes: "Lucifern: The Making of Lightning Bug", "Afterglow: A Look Back at Lightning Bug"
Deleted scenes with optional commentary from director Robert Hall
Outtakes
Kevin Kinney music video
Original theatrical trailer
Blu-ray trailer
Photo gallery