Leon Speakers Shows Off Retro Elegance and Sweet Sounds
By Ian White
Custom loudspeakers are rarely inexpensive, but sometimes the scenario justifies the expense. Looking for a matching LCR configuration for that 103" plasma you just purchased? Leon Speakers is here to help.  They're been manufacturing custom loudspeakers in their facility in Michigan (Go Red Wings!) since 1995 and their reputation in the custom installation world is quite solid. They have the ability to manufacture pretty much anything that you might need; including a 89" wide LCR configuration that blends perfectly with your flat-panel or projection screen. Stewart Filmscreen uses their products in one of their testing facilities and it isn't your average sounding soundbar.
All of their products utilize custom-designed drivers from Morel, Eton, SEAS, and others and the finished product is impressive to say the least. For the CEA Line Shows in New York last month, Leon went Sci-fi retro; a combination of H.G. Wells and Metropolis. The system, which was driven by a Wadia digital front-end (another Michigan-based company) and McIntosh amplification, was a visual and sonic feast.
The retro on-wall custom speakers utilized some very pricey SEAS and Morel drivers and would not have looked out of place in some 1930s speakeasy flanked by dancing dames and organized crime henchmen. The $13,000 price tag might be hard for most to swallow, but the finished product is about as unique as they come.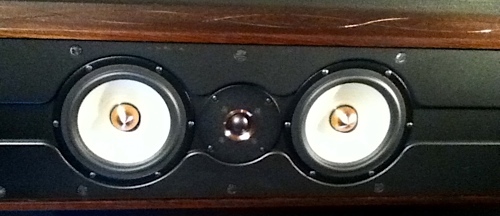 Leon also offers products for the rest of us including their
Horizon
and
Profile
line-ups that are custom LCR, LR, and center channels starting at a more reasonable $1,395.
Leon also manufactures 5.1 channel and 7.2 channel Living Space Theater systems starting at $5,675 and running up to $14,000.
Everything is made-to-order at Leon and they have the ability to aesthetically match your loudspeaker set-up to any flat-panel or screen available. The loudspeakers can be made to handle screens up to 120" wide (138" diagonal 16:9 screen).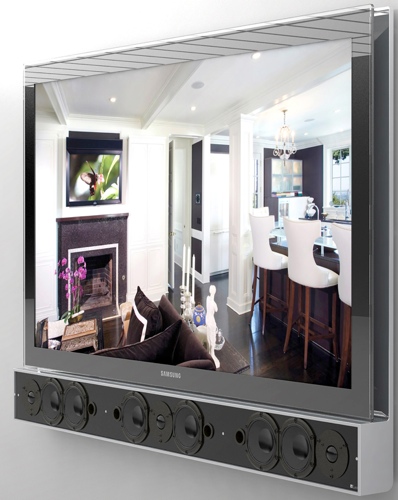 The larger LCR combinations require a lot of power to be driven properly -- 150-300 watts is recommended -- but the benefits will be pretty obvious compared to powering them with a run of the mill AV receiver.  They're beautifully made loudspeakers that can deliver if you mate them with the appropriate amplification.
You will not find their products through the usual retail channels and have to seek out custom installers for a demonstration.
For more information: