LG Takes W7 OLED Wallpaper UHD TV On the Road with LG Cinema House, Powered by Dolby
By Chris Boylan
When I first saw the LG W7 OLED TV up close at a press event in Los Angeles, it left quite an impression: deep inky blacks, gorgeous saturated colors, and all that from a panel that was just 3.81 mm (0.15 inches) thick. They call it the "wallpaper TV" and seeing it floating on the wall makes it clear that they picked the right name. That was the 65-inch version which sells for $7999.99. LG also makes a 77-inch version of the W7 which sells for $14,999. And to get this big beauty in front of more consumers, they're taking it on the road.
This week, LG debuted the "LG Cinema House, Powered by Dolby" - a pop-up home theater which features the 77-inch W7 OLED TV and Dolby Atmos soundbar... and a big comfy couch. The travelling living room made its first appearance in New York, right next to Madison Square Garden. But it's already gone and on its way to its next appearance at the Dolby Theater in Los Angeles. The 77-inch set measures in a bit thicker than its little brother at 5.96mm (less than 1/4-inch) but that's still an impressive feat.
How does it manage this trick, you might ask? LG packs all the inputs and outputs, video processing, amplification and speakers into a separate module: a sleek soundbar which connects to the TV with a thin, flat umbilical cable. With just the OLED panel itself on the wall (along with a light magnetic bracket), the 65 inch panel weighs in at under 17 pounds and the 77-inch model tips the scales at just over 27 pounds.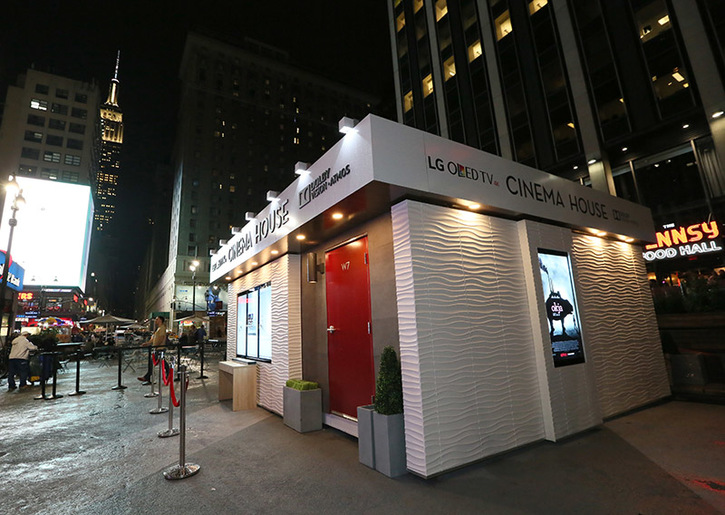 Upon this high tech canvas, the company showed off 4K Dolby Vision HDR clips from "Okja," Marvel's "Defenders" and a 2-minute never before seen preview from the upcoming season of "Stranger Things." To increase the feeling of immersiveness, the company turned the entire room into a projection screen, projecting background images that matched the on-screen action. As with previous clips I've seen on this and other 2017 model year OLED TVs from LG, the black levels on the W7 were superb and colors virtually popped off the screen.
For sound, the company relied on the TV's included soundbar, a sleek rounded metal objet d'art with speakers that rise out its depths when powered on. Even though there was no separate subwoofer and no additional surround speakers, the bar produced a rich, immersive soundstage with the illusion of sound coming from all directions. That immersiveness comes from the soundbar's on-board Dolby Atmos processor. It can reproduce native Dolby Atmos content from streaming sources or Blu-ray Discs or it can create a virtual immersive sound from traditional stereo of 5.1-channel content. Buyers of a $15,000 TV may want to spring for a separate dedicated surround sound system, but if you're looking for elegance and simplicity, LG's OLED wallpaper TV/soundbar combo is hard to beat.
Is the W7 OLED TV a rock star, worthy of its own cross-country tour? Check it out at a location near you (if you can) and decide for yourself.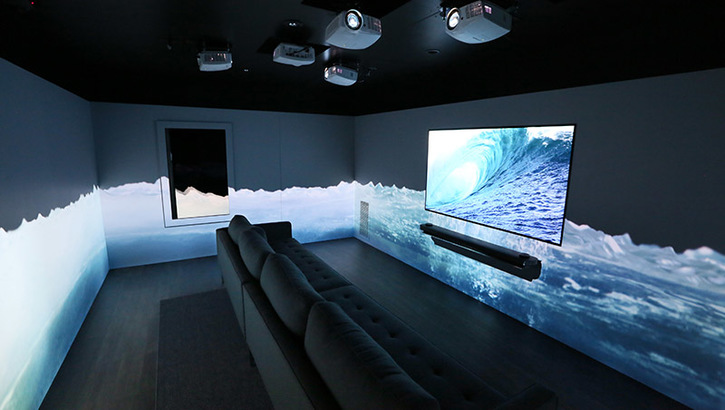 Here's the current list of dates/locations for LG's OLED Cinema House, Powered by Dolby:
Oct 11-12: New York, NY - Plaza33 near Madison Square Garden
Oct 19-20: Los Angeles, CA - Dolby Theater at Hollywood & Highland
Oct 28-29: Lawndale, CA - Video and Audio Center
Nov 11-12: Glenview, IL - Abt Electronics Retail Store
Nov 18: Bellmore, NY - P.C. Richard & Son
More dates and locations are expected to be announced in 2018.
Related Articles: