LG OLED and LED/LCD TVs Get Top Marks in Consumer Reports
By Rachel Cericola
It can be really hard to choose a TV. There are so many interesting features, but the number of manufacturers and models alone will make your head spin. LG Electronics is standing out by getting accolades from a very respected outlet.
The company just announced that the LG Signature OLED W7 TV was named the top rated TV by Consumer Reports.
The W7 features a Picture-on-Wall design, which has the OLED module mounted right on the glass back panel. This creates an ultra-slim appearance, allowing the TV to lay flat on the wall. Other features on this 4K TV include a resolution of 3840 x 2160, Active HDR with Dolby Vision, Dolby Atmos support, and LG's webOS 3.5 Smart TV platform.
What makes OLED so special is that the pixels can be individually controlled and turned on or off for better black levels, contrast, and a better picture overall. Consumer Reports took notice, ranking the set so high because of the picture quality, viewing angles, and versatility. Back when the set was first announced, our own Chris Boylan agreed that "it's the picture quality that is going to get people excited." He also called this set "a state of the art flagship display." (You can read more in "Hands-On with LG's W7 Wallpaper TV, the OLED65W7P: Best TV Ever?")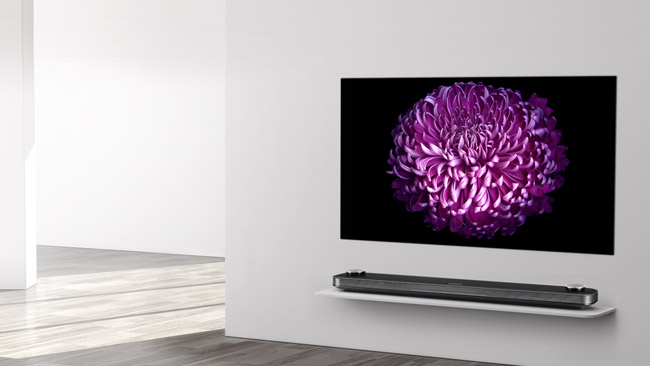 Consumer Reports also recognized LG's Super UHD TVs, which include Nano Cell Technology. This boasts better brightness and a wider range of colors, in order to create the most lifelike image at almost any viewing angle. Other features include support for HDR10, Dolby Vision, and the HLG HDR standard, as well as the webOS 3.5 Smart TV platform.
LG has been offering OLED TV in the U.S. since 2013. In addition to the W7, the company has a blade-slim design on the B7 and C7 sets, as well as a Picture-on-Glass design for the E7 and G7 models.
"LG pioneered OLED TV technology and since its inception has continued to dedicate enormous resources to its growth to the benefit of all consumers," said William Cho, president and CEO of LG Electronics North America. "Top TV reviewers consistently rank OLED as the best TV technology available, and we're the only manufacturer to offer a variety of OLED TV screen sizes and models -- there is no better time to purchase the best TV technology on the market."
The LG Signature OLED W7 TV is currently available in 65- ($7,999.99) and 77-inch ($19,999.99) screen sizes. Other LG OLED TVs include the 65-inch ($5,999.99) and 77-inch ($14,999.99) G7, the 55-inch ($3,499.99) and 65-inch ($4,499.99) E7, the 55-inch ($2,499.99) and 65-inch ($3,499.99) C7, and the 55-inch and 65-inch B7 (prices TBA).
Where to Buy:
More About LG TVs: