LG 55LM6700 1080p LED Cinema 3D TV Review
By Greg Robinson
Edited by Chris Boylan
It's no secret I'm not a fan of 3D - especially in my home theater. On most films, I find the "3D experience" to be dim, distracting, and mentally taxing. (Yes, even with Avatar - though I'll admit that James Cameron's maiden voyage to Pandora is the current gold standard for 3D filmmaking.)  When considering 3D at home, it always comes back to the damned glasses. Paint them any color you want, the plain fact is: active-shutter 3D glasses are, with few exceptions, heavy, expensive, and downright uncomfortable.
However, with glasses-free 3D still years away from being both impressive and affordable, I've (mostly) stopped whining and I've come to grips with the state of things in the third dimension. With that in mind, whenever a new 3D TV arrives for review - like say, LG's 55LM6700 - it's fair to say it's walking into a tough room. Although LG's slim and sexy display didn't make me a 3D TV convert, its lightweight, passive 3D glasses are a huge step in the right direction.

The Walk Around

The svelte-looking LM6700 Series is the entry point into LG's Cinema 3D TV line. And as flat panel displays go, it's one of the most attractive models I've seen to date. Thanks to its barely-there bezel (except along the bottom - gotta have that LG logo somewhere!) and its unique, metallic swivel stand, the 55-inch 55LM6700 and its 47-inch little brother make for a handsome duo. One complaint though: the screen is pretty reflective. Consumers with windows aplenty or an abundance of ambient light take heed.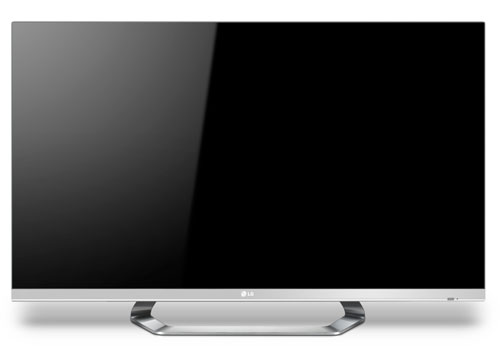 Behind the right side of the screen lies hidden a column of buttons for basic control and operation. While it's nice to have these, the fact that you can't see what they do makes them rather difficult to use by touch alone. Still, Power and Input are right on top of one another, so if nothing else, these buttons are a welcome addition for those times you can't locate the remote.
Out back you'll find four HDMI inputs and three USB ports headlining a slimmed-down connection panel. Due to the display's ultra-slim design, composite video, analog audio, and component video are handled by way of breakout cables (included). Everything else fits nicely and is clearly labeled. An ethernet port is included but I suspect most consumers will be more interested in the 55LM6700's integrated Wi-Fi.

Remote, Control

Roughly eighteen months has passed since I reviewed the PX950, LG's first production display to feature their Magic Motion gesture-based remote control. It's changed a bit since then, and while some aspects of it have improved, LG has also also taken a few steps in the wrong direction. First off, the remote is lightweight, intuitive to use, and quite responsive thanks to its ability to use IR, and/or RF (Bluetooth) to communicate with the display. One might even say it's a bit too responsive - but more on that in a minute. Once you've used the Magic Motion remote to input an email address or password for your Netflix or Hulu account, there's just no going back to up, up, right, right, right, enter. Point and click is the only way to fly.
Now, about that sensitivity problem. Unfortunately, whenever you move or jostle the remote, you immediately get a large cursor on-screen, ready to do your bidding. Let's face it, sometimes you're just moving the remote in order to keep it out of your child's reach (or mouth). Consequently, the Magic Remote really needs a "lock" switch, similar to that on an iPod, allowing it to ignore any motion it senses until you say otherwise. On a similar note, this new Magic Motion remote desperately needs a stand or at least some steadying plastic feet to keep it still on a flat surface.

Last but not least, it must be said that as nifty as the Magic Motion remote is, there are times I just wanted a traditional remote - or my universal remote. Unfortunately, LG decided against including a traditional remote along with the Magic Motion. If you're like me and you want a traditional remote, LG customer serivce can direct you to a few websites (e.g. SearsPartsDirect.com) where you can purchase LG's "standard remote for Smart TV" for around $15. It's hardly a convenient solution, but it's better than nothing.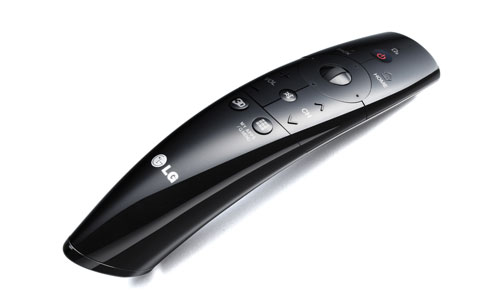 LG Smart TV

Like most of LG's models in this screen size, the 55LM6700 features LG's Smart TV interface, a busy and colorful place filled with myriad app icons cementing the notion that televisions have in fact become full blown computers. This is of course both good and bad. For every positive (Netflix! Vudu! Hulu Plus!), an equal and opposite negative is waiting in the wings (software updates! Downloading! Please wait!)

LG's content offerings are robust with many of the usual suspects appearing here, though Pandora is (at least for now) a disappointing no-show. Like many households, Netflix instant streaming gets some pretty heavy use in this house, and I was pleased to see that the Magic Motion's time-saving point and click routine works in Netflix as well as LG's core menu system.

Among the many apps LG gives you is "3D World," a sortable area where you can download a variety of 3D web content. Unfortunately, you may not recognize many of the titles as it's a veritable "who's that?" of three dimensional entertainment. LG tells us this is being expanded and a new update should enable more recognizable content, including Disney/Pixar's Toy Story series and Tron: Legacy in 3D. So the selection should improve over time.  And, in any case, it's nice to have something to test your 3D glasses if you don't yet own a Blu-ray 3D Disc player of if your pay TV provider is light on 3D content. But more on 3D in a moment.

My favorite "smart" feature was definitely the integrated web browser. If you've ever used a built-in web browser on a television, you know they're generally terrible. However, LG has significantly raised the bar with its impressive web browser which did a fine job rendering most websites I visited and benefitted greatly from the Magic Motion's ability to point and click at desired links. Your laptop or tablet will definitely provide a more full-featured web experience, but LG's browser is a welcome feature that's sure to appeal to a good many consumers.

Aggressively Passive

If you're new to passive 3D, you'd be wise to read our Passive 3D TV Buyer's Guide for 2012. In it, Rachel does a great job of summarizing how passive 3D differs from active 3D. LG's passive 3D technology has been around since last year, but this was my first at-home experience with one of their passive 3D displays and I must say: I'm a believer. Or at least, I'm less of a naysayer than I was. (Just ask my editor, that's high praise, trust me.) [editor's note: you can say that again].
The best thing about passive 3D is its use of universal, lightweight glasses and LG generously provides six pairs in the box with the 55LM6700. Like the glasses you'll find at most 3D movie theaters, LG's 3D specs fit comfortably over regular glasses and their passive nature means you won't be subject to the sometimes headache-inducing flicker of their active shutter counterparts.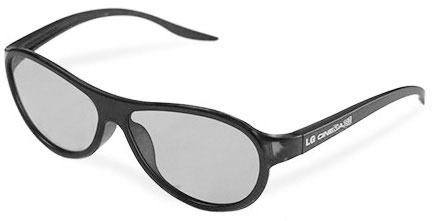 Opponents of passive 3D like to talk about reduced detail and the fact that you're not providing a full 1080p signal to each each eye with passive 3D. Admittedly I could see black lines on the screen when I got up close -- an artifact of the passive 3D process -- but these were not as noticeable or objectionable at my normal viewing distance (11 feet).  Personally, I think this half resolution argument is bunk. By its very nature, 3D is a distraction. No matter how much I prefer LG's passive 3D glasses to active shutter glasses, I'm constantly aware of the fact that I'm wearing something foreign on my face. And whenever something in the film takes advantage of the added depth or decides to poke me in the eye, it's invariably at the expense of something else on screen, particularly in the form of blurried objects at the periphery of your "3D vision."

Admittedly, 3D is a highly subjective experience, but I've spoken to enough people who share my "views" that I'm confident in saying this: no one watches something in 3D if they're looking for the pinnacle of picture quality. They're watching it in 3D because the gimmick of additional image depth is appealing. Or they like getting poked in the eye. If you want picture quality, you're going to watch it in 2D and you're going to remove as many obstacles as possible between your eyes and the screen. Period.

Picture This

After spending some quality time with the Blu-ray editions of Joe Kane's Digital Video Essentials and Disney's World of Wonder, I was pleasantly surprised with the colors put forth by this LED-backlit LG. Sample images and some of my favorite sequences from Warner's Dark Knight and Fox's Drumline showed an abundance of natural-looking skin tones during Bruce Wayne's Dent fundraiser and vibrant, richly-colored band uniforms with an impressive degree of visual pop, respectively.

Black levels were a different story and I was generally unimpressed by the charcoal grays this LG was able to muster. The 55LM6700 is an edge-lit LED with local dimming, but there is no mistaking this for a plasma or for an LED/LCD display featuring a full array LED backlight with more precise local dimming. The backlight's glow along the perimeter is less distracting on this LG than on other models I've seen, but it remains an unwelcome distraction nonetheless - particularly when watching letterboxed or pillarboxed content. Video processing tests revealed no major deal breakers, with motion blur and artifacts at a relative minimum and LG's "Real Cinema" feature making quick work of accurately identifying film cadences when appropriate.

In terms of real world 2D viewing material, I was definitely engaged by the richly-detailed 1080p presentation of Justified's sophomore season. Closeups of Raylan Givens' day-old stubble and his very fine hat revealed wonderful texture and those great-looking skin tones we spoke of earlier. However, darker scenes did suffer from a lack of visible shadow detail. Although I've never been there, I have to imagine that night time in rural Kentucky is considerably darker than what I was seeing.
Smooth Operator
Every LCD or LED/LCD set (and even some plasmas) offer some form of motion interpolation to smooth out on-screen motion.  LG calls theirs "TruMotion" (in this case, "TruMotion 120," since this is sold as a 120 Hz set).  It seemed to work about as well as the last LG set I reviewed.  On video material, it helped smooth out motion, but on movie content, it imparted the motion with that artifical "soap opera" look, so I left it off for most of my testing.  LG has a 24p mode for movies called RealCinema, which is what I used for most testing.
Enter the Third Dimension
To evaluate the set's 3D performance, I popped in a few high quality Blu-ray 3D titles including Sony's Cloudy with a Chance of Meatballs and Disney's recent (and woefully underrated) John Carter. On both titles, the 3D effect wasn't all that different from that on active shutter 3D TVs. If anything, image blurriness, crosstalk, and flicker were reduced, thanks primarily to LG's use of passive 3D technology. However, invariably no matter what I was watching, I couldn't wait to rip off the glases and set the LG back to 2D mode so I could truly behold all that these high definition images had to offer without anything else getting in the way. 2D-to-3D conversion is another option with the LG, but a few tests of this on Justified and The Dark Knight confirmed what I already knew: I would never use this feature. Ever.  No particular slight against LG here: 2D to 3D conversion looks equally bad on other TVs.

Turn Ons:
Passive 3D: a step in the right direction
Sleek and beautiful design
Magic Motion Remote - points and clicks
Accurate colors
Impressive built-in web browser
Turn Offs:
Mediocre black levels
Edge-lit LED glow - better than some but still distracting
Magic Motion Remote - can't stand. Literally.
Many apps, but where is Pandora's box?
Reflective screen
Final Thoughts

LG continues to impress with their attention to aesthetics and they clearly understand the  importance of an intuitive user interface. The Magic Motion remote is guaranteed to please some and alienate others, so definitely give that a whirl before buying this display or stick it in a drawer and use your universal remote. In the end, the 55LM6700's middling black levels contribute to a merely average picture quality, so videophiles should probably look elsewhere. However, for everyone else, LG has packed a ton of functionality into one of the most attractive, feature-rich displays I've had the pleasure to review.
Manufacturer's Specifications:
Manufacturer's Contact Information:
LG Electronics USA, Inc.
1000 Sylvan Avenue
Englewood Cliffs, NJ 07632
Toll Free: 800-243-0000

On the Web: www.lgusa.com