LG 100-inch Laser TV Coming in April for $8999. Would You Buy One?
By Chris Boylan
With TVs, size matters. But when does big enough become too big? LG is hoping 100 inches is just right for consumers as they prepare to launch their 100-inch Laser TV. The HECTO Laser TV is expected to begin shipping next month (April 2013) at a list price of $8999. When you consider that Samsung's upcoming 85-inch Ultra HD LED TV has a price tag of $39,999, the LG seems like a relative bargain, right? Perhaps.
The HECTO set is referred to as a "Laser TV." It's actually a DLP-based projection TV, powered by a blue laser to light up the image produced by a DLP chip. But unlike traditional projection systems, LG's Laser TV does not require much space between the projector and the wall to create that 100-inch image. It's what's called a "short throw" projector because it throws a big image from a short distance.  It needs only 22 inches to light up a full 100 inches diagonal image. And due to its space saving optical engine, the unit really only needs to sit about 6 inches from a wall - the actual lens assembly is toward the front of the chassis and it uses a mirror to shoot the image backward and up onto the screen. This makes it ideal to place on top of a low stand or table next to a wall. It can also be ceiling mounted if desired.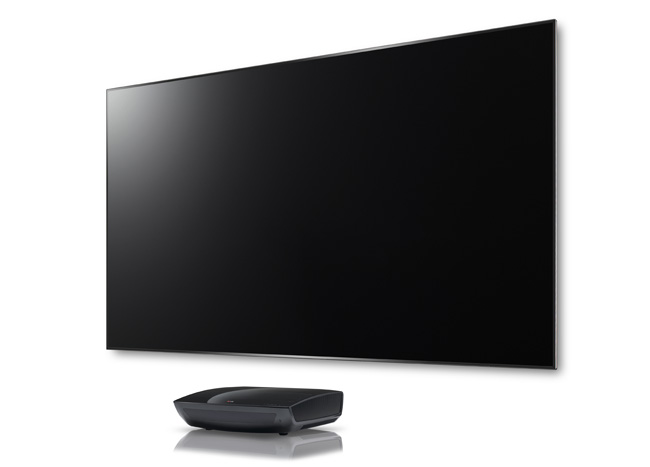 Another drawback of traditional projection systems is their inability to compete with ambient light. Most home theater projectors look great in the dark, but get washed out and dull as soon as you turn on the lights. The LG Laser TV's screen (which is included) is designed to enhance brightness and reject ambient light. LG claims a brightness spec of 150 nits, which is pretty impressive for a screen of this size. The screen features a thin bezel and slim profile to give the appearance of a sleek flat panel TV. In a live demo this week in a Manhattan penthouse, the Laser TV set did a nice job creating a large full HD image in a bright sunny room, but it clearly was not as bright as a flat panel TV. But nor is it as expensive as most oversized flat panel TVs.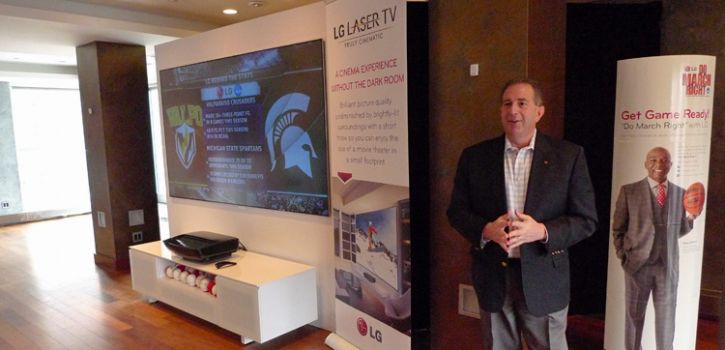 The other issue when going with a projection system is the need for separate components: you need to add on a TV tuner or cable box, streaming player, receiver and speakers. The LG Laser TV has a built-in ATSC (high def) TV tuner as well as built-in 20 Watt stereo powered speakers. It also features LG's Smart TV platform so you'll find streaming services such as VUDU, YouTube and Netflix on board with built-in WiFi connectivity. Although it is a two-piece component (projector plus screen), it is meant to be a standalone system, like any other HDTV. Its three HDMI inputs, component and composite video inputs accept traditional components such as a cable or satellite set-top box, Blu-ray player or gaming console. It also offers an optical digital output in case you'd like to connect an external soundbar or speaker system.

The question is whether people will be willing to pony up nearly $9,000 just for the sake of simplicity. You could spend less and put together an even larger image using a traditional front projector, high-gain screen and sound bar or receiver and speakers. But then the installation would be more complicated (and more expensive), and you'd need a place to put these additional components.
Mitsubishi's similar LaserVue TV never quite found its niche, but it housed the projector inside a traditional rear projection assembly, which made it much less sexy. We'll see if LG can do better.