LED HDTV Deal: Panasonic 55-inch TC-L55E50 Net $788 After $100 Credit
By Chris Boylan
Missed those great LED TV deals on Black Friday and Cyber Monday?  Well fear not as there are still some sweet deals to be had on name brand high quality HDTVs.  Case in point is this 55-inch flat panel set from Panasonic, the TC-L55E50 120 Hz 1080p LED-lit HDTV which lists for $1699.99.  It is currently on sale at Amazon for $888, but when you add in an exclusive $100 promotional credit, that effectively brings the net price down to $788 with free shipping. The $100 promo offer applies to all three sets in the E50 line-up, from 42 inches to 55 inches, but we think the best deal is on the 55-incher.  Check out the deal here:
The TC-L55EH50 lists for $1699.99 so this deal cuts over $900 off that price.  The $888 price is current as of December 7, 2012, but may change. You will need to add the set to your shopping cart to see the current price.  Also, the $888 price is what you pay when you order it, and the $100 promotional credit will appear in your Amazon account approximately 7 days after your order is placed.  It is good on a future purchase from Amazon.com. Full details of the promotion are described on the offer page.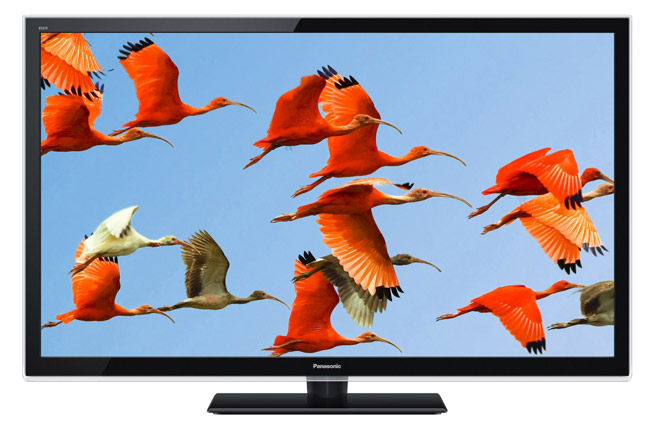 More than Just a Pretty Face, It's Smart Too!
In case you need more details about the set, the TC-L55E50 is a full 1080p LED-lit LCD television (aka, "LED TV") with 120 Hz refresh rate for smooth motion reproduction and reduction of blur.  The set features "360 backlight scanning" which further enhances its display of clear moving images.  The set's IPS (In-Plane Switching) panel assures that you get good color reproduction from virtually all viewing angles (up to 178 degrees according to the specs).
The set does not include 3D capabilities, but it does come packed with "Smart TV" features, courtesy of Panasonic's VIERA Connect platform.  This means you'll get access to Netflix, Amazon VOD, Hulu+, YouTube, Pandora, VUDU and a number of other streaming services and apps (some services require subscription). DLNA support is also included so you can stream media files (audio, video, picture) from DLNA-compatible PCs, tablets and smart phones, directly to the TV.  You will need to plug in an ethernet cable for network support, or can add WiFi capability via an optional WiFi adapter (sold separately).
In order to support a wide selection of devices, the TC-L55E50 includes four HDMI inputs, as well as composite video, component video and even a PC (VGA) input.  One SD card slot and 2 USB inputs are on-board for reading external media or connecting a Skype video camera for large screen video calling.
The $100 promotional credit offer expires December 8, 2012 or while supplies last, but we can't imagine that stock of the 55-inch TV will last that long at this price.  Amazon TV purchases are covered by their 14-day price protection, free shipping and 30-day return policy, so you can buy with confidence.  Check out details on the TC-L55E50 on Amazon's product page:
Please note: all deals posted on Big Picture Big Sound are current as of the posting date and time. These deals are frequently time- or stock-limited and generally do not last. Final pricing and stock are determined by the individual deal provider, not by Big Picture Big Sound so you will need to click through on the offer link to see if it is still available. Through our affiliate relationships with many online vendors, Big Picture Big Sound may earn a small commission on any referred sale.