Kubo and the Two Strings Blu-ray Review
By Rachel Cericola
The Film
Pixar and Disney have set the bar pretty high for the world of animation. Of course, there are plenty of mega-franchises that feature funny characters, famous voices, and interesting storylines. That said, it's pretty rare that one of those blockbuster films is also something unique enough to captivate and dazzle the audience. Kubo and the Two Strings is exactly that type of film.
The directorial debut of Travis Knight (The Boxtrolls) focuses on Kubo, a one-eyed boy (voiced by Art Parkinson) who spends his days entertaining crowds with music and magical origami. The nights are a bit more intense, as Kubo cares for his ill mother (Charlize Theron). If that's not enough, mom is always telling stories about how her sisters (Rooney Mara) and his grandfather, the Moon King (Ralph Fiennes), will take Kubo's other eye if he goes out after dark. As you can imagine, the warnings aren't enough. Then, after coming face to face with the exact danger his mother described, Kubo ends up on an adventure in search of his father's armor, with Monkey (also Theron) and Beetle (Matthew McConaughey) in tow.
The journey is one that's filled with excitement, magic, and unusual characters. It should also be noted that things get a little scary and violent. After all, Knight's previous work does include Coraline and ParaNorman. Basically, the PG rating is there for a reason. Despite it being a little intense, Kubo and the Two Strings is also whimsical, riveting, and an absolute delight.
Want to be truly dazzled? Check out David Kempler's theatrical review of Kubo and the Two Strings.
The Picture
Sadly, I didn't get to review the 3D version of this film. However, the standard Blu-ray of Kubo and the Two Strings has a real three-dimensional quality to it. The stop-motion animation brings each character to life and this 2.40:1 transfer certainly adds to the overall experience. Colors are beautiful and the black levels are deep throughout. However, the detail is the true standout here. Strands of hair, texture on the sheets of origami paper, intricate clothing, and Monkey's fur are all stunning, to say the least. It's a beautiful film with an equally beautiful image.
The Sound
Of course, it would have been nice if this Blu-ray came with a Dolby Atmos track or even 7.1 sound. However, Kubo and the Two Strings uses the included DTS-HD Master Audio 5.1 mix to its fullest. There are raging ocean waters, crashing thunder, evil swirls of smoke, and so much more. It's filled with exciting sound effects and booming bass elements that will keep you glued to the action and looking over your shoulder. Dialogue is also very clear, so you'll never miss a word.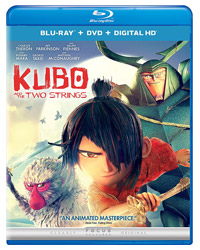 The Extras
The highlight of this short collection is "Kubo's Journey." In about 30 minutes, the six-part featurette covers the Japanese inspiration, the origami, the music, the "Mythological Monsters," the stop-motion, and more. Otherwise, there are two additional shorts that could have easily been mixed into that collection, as well as a feature-length commentary with director/producer Travis Knight.
Final Thoughts
This film did very well with critics, but never really found a Pixar-style audience. We could see how the story of a one-eyed boy who travels with a talking monkey and beetle could be a tough sell. However, this is one that shouldn't be missed. A captivating story, gorgeous animation, and an engaging soundtrack make Kubo and the Two Strings a must-have on Blu-ray.
Product Details
Voice Actors: Charlize Theron, Art Parkinson, Ralph Fiennes, Rooney Mara, George Takei, Matthew McConaughey
Director: Travis Knight
Audio/Languages: DTS-HD Master Audio 5.1 (Portuguese), DTS 5.1 (Spanish), DVS 2.0 (English), French, Spanish
Aspect Ratio: 2.40:1
Number of Discs: 2
Rating: PG
Studio: Universal
Blu-ray Disc Release Date: November 22, 2016
Run Time: 102 minutes
List Price: $34.98
Extras:

Feature Commentary with Director/Producer Travis Knight
Kubo's Journey
Corners of the Earth
The Myth of Kubo
Standard-Def DVD
Digital Copy
UltraViolet Digital Copy
Where to Buy: