Klipsch Announces New Improved Quintet Home Theater Speaker System for 2012
By Rachel Cericola
We've seen Klipsch's Quintet Home Theater Speaker System a lot lately. The popular speaker package has become even more popular, thanks to several recent online sales. Apparently, there's a good reason for those discounts; a new version of the Quintet is coming very soon.
Klipsch just announced plans to upgrade the entire Quintet speaker system. The set's fifth-gen model will come with the same five pieces: four satellite speakers and a dedicated center-channel speaker. However, there is a difference here, as Klipsch plans to pack in several tech advancements on each of the upcoming speakers.
According to Klipsch, each Quintet speaker will have a new 90-degree-by-90-degree Tractrix horn. That new addition promises to make each of these speakers easier to place. The horn is combined with a lightweight aluminum tweeter, boasting better transient response and lack of distortion. Other features include new Linear Travel Suspension and new long-throw injection molded graphite (IMG) woofers.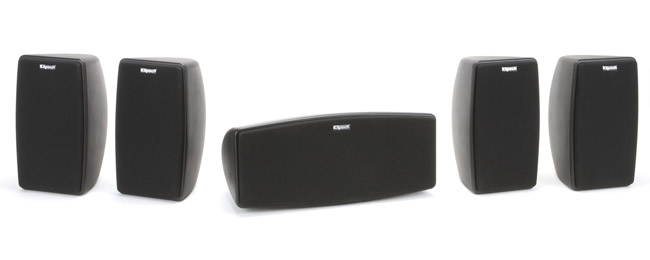 Like the previous Quintet, no mixing and matching of speakers is needed. All you have to do is add a subwoofer, and your 5.1 audio setup is complete!
"Previous generations of the Quintet have been deemed the best in their category and it is important that we take the necessary measures for continuous improvement," said Klipsch CEO Paul Jacobs about the upgrade. "By refining the system's overall build quality, materials and audio technology components, we are able to provide listeners with the most compact yet biggest sounding Quintet yet."
All five of the Quintet system's speaker cabinets are made of dense, rigid AcoustaComp, which features a keyhole mount and 0.25-inch 20-threaded inserts. The center channel has a little extra help, via dual keyhole inserts.
Available in a satin and brushed black finish, the new Quintet five-piece speaker system will be available via authorized retailers in September with an MSRP of $549.99. Pre-orders aren't available just yet. However, you can still snag the older model at a discount. Check the link below for the most current price.
Where to Buy: