Klipsch Adds AirPlay-enhanced RoomGroove Air, Stadium and Console Speakers
By Rachel Cericola
Klipsch is ready to rock this year's Consumer Electronics Show -- and apparently, they are going to do that wirelessly. The company just announced three new products, all of which feature support for Apple's AirPlay.
The new RoomGroove Air, Stadium and Console will soon join the company's first AirPlay-enhanced device, the Klipsch Gallery G-17 Air.
Each product is designed to hook into a home's wireless network. Using that power and the AirPlay feature, users can stream content from any iPod, iPhone or iPad, without wires and without having to dock devices. Listeners can also tap into the wealth of iTunes, and stream that library from a connected Mac or PC.
Each unit also has a USB input for direct connection of portables, and can charge most 30-pin Apple devices.
The Klipsch RoomGroove Air has dual 1-inch tweeters with Round Tractrix horns and 2.5-inch woofers. The Stadium is a 2.1 tabletop solution, with dual 1-inch, horn-loaded tweeters, 3-inch midrange woofers and dual 5.25-inch, built-in subwoofers.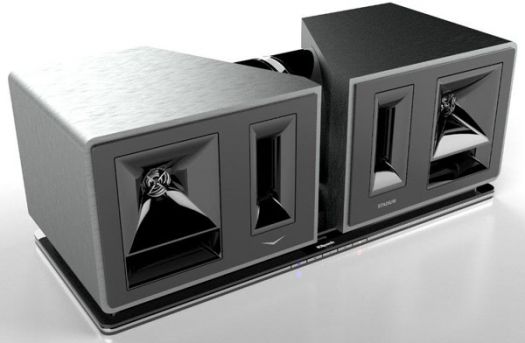 Last, but certainly not least, the Klipsch Console is hand-built in Hope, Arkansas. Designed to be a 2.1 system, as well as a furniture centerpiece, the Console provides plug-and-play functionality for music, movies and television, in addition to the aforementioned Airplay. It has dual 90-by-60-degree Tractrix Horns with 1.75-inch titanium dome, high-compression drivers with Linear Travel Suspension (LTS), as well as 10-inch machine-spun Cerametallic woofers with folded cones and huge motor structures. Klipsch says that the Console also has 12-inch non-resonant, woven fiberglass subwoofer drivers with large, four-layer, aluminum-wound voice coils.
The Klipsch Console does have HDMI, optical and USB inputs, but can also be used as a center channel and subwoofer solution for more extensive home theater setups.
"Reliance on Apple smart devices for day-to-day activity is at an all-time high and will only continue to grow as their capabilities become more novel," said Paul Jacobs, CEO of Klipsch. "By fusing 65 years of iconic loudspeaker engineering with noteworthy technological solutions such as AirPlay, we're eager to diversify our future offerings in the wireless audio category. It is our passion behind these systems that will help change the way individuals share music with one another."
Klipsch says that the RoomGroove Air and Stadium speakers will be available this fall. The Klipsch Console will follow shortly after, in winter 2012.
Where to Buy:
More News from CES: